Ah, the mighty picnic: the perfect way to spend a blissful summer day with friends, your sweetheart or even solo.
For us, there's no better place to enjoy a well-deserved picnic than in the Heart of Georgian Bay (in Simcoe County) where you can fill your basket (or have it filled, rather) with delicious, locally-sourced goodness from the folks at Farm 2 Door.
Discover Farm 2 Door's New Taste the Bay Picnic Baskets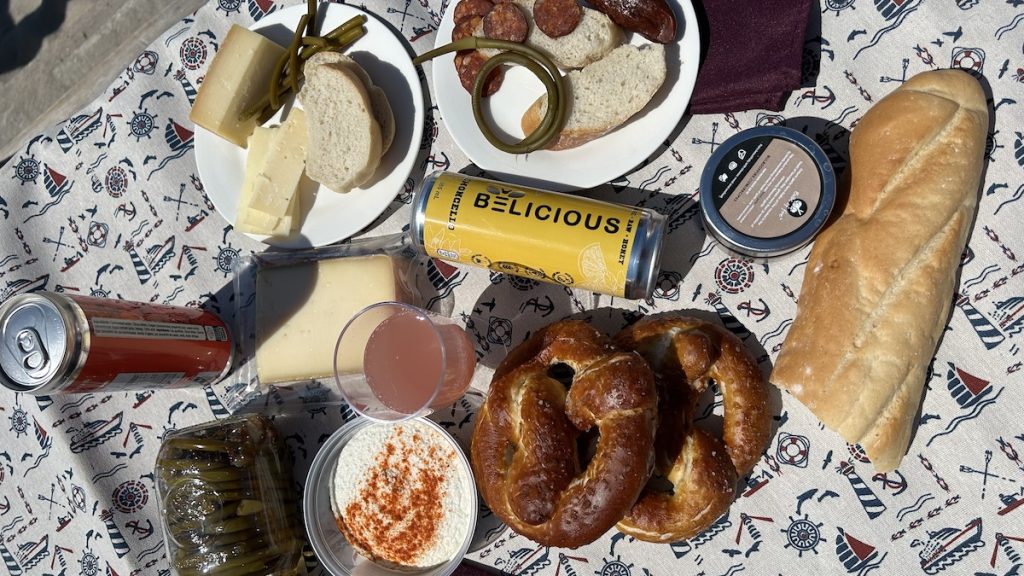 Brand new for the season, you can enjoy a Taste the Bay picnic basket created by the folks at Farm 2 Door in Tiny, Ontario and rest assured knowing it'll be filled with an assortment of local goods.
Available Fridays and Saturdays June-October, just call the store during open hours at 705-245-5100 or book online at MidlandFoodTours.ca and reserve your basket at least 48 hours in advance!
Folks can choose from baskets for two or four people in deluxe (comes complete with a fancy picnic basket you return at the end of the day) or regular.
Within the basket you'll find a baguette and soft pretzels from Fresh Baked Consulting in Midland, smoked trout pâté from Milford Bay in Bracebridge, Ontario cheese, an artisan dip from Gianetto's in Midland, cured meat from PJ Meats in Barrie, black garlic jam from Bulbs of Fire in Tiny and some sparkling honey beverages from Belicious.
Now all you need to decide is where to enjoy this bad boy and luckily, we've got those suggestions covered. Here's where we're headed.
1. Balm Beach
Where:  7 Tiny Beaches Rd. N., Tiny, ON. (View Map)
Things to note: pet-free beach, parking permits required and can be accessed through the Township of Tiny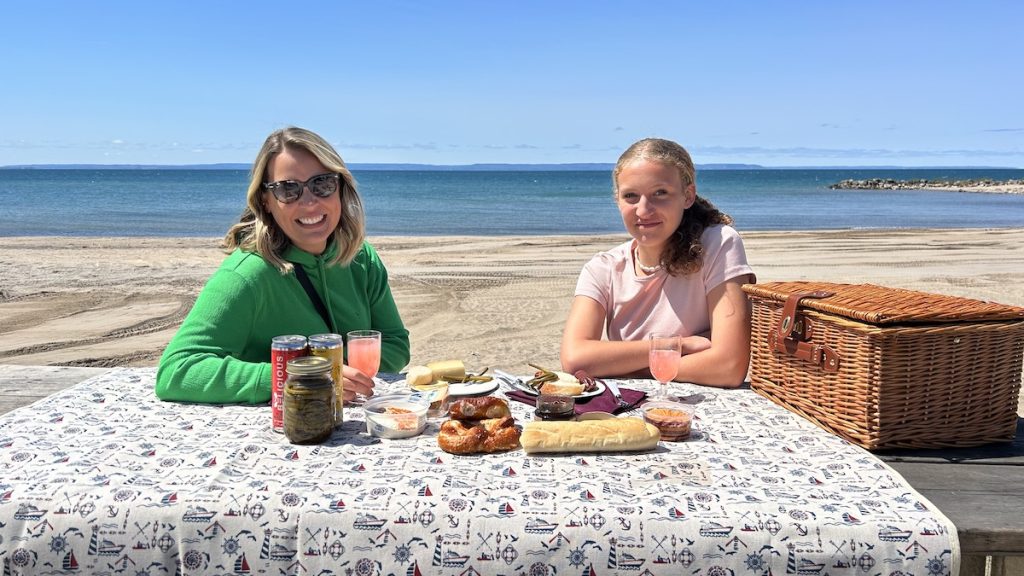 Balm Beach isn't just a cool name, it's also a great spot for a family-style picnic! If you're bringing the kids in toe along, Balm Beach offers up the perfect location.
The clear shallow waters here make for excellent views as you look across Georgian Bay and can even see the ski hills of The Blue Mountains on a clear day!
Looking to keep the fun rolling post-picnic? Balm Beach Go Karts and Mini Putt as well as an arcade are located nearby (as is a golf course for those looking to hit the green) and if you want to make it an overnight, rent one of the rooms at Balm Beach Resort or grab a hotel room in Midland, only a short drive away.
Load up the whole gang and hit the beach for swimming, maybe a game of frisbee and of course to enjoy that picnic. Whether you're laid out on a towel or blanket or elevated at one of the on-site picnic tables, it's sure to be a great time.
2. Awenda Provincial Park
Where: 670 Awenda Park Rd, Tiny, ON. (View Map)
To Note: Grab a park pass at the gate or online! Read more.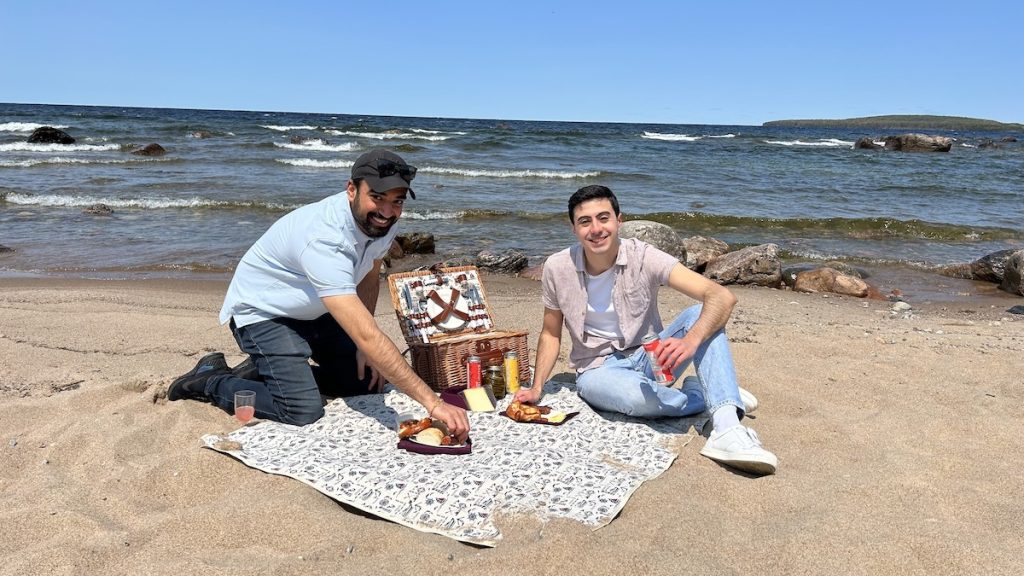 Okay, this spot might just be our favourite option. While you do need to pay for a park pass to get in, Awenda is totally worth it.
In the morning, consider going on a hike on 31km of trails available in the park or a lovely paddle if conditions are right to view the shoreline of Awenda. You'll enjoy a small sliver of what makes up over 2900 hectares of beautiful, forested land.
Once you've worked up an appetite from all that fresh air, head down to the beach (bonus: it's usually a pretty quiet spot) and lay out a blanket to enjoy your picnic right on the water. Romantic much? We definitely recommend this one for couples! You'll enjoy gorgeous views of Georgian Bay, Giants Tomb Island, and Beckwith Island.
Feel like staying a little longer? We can't blame ya there! Luckily Awenda Provincial Park has campsites for RVs, car camping, pet-free camping and radio-free camping, making this your one-stop destination for all things peaceful.
3. Penetanguishene Rotary Champlain Wendat Park
Where: Owen St, Penetanguishene, ON. (View Map)
To Note: This spot is great for history buffs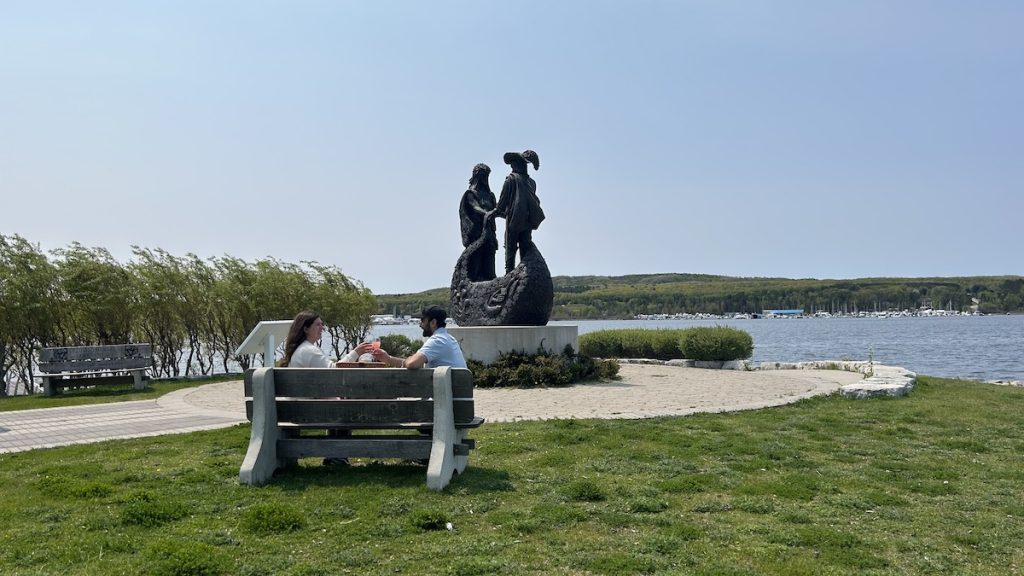 Located along the Penetang Harbour, this park offers all the convenient perks you could ask for in a picnic spot: a covered pavilion for rainy days, an accessible playground and swings for the kids, a skate park, basketball court, beach volleyball, swimming areas, washrooms, a dog park, picnic tables, loads of parking… need we go on? If you're looking for an easy-to-picnic spot, this is it.
Penetanguishene, means "place of the white rolling sands" in Ojibwa and was also the meeting place in 1615 for Champlain and Chief Aenon of the Wendat (Huron) First Nations. You'll also see a statue commemorating this meeting right in the park.
Champlain spent 8 months here with the Wendat and Anishinaabe peoples before departing to Quebec, marking his most extensive travels in Ontario.
It also was the beginning of a rich French culture that still exists in the area today.
Walk along the harbour (there are over 90 acres but the walk from the parking lot has some of the most scenic views) and enjoy the fresh lake air on your face. Grab a seat on the bench and take in this slice of history as you enjoy your picnic.
4. Little Lake Park
Where: 606 Little Lake Park Rd., Midland, ON. (View Map)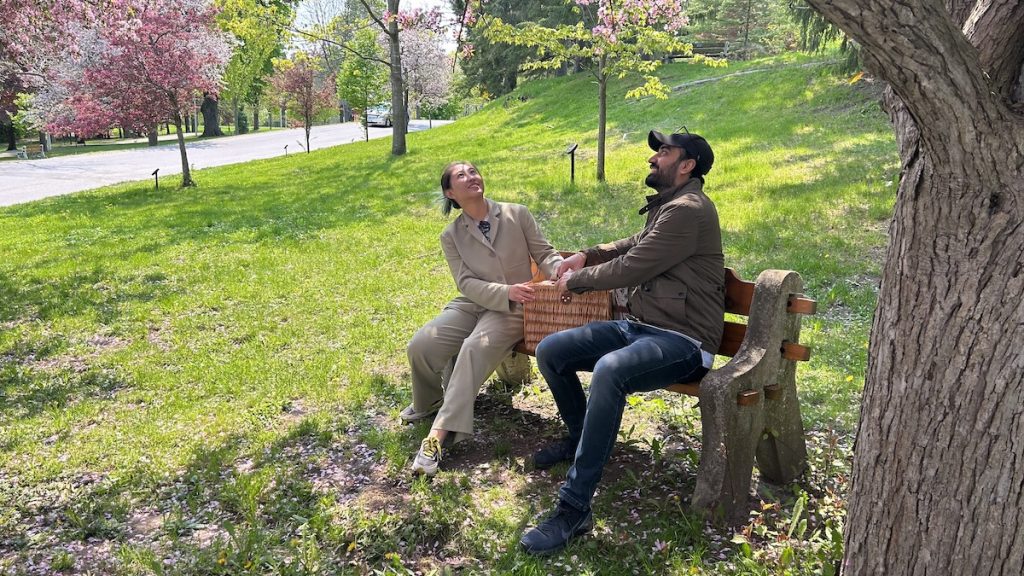 Drive down a treed path to Little Lake Park for a delightfully vibrant location for your picnic! This local hub boasts beautiful gardens and, in the spring, comes to life with cherry blossoms!
For summer picnickers, Little Lake Park offers several picnic tables right around the lake, a walking path and loads of amenities including public washrooms that are available post-May-24 weekend.
Grab a table or choose a seat higher up the hill for great views of the lake. Either way, it's sure to be a wonderful spot to enjoy an afternoon outdoors with a delicious meal.
Want something a little extra? Consider checking out Midland's event list as this park is often home to fun, family-friendly community events.
5. Martyrs' Shrine
Where: 16163 Ontario Highway 12, West, Midland, ON. (View Map)
To Note: Admission fee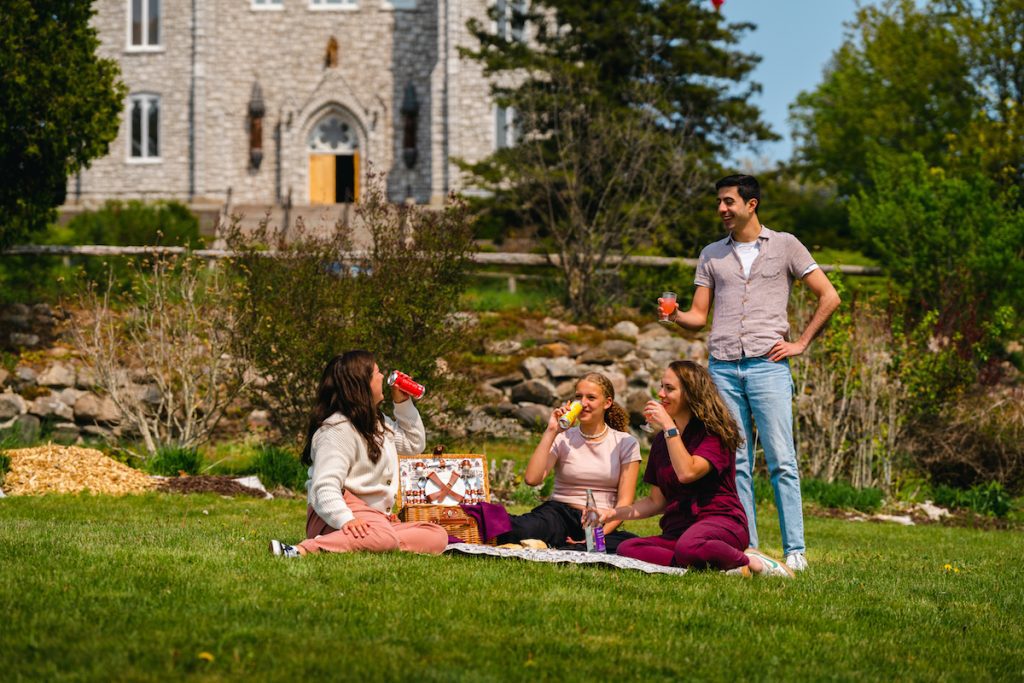 Want to enjoy a picnic that is a bit out of the ordinary with a slice of historic flare? Head to the Martyrs' Shrine. You'll pay a quick admission fee at the gate before heading up the hill and parking your car. We suggest spreading out a blanket on the grassy banks below for views upwards of the impressive church.
The Martyrs' Shrine is a national holy and historic space that honours the lives of Canadian martyrs in the Catholic church. Celebrating a nearly 400-year-old story of love and discovery that inspired and influenced the country, this shrine welcomes over 100,000 visitors from around the world annually, some of whom walk there as part of a religious pilgrimage.
The Shrine overlooks scenic Wye Valley and has a Euro-inspired exterior with an Indigenously-inspired interior. With a ceiling made to look like an inverted canoe bottom, you could spend a long time looking through the delicate interior design at this spot.
After your picnic, we encourage you to explore the Shrine Gardens – over 300 acres of natural space including manicured gardens and natural forests.
Enjoy Your Picnic
No matter where you take that Farm 2 Door picnic, we're sure you'll enjoy it because it's filled with so many delicious local goodies. Book yours today.