---
This recipe comes to us from Chef Harrison Hennick of Nique in Hamilton, Ontario. He served is up at the Feast On Picnic in 2017. It brings two of our favorite things together: Ontario pork and Ontario apples.
Nique has been Feast On Certified since 2017. Their approach to food and drink is inherently Canadian – not because they serve beavertail poutine with maple syrup gravy (they don't serve this), but because their menu is a cultural mosaic. This nod to Canadian culture allows them to be both approachable and adventurous.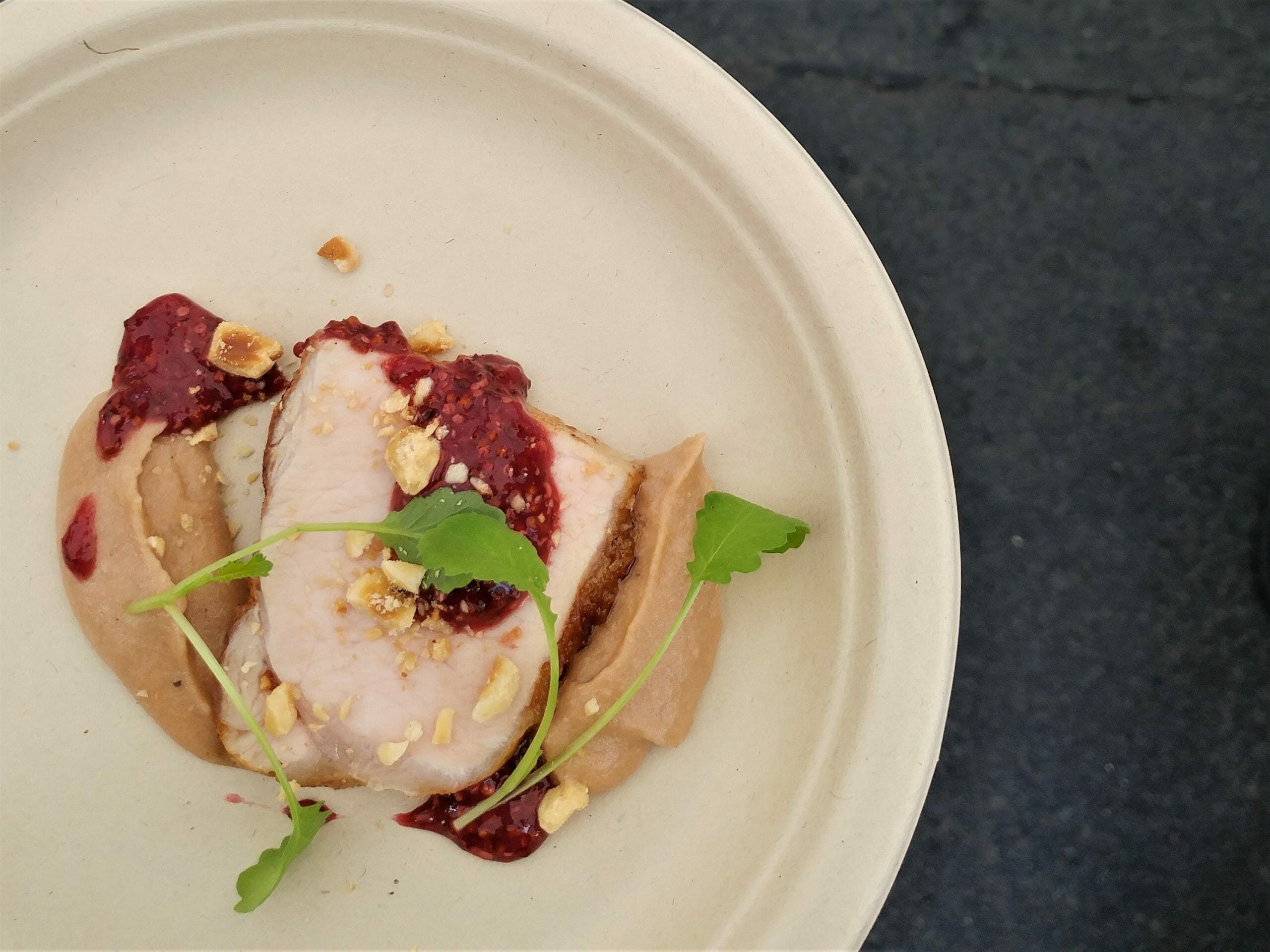 APPLE BUTTER PORKLOIN WITH CHERRY & MUSTARD GLAZE
2LB PORK LOIN, WHOLE
1 LARGE BUNCH ONTARIO MUSTARD GREENS
1/2 CUP ONTARIO APPLE BUTTER
1 LBS ONTARIO SWEET CHERRIES, FRESH OR FROZEN
1 CUP SUGAR
2 TBSP SALT
2 TSP BLACK PEPPER
2 CUPS GRAINY MUSTARD
1/2 CUP HAZELNUTS, ROASTED
DO AHEAD: Brine Pork Loin. Bring with 10 Litres of water, 2 cups sugar and 2 cups salt to boil. Let cool completely. Submerge pork line in brine mixture. Let sit, refrigerated, over night.
Heat oven to 450F. Remove porkloin from brine. Pat dry. Season with salt and pepper. Place in roasting pan and roast for roughly 45 minutes or until internal temperature reaches 150 degrees.
Meanwhile, pit cherries if using fresh, reserving any juice. In a medium sauce pan, cook cherries with sugar until just soft and all sugar has dissolved. Remove from heat and transfer to blender. Blitz until you get a jam-like consistency. Remove from blender into medium bowl. Fold in grainy mustard. Season with salt and pepper to taste. Set aside.
To serve, swish room tempreture apple butter onto each plate. Slice pork loin into four pieces. Place slice onto each buttered plate. Top with Cherry Mustard sauce. Finish with crumbled roasted hazelnuts & mustard greens.