Spring is just around the corner and we're doing a happy dance. But is it time to say goodbye to sweater weather and comfort food? Not quite yet.
And speaking of comfort food, there's no better way to stay warm and cozy on a chilly spring night than with a steaming, soul-comforting bowl of ramen. These restaurants in Ontario are making magical bowls of umami-rich broths, chewy noodles and delicious toppings. Order one before the weather turns and slurp away to your hearts' content!
---
Ramen Isshin
Toronto
ramenisshin.com
This popular ramen spot with locations in Toronto and Quebec offers unique, flavourful bowls created by executive chef Koji Zenimaru. Try their signature dish, the Wok-Fried Red Miso ramen; a perfect bowl of wok-fried veggies seasoned with red/white miso and sake, fresh noodles and tonkotsu broth, or go for their famous Black Sesame Tan Tan Noodles that's got a pronounced black sesame flavour beautifully balanced with tonkotsu broth and chilli oil. Order online for pick-up or delivery.
View this post on Instagram
---
Crafty Ramen
Guelph | Kitchener
craftyramen.com
In addition to two bustling ramen restaurants in Guelph and Kitchener, Crafty Ramen also has an online 'ramen market' offering DIY ramen kits with everything you need for an authentic ramen experience at home. Both restaurants offer takeout and delivery. The menu includes an extensive selection of delicious bowls, including six vegan options.
View this post on Instagram
---
Ramen Raijin
Toronto
zakkushi.com
Another popular ramen joint in Toronto,  Ramen Raijin on Wellesley crafts their bowls using two signature broths, mild tonkotsu (pork-based) and clear, slow-simmered torigara (chicken-based), and a range of toppings, from pork cha-shu to Kikurage (wood ear) mushrooms. And if you're still feeling hungry, add an order of gyoza or crispy fried karaage.
View this post on Instagram
---
Konjiki Ramen
Toronto
konjikiramen.com
First opened in Tokyo in 2006 by chef and owner Atsushi Yamamoto, this multi-award winning ramen restaurant has two locations in Toronto. Chef Yamamoto's exacting standards are reflected in each bowlful of complex, richly flavourful broth and hand-made noodles. In addition to their signature ramen bowls, they also offer frozen ramen kits with everything you need to assemble your own at home.
View this post on Instagram
---
Sansotei
Ottawa | Toronto
sansotei.com
With locations in Ottawa and Montreal, and across the GTA and Kitchener-Waterloo region, this homegrown brand specializes in authentic tonkotsu ramen inspired by the Kyushu and Hokkaido regions of Japan. Their pork bone broth is made daily, and ingredients are sourced locally or directly from Japan. The menu offers six signature bowls, a selection of extra toppings and several sides.
View this post on Instagram
---
Ginza Ramen
Ottawa
ginzarestaurant.ca
Ottawa's first ramen shop and sushi & sake bar, this casual spot serves authentic ramen, izykya style dishes, sushi and sake. The menu features several types of ramen but be sure to try their spicy version of tonkotsu ramen topped with sliced pork belly, bamboo shoot, scallion, nori and a soy-marinated soft boiled egg.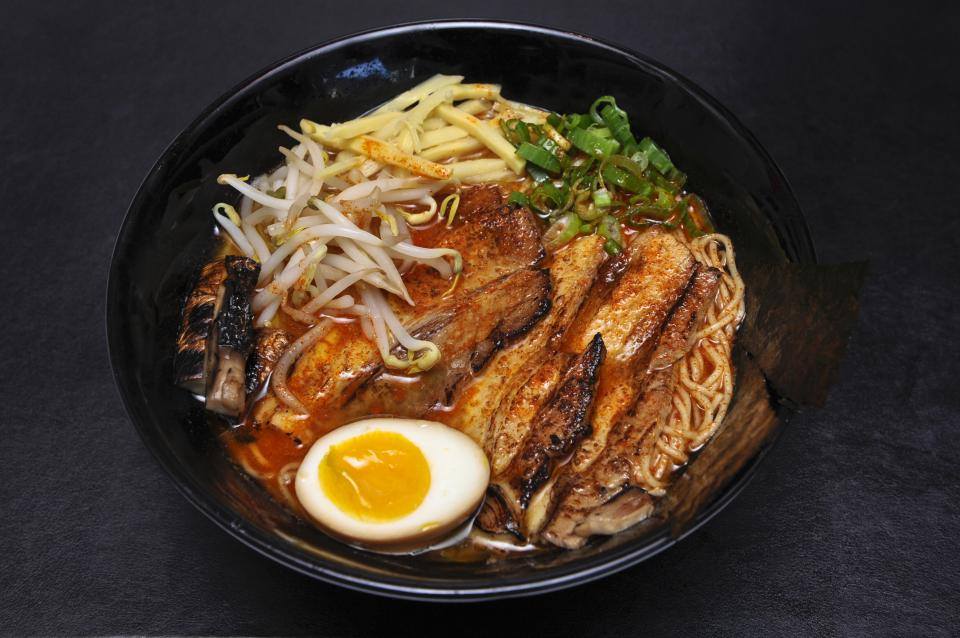 ---
Kinton Ramen
GTA
kintonramen.com
Kinton Ramen, one of the first ramen spots to open in Toronto, has several locations across the GTA. The slurp-worthy bowls created by Executive Chef Aki Urata and his team of ramen chefs start with a rich, umami-packed broth that's simmered for over 20 hours. House-made noodles and local ingredients such as Canadian pork are then added to create their signature ramen recipes.
View this post on Instagram
---
DO YOU HAVE A FAVORITE RAMEN SPOT WHERE YOU ARE? LET US KNOW @ONTARIOCULINARY!