One for the basket, one for me. It's a time-honoured tradition, one that affords many delicious opportunities to explore Ontario's rural places at your own pace. A very busy season is expected, so make sure to visit each location's website for up-to-date information and booking a spot in advance.
We've gathered up some of our favourite pick-your-own spots into a nice little list for all you apple-loving bakers. Take an afternoon, visit a farm and pick your own this season!
---
In Season Now:

Apples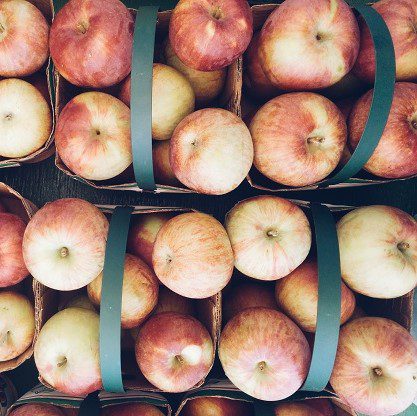 ---
View this post on Instagram
Applewood Farm
Whitchurch-Stouffville, ON
Applewood Farm has been in the same family for over 40 years, and their expertise shows in the way they run their business. There is something for everyone at this farm, including tractor rides to the orchards and a playground for the little ones. Applewood grows a variety of apples, starting with Ginger Gold in early September.
---
View this post on Instagram
Dixie Orchards
Inglewood, ON
Dixie Orchards has over 23 types of apples for you to choose from. But it doesn't stop there, once you're done picking apples for the day, the whole family will enjoy winding through the corn maze, watching the farm animals play, posing for a picture or enjoying a snack from the market. Make sure you book a spot through their website – especially if you're visiting on the weekend!
---
Carluke Orchards
Ancaster, ON
Carluke Orchards is a family operation now spanning 3 generations! After you wander the orchard and pick your crop, be sure to visit their bakery for some fresh apple cider, pies, cookies, and other treats! This is a popular spot so they do occasionally sell out. Be sure to check their website for details.
---
Carl Laidlaw Orchards
Brampton, ON
This is the place to go if you're looking for a day of apple picking, but also if you're looking for more than just pick-your-own. There are wagon rides, hay bales & a barn beam walk, a corn maze, sunflower field, roasting hotdogs and corn, sipping apple cider by the credit river, and farm animals to meet. Call ahead to make sure you know what's still available!
---
View this post on Instagram
Chudleigh's
Milton, ON
If you haven't been to Chudleigh's before, we suggest you pack your family in the car and head out there ASAP because this farm is a tradition for many families for a reason.
During the harvest season, there are lots of activities for both adults and children. In addition to apple picking, there are tractor rides, scarecrow-making, and homemade apple pies for the taking! Even Summer Music Nights at the farm featuring live music, a hard cider bar plus delicious bites like mac n' cheese and cheese blossoms. Make sure you purchase tickets in advance though, this is a hot ticket with limited capacity.
---
Mountain Orchards
Mountain, ON
Purchased by the Lyall and Hobson families in 1973, Mountain Orchards has been running a pick-your-own operation for decades, and plans to continue doing so for decades to come! After you've picked all the apples you can carry, spend the afternoon wandering the beautiful forest trail or getting lost in the corn maze.
---
View this post on Instagram
Nature's Bounty
Port Perry, ON
This beautiful farm looks exactly how its name suggests. Enjoy the views of the property while you pick from over 10 different varieties of apples. You can see what's pickable each week on their site. Afterwards, you can attempt their obstacle course, visit the sheep, or relax and enjoy some fresh apple cider
---
Waddell Apples
Kingston, ON
The orchard overlooks the historic Rideau Canal, making for the perfect backdrop to your pick-your-own adventure running from Labour Day to Thanksgiving (while supplies last). There's also fresh apple cider, and a store offering some treats to take home. Unfortunately the 2022 season had to be cancelled but stay tuned for 2023!
Stay tuned for more 'Where To Pick Your Own.'