North America's early whisk(e)y history was forged by European migration but the birth of an alcoholic beverage with a true Canadian identity was created by Temperance Movement and the provincial ban of alcohol in the early 20th century.
When Temperance was officially introduced to Ontario in 1916 many whisky distillers didn't just give up their trade and move on, some moved their fermentation & distillation equipment into secluded areas away from the prying eyes of the law and their pro-prohibition peers. Often running their stills at night under the light of the moon, Canadian distillers were forced forego the barrel aging process for whisky due to the high demand for blackmarket liquor and fear of facing heavy penalties if their stash of barrel aging whisky was discovered. Without barrel aging this Temperance era moonshine was clear as water and high alcohol.
As moonshiners had time to perfect their new style of crafting whisky without barrel aging, 'shine flavoured with cider, baking spices, blueberries and other locally sourced ingredients became commonplace.
Today, distillers in Ontario carry on the tradition of crafting moonshine traditional Temperance era moonshine and modern renditions of flavoured moonshine using locally sourced ingredients showing off the terroir of their region of Ontario and beyond.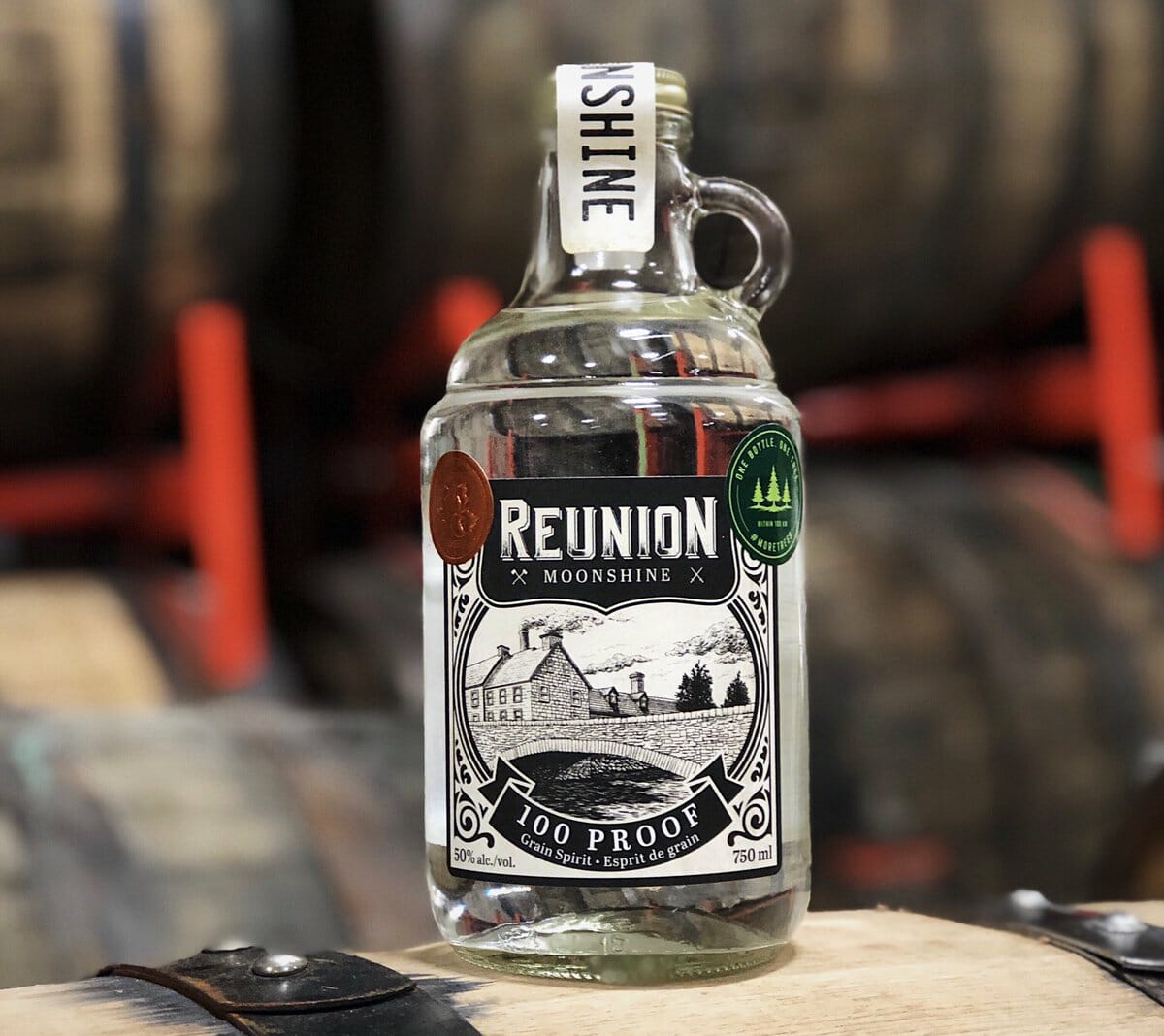 On a mission to show off some of the incredible moonshine made by Ontario distillers, our friends at Top Shelf Distillers set out on a zero emission road trip to pick up moonshine from five Ontario distilleries (including their own) in Perth, Concord, Woodstock, Guelph & Elmira in one day. Here's where they stopped- and what you should try!
---
Reunion Moonshine by Top Shelf Distillers
Perth, Ontario       topshelfdistillers.com
Honestly, you should try them all. At any given time the Top Shelf team has a dozen unique moonshines on off in their Perth County sipping room. We love the Buttertart, the Wild Blueberry and the Citrus Mint – just to name a few!
---
Last Straw Distillery
Concord, Ontario
madebyhand.laststrawdistillery.com
Try the Dark Side of The Moonshine – a classic moonshine, made with sugar & 100% Ontario corn, then aged for at least a year in a Tennessee Whiskey barrel.
---
Dixon's Distilled Spirits
Guelph, Ontario
dixonsdistilledspirits.com
Try the "Oatshine" – made with 100% Canadian oats, it is a very unique sipper. Smooth and has a hint of sweetness, it's supposed to pair well with ginger beer.
---
Junction 56
Stratford, Ontario
junction56.ca
Try the Fireshine. The folks at Junction 56 steep a custom cinnamon tea made by Karen Hartwick, Stratford's Tea Sommelier into their moonshine for several days. It's definitely toasty!
---
Murphy's Law Moonshine
Elmira, Ontario
murphyslawmoonshine.com
Try the Apple Pie Moonshine made using Ontario Apple Cider sourced from Martins Fruit Farm and corn sourced from Floradale Feed-mill.
---
"The objective of the trip was to encourage our fellow Ontario Moonshine Distilleries and those who love their products to use the hashtag #OntarioMoonshine to help grow Ontario Moonshine awareness" said Stuart Thornly, Media + Communications at Top Shelf Distillers. "We want to educate people how this category of spirit is intrinsically linked our provinces terroir."
How you ask? Most Ontario moonshine is made with Ontario grain – think corn, rye and more – then flavoured with regional ingredients. Reunion Moonshine, as an example, uses Perth County corn as the base for their spirit and then infuses it with all sorts of Ontario treasures. Our current favorite is the Prince Edward County Strawberry – it's like summer in a glass!
"We're looking to unify Ontario Moonshine distillers" says Thornly. That's a cause we can definitely get behind!