Ontario independent coffee roasters are making magic across the province – and keeping us all well caffeinated in the process. If the idea of missing your morning cup of joe is causing you stress, stress no more! These small, independent coffee roasters are delivering quality, small-batch beans across Ontario.
If you're starting to think about holiday shopping, know that a bag of good beans (or better yet, a subscription!) makes a great gift for anyone on your list.
Consider one of these roasters as a good place to start. By all means though, explore the small shops and roasteries in your neighborhood too. They need your support more than ever. Shop small, shop locally made. Every cup counts!
---

Detour Coffee
Dundas, Ontario
detourcoffee.com
Detour offers a variety of roasts and grinds for the one-off shopper, but we love their subscription program! You can choose from single-origin, house blends or join their 'coffee club' to try something new every time. For the holidays, they're also offering sweet swag and "Tasting Packs" that run the gambit.
Social Coffee Roasters
Richmond Hill, Ontario
socialcoffee.com
The folks at Social take their coffee very seriously – they also take their businesses practices seriously. They believe coffee should be delivered via socially conscious supply chains. They work primarily within the single origin framework and work to put the farmer at the forefront of all they do.

Rebel Elixir
Haliburton, Ontario
rebelelixir.ca
Oliver Zielke runs this micro-roastery with a specific ethos in mind: to promote the health benefits and immunity boost provided by the polyphenols in recently roasted fresh coffee while lowering coffee lovers carbon emissions by supporting local. In fact, he recently bought a solarium to heat the roastery with passive solar energy! Coffee ships roasted or unroasted in 5 or 10 pounds bags across the province.
Pilot Coffee Roasters
Toronto, Ontario
pilotcoffeeroasters.com
Pilot has been delivering blends and single origin roasts across Ontario for over a decade. They also offer an excellent and flexible subscription service. This season, they've also released a much anticipated Holiday Roast that has notes of orange peel, chocolate and pure joy.
North Roast Coffee
Kingston, Ontario
northroast.com
North Roast Coffee was founded in 1997 and have been keeping the Kingston community caffeinated ever since. They specialize in sourcing fair trade beans in large volumns. They offer free delivery in the Kingston area – but for a small fee, they'll ship across Canada.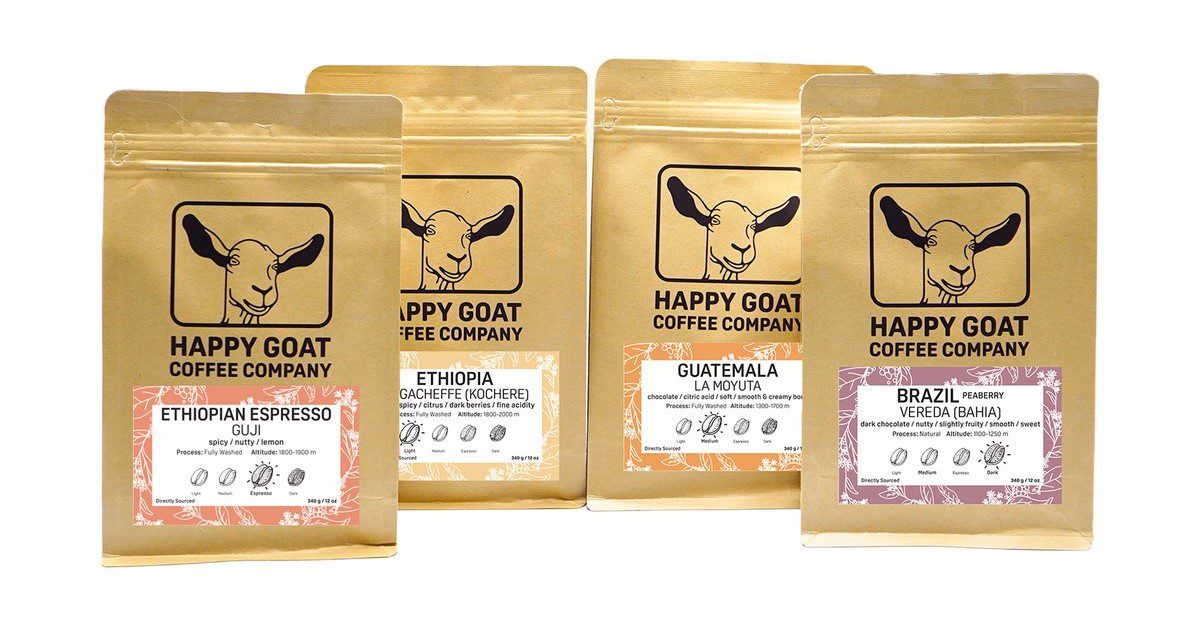 Happy Goat Coffee Company
Ottawa, Ontario
happygoatcoffee.com
Besides winning the prize for best logo, the folks at Happy Goat talk home top marks for their fresh and delicious roasts. Their Guatemala Huehuetenango was voted  Ottawa's Best Drip Coffee at Ottawa Coffee Fest and is available as part of their subscription service.
Propeller Coffee
Toronto, Ontario
propellercoffee.com
Just in time for the holidays, Propeller has beefed up their double bag delivery bundle with sweet swag like Aeropresses, pour overs and French presses making them the perfect gift – delivered. If the coffee lover in your life has everything they need already, we recommend their Discovery Collection. Collections include three bags each, representing a range of roast and flavour profiles to take you on an adventure through their menu.