Lanark County is known for its world heritage status and the title of 'Maple Syrup Capital of Ontario.' Located just minutes outside of Ottawa, the county features over 140 heritage properties, craft breweries, distilleries, artisanal shops, and award-winning adventures and experiences. Here are some new and noteworthy things to do in this picturesque region.
---
WeatherHead Brew Co.
Perth, ON
Since being established in 2017, WeatherHead has become a staple of the Perth community. Located on the Rideau system near Tay Canal, this brewery welcomes you in with its warm ambience of exposed brick, artwork, and comfy seating areas. Featuring live music, cozy indoor and outdoor seating areas, and of course, a wide variety of delicious beers to try, this must-visit for the craft beer enthusiast in you.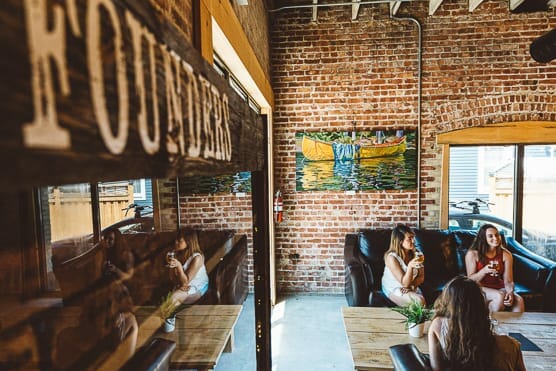 ---
Lanark County Sip and Savour
34 locations in Lanark County
These curated tour routes of breweries, distilleries, cideries, chocolateries (all the -ies!), and fine dining experiences are sure to satisfy your wanderlust. Explore the region and give your tastebuds a treat as you traverse the County's authentic taste of place.

---
The Ultimate Maple Adventure
23 locations 
Love maple? Experience this truly Canadian delicacy with The Maple Trail. This build-your-own adventure lets you experience Ontario's maple capital based on your preference or the time of year. There is a myriad of restaurants, cafes, events, sugar camps, and shops to choose from, many of which are available year-round.

---
Pakenham General Store
Pakenham, ON
Lanark County is bursting at the seams with Canadian heritage, and this store is no exception. Originally built in 1840, it's the oldest continuously operating general store in Canada. This historic shop has freshly baked treats and gifts for anyone on your list.
---
Hummingbird Chocolate Maker
Almonte, ON
This award-winning chocolate maker is a must-taste in Lanark County. Erica and Drew Gilmour roast their beans in-house, providing the care and attention necessary to create their best possible chocolate. Their Hispaniola 70% cacao bar was crowned the best "bean-to-bar" chocolate at London's Academy of Chocolate awards in 2016 – an international competition of the best in the world. Needless to say, this is some seriously delicious chocolate.

---
Dairy Distillery
Almonte, ON
Innovation is the name of the game at Dairy Distillery. "Vodkow" is a spirit created using milk permeate, a sugar-rich liquid by-product of ultrafiltered milk that is usually a waste product – until now. Supporting local dairy producers, reducing environmental impact, and creating world-class spirits – Dairy Distillery is a cutting edge local producer that was recognized with an Excellence in Agriculture award in 2019.

---
BlackFly Grubhub
Perth, ON
Outside-the-box donut creations are front and centre at BlackFly Grubhub. Cookie dough, breakfast cereal, candy, and chocolate bars are just a few of the toppings adorning these doughy treats – they even have savoury options like grilled cheese! You donut want to skip this one.
---
Equator Coffee Roasters
Almonte, ON
Channel your inner barista at their 'Brew it Right' course, or find a roast perfectly matched to you. Coffee lovers will have a blast learning about where their coffee comes from, and how to make their perfect cup of Joe.
---
Cartwright Springs
Pakenham, ON
This innovative brewery's tagline is "Small Town, Big Brew" – and it certainly rings true. Featuring on-site spring water, trails, and an overnight cabin stay, there's no shortage of experiences. Taste their core brews, along with beer floats, stout ice cream, and their seasonal carbonated maple water – you won't be disappointed!

---
Little Stream Bakery
Perth, ON
This certified organic bakery offers tours of their traditional bakery, where they churn out delicious loaves of sourdough, wood-fired Spelt, Kamut, and just about everything in between. They even have gluten-free options, although tours are not available in that facility to maintain it's GF integrity. This a bakery you knead to check out.
---
Artizen Kombucha
Perth, ON
Get your probiotic tea on with Artizen Kombucha. Visit the taproom and sample their lineup of Kombuchas featuring locally sourced ingredients (maple!) and traditional fermentation methods. For a more hands-on experience, sign up for one of their Make Your Own Kombucha workshops, where you'll learn to make Kombucha at home.
---
Perth Brewery
Perth, ON

Visit this family-run craft brewery and taste their award-winning 'O Canada' Maple Ale – featuring locally produced maple syrup from Temple's Sugar Bush. Their selection doesn't stop there though with a wide variety of brews for anyone craving a cold one.
---
Maple Shoppe
Fulton's in Pakenham, ON
Maple galore! Maple syrup, pure maple, jams, body butter, candy, coffee, tea – the list goes on! A maple lovers dream, visit the Maple Shoppe in Fulton's for a maple selection like no other.

---
Lanark County has a little something for everyone! Follow us on Instagram @OntarioCulinary for more ways to discover Ontario.