Everyone knows that the best parties always end up in the kitchen. Meet Chef Wes Quehl, the leader of the Culinary Team at Trestle Brewing Company, Parry Sound, Ontario.
---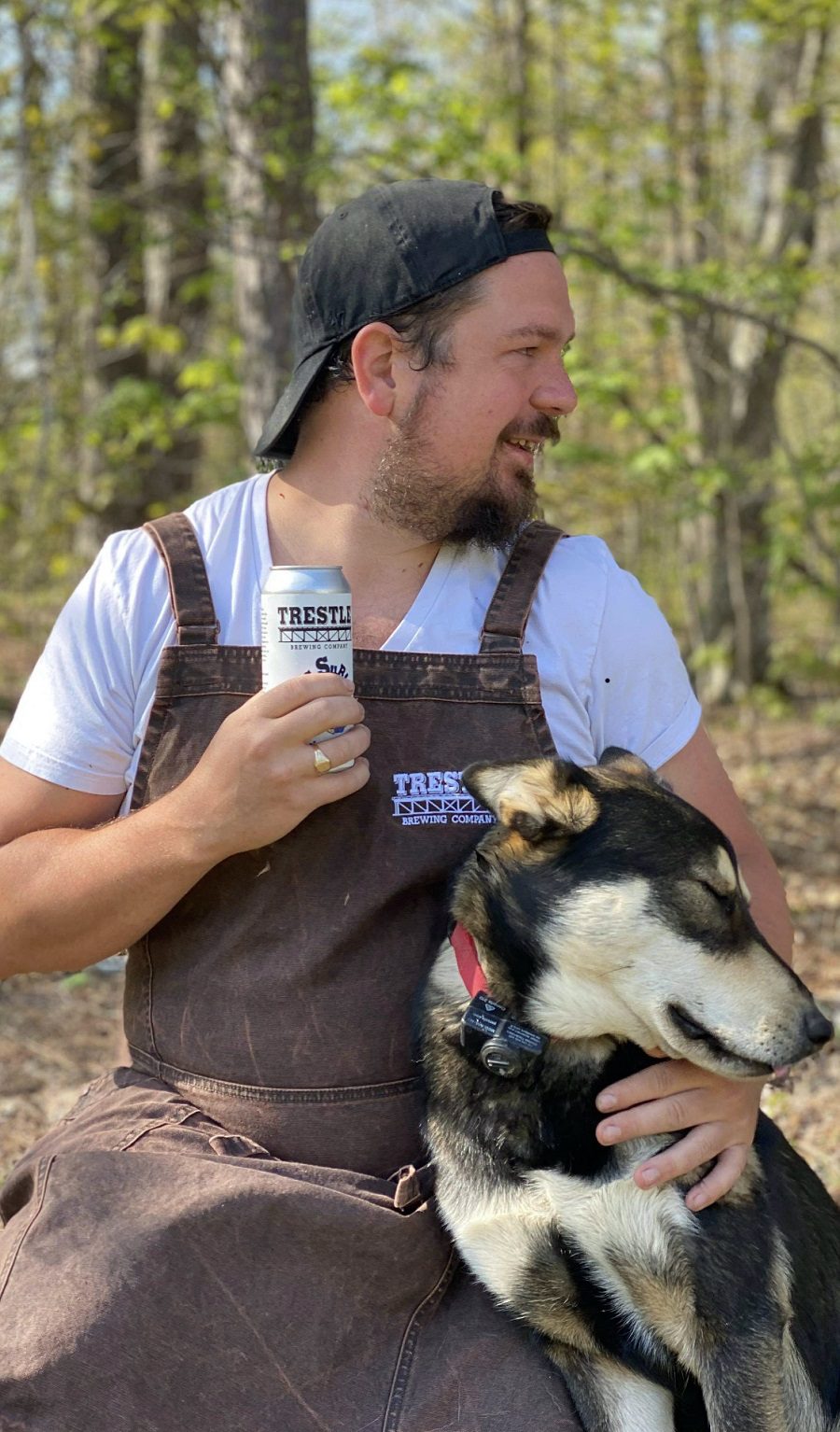 WES QUEHL
TRESTLE BREWING COMPANY
Parry Sound, ON
---
What's your favorite seasonal ingredient?
There are many of them. The one that comes to mind right now that it's spring, is Spruce Tips. The season for foraging them is actually very short, typically lasting for about a month, but it can extend to 2 to 3 months if the weather gets really really hot. This makes it such a unique, interesting ingredient.
Spruce tips are readily available in the spring when spruce trees start budding and creating new branches. The only time that you want to harvest spruce tips is when they're young and first budding, otherwise, they're way too potent. To protect the spruce tree it is important to harvest from a more mature tree, and only take one sprig per branch to make sure you don't destroy the actual branch.
Spruce tips are fantastic dehydrated and ground. They can be used to add spruce flavor to anything. Great for curing or as a finishing salt on pretty much anything. We will be making a homemade juniper spruce sausage this spring with Feerman's pork.
What in your opinion is the most underrated ingredient?
Wild edibles!! Obviously, this isn't just one ingredient but there is so much Ontario offers in our backyard with soooo much flavor. Wild ginger, watercress, garlic mustard, sweet cicely, chickweed, wood sorrel. All available right in most of our backyards yet many people don't know they're all edible. Foraging is something that anyone can do by starting small and picking the things around their property like garlic mustard wood sorrel. When you want to start foraging bigger, more unique things, it's important to do a lot of research. I was fortunate to learn a lot about foraging by working at sixthirtynine and Langdon Hall. My biggest inspiration for foraging has been Noma. I was also lucky to stage there, and seeing what the team did with foraging and fermentation inspired me to include more foraged ingredients in my food.
If I had to specify just one underrated ingredient, I'd say reindeer moss. It's so unique, just to be able to eat a moss that grows outside is incredible. Especially here in the north, it is everywhere – I see it when I go fishing or walking in the forest, literally everywhere!! Reindeer moss grows in colder climates, and I usually find it on rocks. It has to be cooked, cleaned, and seasoned correctly. Its flavor is very neutral, and as cliche as it sounds, it really does taste like the forest. Reindeer moss is not as strong as spruce. It is great to use as a garnish for something like a tartare. I fry it and the texture is like that of a chip. It looks so cool!
What is your drink of choice?
Honestly, since joining the team at Trestle, I've enjoyed drinking any new beer that our head brewer Matt Lyons and the team creates. He is so talented and the team releases new beers monthly. Right now my favorite is Chaos Surfer an Oatmeal Stout released in February and Nancy's Wit, a recently released Witbier with lemongrass and Indian coriander.
Do you have a favorite food and drink pairing?
I was fortunate to spend 6 months working in Verona in northern Italy. I became a sucker for Soave wine and Frutti da Mare. Soave is a wine from the north that's more dry and acidic, and it is great paired with pasta with clams and squid off the coast of Cinque Terre. This dish of fresh spaghetti and seafood from the lake is one of the best dishes that I've had in my life, it's very nostalgic.
Regarding beer, I wouldn't say that I have a favorite food-beer pairing because there are so many different beers and inventive menu items, but one nice pairing that comes to mind is pad thai and mango sour. We had pad thai on our menu in the winter, and it paired very very well with our mango sour. The sweetness and acidity from the tamarind in the pad thai worked so well with the sweetness and sourness of the mango kettle beer. It was to die for! But even just pairing desserts with our Beatty Beer, or an oatmeal stout with chocolate are good ways to pair food and beer.
What is your favorite dish to cook at home?
I am very passionate about planting a seasonal garden every year, so I basically cook with anything ready to eat from the garden. I enjoy making garden salads with radish, onion, green leaf, and red leaf. Cucumber salads, stuffed jalapenos, or even just cherry tomatoes with salt and pepper, are other dishes I like to prepare.
Outside of your chef life how would you describe yourself?
I love the outdoors and sports. If I'm not watching the Leafs game I'm doing yard work, fishing, or foraging in the forest.
What to you is the best part of working with Ontario food and drink?
There are so many unique ingredients Ontario offers that are not available in other areas of the world. We also have four very different seasons. Ontario's terroir creates so many remarkable ingredients and seasons are so short that it creates challenges for us to learn to prepare ingredients. Rhubarb, mushrooms, asparagus, peas, tomatoes, squash, and cabbage, are some examples of ingredients that are only around for a short amount of time, so we have to capitalize on using them to the best of our ability. In the winter we have to apply techniques like fermenting, pickling, curing, brining, or storing to adapt to the season.
Why is Feast On important to you and your restaurant?
It is very important because it allows us to help support local businesses. Not only are we supporting our farmers, but the quality of the product that we get is also superior and at its ideal freshness when we receive it.
What does your 'Perfect Weekend' in Parry Sound look like?
My perfect weekend involves me spending time on the Georgian Bay with my puppies, girlfriend, and a bottle of wine with cheese and pepper jelly.
Some of my favorite restaurants to visit nearby are Log Cabin Inn, Crossroads, and Di Salvo's. When I go down south I love supporting Eric at sixthirtynine and Jason at Langdon Hall. When we eat out we support local as much as possible.
I try to support a lot of the purveyors that we use at the restaurant at home as well, so for my cooking at home I get product from Rob at Beaver Creek Farm, who seed saves and produces crops that are off the beaten path, like horseradish, peanuts, muskmelon, cantaloupe, and he also has fig trees. Middle River Farm is another purveyor I try to support as much as I can. From there I get whole and half pigs, as well as chickens. There are so many great small businesses that create excellent products, so I try to support them by using what they produce at home.
---