Everyone knows that the best parties always end in the kitchen. Meet Paolo Vasapolli, the Executive Chef of Food and Catering at the University of Windsor.
---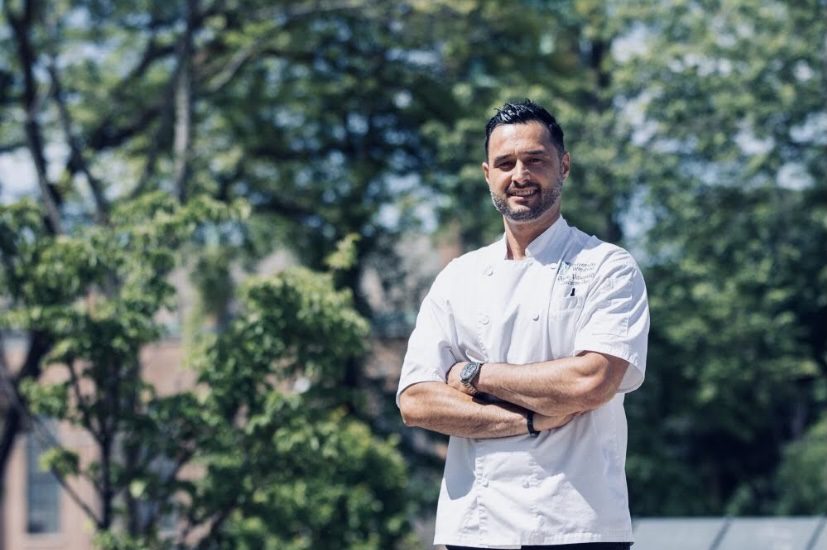 PAOLO VASAPOLLI
UNIVERSITY OF WINDSOR
Windsor, ON
---
What in your opinion is the most underrated ingredient? 
Parsley. A lot of people don't like it, but there are so many things that you can do with it! It's not just about using it as a garnish, there's so much more to parsley. I put it in a lot of my meat and fish, I make a green salsa with cilantro and parsley, white wine vinegar, some chili pepper, and garlic. I'll make a parsley pesto or a chimichurri. So I use a lot of parsley. I like to grow some of my own herbs and parsley's definitely one that I grow.
Do you have a favorite seasonal ingredient? 
No, not really. I like to experiment with different ingredients, ingredients that I haven't played with before. I like to experiment with a lot of local ingredients because I'm very interested in knowing how things are grown. I'm interested in seeing how a crop goes from one stage to the next, to the store, and to the table.
What is a dish you enjoy cooking at home? 
I've been playing around with all kinds of different stuff lately. Unfortunately, we don't have access to fresh seafood but I like to cook a lot of fish. I also do a lot of octopus. I use different techniques with octopus – boiling, charring, sous vide, just to see how the texture is. There's an old trick a European chef taught me which involves boiling the octopus with a wine cork because apparently, the enzymes in the wine cork tenderize the octopus.
I'm Italian, and people think that I like to eat a lot of pasta, but I don't actually, I probably have pasta maybe once every three months. Lately, I've been doing a lot of stuff with cheese, like burrata cheese and things like that. I'm not making my own cheese but I'm experimenting with it. I like doing a spin on a fancy pizza. I take a flatbread and I put on some fresh mortadella, and burrata cheese on top, and I make my own pistachio pesto to go over it.
I enjoy doing street food too, like tacos. I started making my own tortilla shells, and now I can't buy them anymore. For me, making the tortillas is worth the work because they make a huge difference! I don't like to make the same thing often, so I experiment a lot and I take chances and if my dishes don't turn out right I just try to make them in a different way.
What's your go-to drink? 
Coffee. Tim Hortons is what I drink.
What's your favorite thing about being a chef at a university? 
Providing the best experience that I can for our students. I know the perception out there is that university food isn't good – it's cafeteria-style. I can confidently say that when I first took over as a chef, I was doing things that probably no other university was doing. Things like butternut squash ravioli with parmesan foam, and lobster tail dinners – food that you could actually plate but that was being put onto a buffet.
I'm really hands-on and am always out there. I've done weekly recipes for faculty and staff to try at home, as well as virtual cooking demos to give them something to do. I get involved with the students. I'm working on a project right now called Pitchen, and the idea, inspired by Massimo Bottura, is to take leftover food that hasn't been exposed, plate it nicely, with garnishes, into microwavable containers, and then donate these plated dishes to the Student Food Bank.
What do you enjoy doing outside of your chef life? 
I'm into martial arts, so I trained before COVID, and I also like to run. I enjoy spending time with my family. I still cook on my days off. I cook for family, especially around these times.
What is the best part about working with Ontario food and drink?
Learning and connecting. The more and more I get out there and connect with growers, the more I find out about what's actually out there.
I have been doing work with a pepper farm out in Leamington called Under Sun Acres, and I've learned a lot. I'm finding out about all these greenhouses that are going up in Leamington, growing all of these different things that are interesting to me. I've also learned how peppers grow by spending time in the greenhouse at Under Sun Acres. One thing that I find crazy is that when you go to the store and buy a pepper, it is so soft, but when you cut a pepper from the plant it is very firm and getting peppers from growers means that the peppers aren't going to sit in a fridge for weeks and get soft. It's amazing the difference in the quality. Connecting with growers has helped me to see these things and see how our food grows.
You're the first university to become Feast On certified. Why is Feast On important to you and the University of Windsor?
I was always a huge supporter of local farmers, artisans, and growers and it has been nice to receive the recognition of being committed to local sourcing. Not being certified felt like the one piece of our puzzle that was missing. Now becoming Feast On certified and gaining that recognition for supporting local makes us feel proud, and highlights all of the work that we've tried to do over the past few years. I know that providing local products is a huge thing for some of our students, so getting certified also means a lot to them.
What does your 'Perfect Weekend' in Windsor look like?
I like to take a trip to Leamington once a week. I've been patiently waiting for the stands to open back up. Right now, there's a pay box at the stands that allows you to pay and then pick up whatever you like so I like to do that every weekend.
I like the Iron Kettle B&B, which I know is also Feast On certified. When things were normal, I would go and stay there for the weekend because you feel like you're on vacation but you're only like 20 minutes away. On the weekends I also like to visit the wineries. There are a lot of nice restaurants at the wineries.
I like to just be around the county, get some fresh air and get out of the city. Obviously, this summer on weekends, I'll be visiting some other greenhouses and seeing the possibility for September. Hopefully this summer I'll be able to take some nice road trips and see how things are grown.
---