Sarnia, Lambton and Middlesex Counties are home to some of the most exciting new cideries, wineries and breweries in the province
When you think "hot Ontario food and drink destination," your first thought might not be Sarnia, Lambton and Middlesex – at least not yet. But the region, which is set on the sandy shores of Lake Huron, is an up-and-coming foodie hotspot with a growing slate of must-visit breweries, cideries and wineries. (It actually sits at the same latitudinal plain as Northern California!) Want to check it out while it's still something of a hidden gem? Here's where to start.
---
Rusty Wrench Brewing Co.
9 Front St. W., Strathroy
This Strathroy microbrewery opened in 2018, with Chris Traczuk as owner, brewer and supervisor of a family-friendly pub where regular Thursday 'hoppy' hours, dart nights and the Rusty Wrench signature Big Hef'n Hammer hefeweizen, or German-style wheat beer, have become local favourites. Want to take in the sights first? Reserve a seat on the sidewalk patio, work up a thirst at the nearby conservation area, then head back to Rusty Wrench, where you can kick back with a citrusy pint of the Apprentice SHIPA Staff Helped India Pale Ale.
---
Brewster's Mill Brewing
36 Ontario St. N., Grand Bend
Six friends launched this tap room/store in summer 2021, naming their new business after Grand Bend's former moniker. Drop by for a pint with a side of live music on weekends, or pick up tins or a growler of 1832 Irish Stout, River Pigs IPA and Crooked Waters cream ale, all of which are tributes to the area's history.
---
The Tin Fiddler Brewpub
146 Christina St. N., Sarnia
Everything on the menu at this welcoming pub is made from scratch – including the beer. The Tin Fiddler is the exclusive home of River Run Brew Co.'s handcrafted ales, porter and stout, including the Nut Buster, a peanut butter porter and River Run, a pale ale. Guests can enjoy their selections straight-up, or in a delicious beer cocktail, including the Day Drunk, which combines River Run with coconut rum, orange liqueur and pineapple juice for a drink that feels like a summer vacation.
---
Two Water Brewing
446 Lyndoch St., Corunna
Myka Barnes first started making beer in her basement, but when her operation kept growing, she and two partners took the leap and launched the first brewery in the town of Corunna. Two Water's offerings include ales, lager and stout – all in well-designed, vintage-look cans, might we add.
---
Black Gold Brewery
395 Fletcher St., Petrolia
Founded just 18 months ago by four Petrolia couples, this Lambton County brewery is new on the scene, but already making waves. On-tap options include Derrick IPA, Oiler's Daughter American Amber Wheat, Pantless in Petrolia IPA and What the Frack brown ale, which nabbed a gold at the Ontario Brewing Awards in December 2021.
---
Stonepicker Brewing Company
7143 Forest Rd., Plympton-Wyoming
When farmers Joe and Mary Donker retired from their full-time swine operation, there was just one thing to do: plant barley, then use it to make beer. Sold by the pint, can, bottle, growler or keg, Stonepicker makes an ale, lager, pilsner and/or stout for every occasion. The outfit also hosts fun events, including concerts, trivia nights and even yoga and beer classes.
---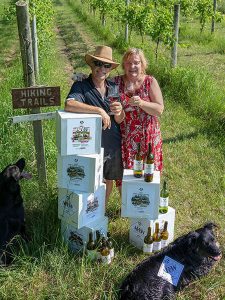 Alton Farms Estate Winery
5547 Aberarder Line, Plympton-Wyoming
When Marc and Anne Alton established a seven-acre vineyard on the south shores of Lake Huron in 2005, they took the first step in creating what has become the Huron Shores appellation. Almost 20 years later, the Altons offer multiple vintages, including Cabernet Sauvignon, Riesling, Sauvignon Blanc and Cabernet Franc.
---
Shale Ridge Estate Winery & Cidery
9090 Widder Rd., Thedford
Established in 2019 by owners Alicia and Garren Hardman, Shale Ridge uses its 13 acres for growing grapes to make its Gamay Noir, Riesling and the Farmerette Rose. Ciders, including the very popular Blueberry Hops Hard Cider, are also on offer, made from apples grown at nearby Juicy Fruit Farms (which is run by Alicia's parents).
---
Twin Pines Orchard & Cider House
8169 Kennedy Line, Thedford
Owned and operated since 1968 by the Vansteenkiste family, Twin Pines Orchard produces over a million pounds of 25 commercial apple varieties and 15 heritage varieties, which they use to make their award-winning Hammer Bent series of ciders. Visit the farm on weekends to wander the walking trails and taste apple wine, a flight of ciders or a cider mimosa.
All of these stops can be found on the Great Taste of Ontario! Download a Middlesex, Sarnia, Lambton passport and plan a day – or a weekend – to check out the region's tasty libations.
---
Three more off-the-beaten-path craft beverage destinations
For gin lovers… Wellington, Waterloo and Perth Counties
From Guelph's Spring Mill Distillery to Elora Distilling Co., there's a brand-new boozy trail launching that's sure to delight gin lovers. The Craft Gin Trail, which officially debuts on June 11 (World Gin Day!), is the perfect way to check out some of the province's best distilleries.
For brew enthusiasts… Brantford
This Southern Ontario city is home to irresistible and unique craft breweries, including Bell City Brewing, Steel Wheel Brewery and Mash Paddle Brewing Co. There's also plenty more experiences in neighbouring Brant County.
For oenophiles… Norfolk County
Must-visit stops in this off-the-beaten-path wine region include Burning Kiln Winery, Bonnieheath Estate Lavender and Winery, and Hounds of Erie Winery.