Everyone knows that the best parties always end up in the kitchen. Meet Karl Lekavy, the Chef de Cuisine at Crowsfoot Smokehaus in Conestogo, Ontario.
---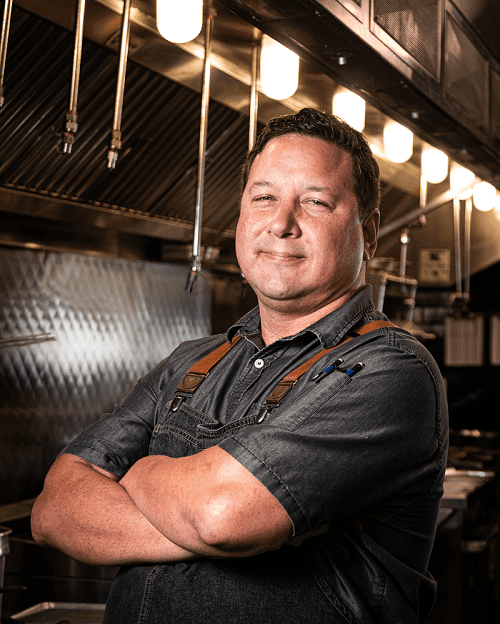 KARL LEKAVY
CROWSFOOT SMOKEHAUS
Conestogo, ON
---
What's your favorite seasonal ingredient?
I have more than one. I love ramps and fiddleheads in the spring. They remind me of my grandparents' farm and being out in the back bush behind the farm. I typically grill ramp bottoms and use the tops to do a pesto because in my house we do a lot of pizzas on the barbecue. When I'm preparing fiddleheads I sauté them in butter, salt, and pepper, and hit them with a little bit of parmesan cheese at the end, and a squeeze of lemon juice for brightness. They're so fragile but have such great flavor. When fiddleheads come up in the spring, I know that summer is coming! I also love when Ontario corn comes into season. I love grilling off corn when my friends and family come for dinner.
Crowsfoot Smokehaus has an onsite general store that features lots of artisanal essentials. What's a pantry staple that you can't live without?
Fresh bread. It really goes with every meal. It's a breakfast staple I eat alongside eggs and bacon; it's an ingredient that I rely on for lunch because lunch always involves sandwiches, and when I'm off on the weekends it's an essential that I include when making charcuterie spreads with cheese and wine. Bread is one of those things that brings everyone together. The type of bread I eat is dependent upon what else I'm having with my meal. While I don't have a favorite, one very tasty bread that we sell in-store is called Grain Harvest.
Do you have a favorite food & beverage pairing?
Paella and sangria. When I worked in Toronto, I learned a lot about Spanish food and spent probably a year focusing on Spanish cuisine. To me, sangria and paella go hand-in-hand. When I host my friends I don't like to be busy cooking, and paella is a dish that I can throw on my barbecue while I sit around with my friends and family.
If hosting early in the afternoon, and am cooking paella, I usually l start off with white sangria with fresh peaches, basil, and a really nice Chardonnay. During dinner, I move to red sangria, and then open a bottle of wine, like Tempranillo.
What is your go-to dish to cook at home?
Big rice dishes. Such as jambalaya and paella. I like having my friends and family over, but I like to just put out 1 big dish for everyone to share so I have more time to sit and talk and enjoy the day with them. The key to making a good big rice dish is to measure out your ingredients before you start cooking and to build layer after layer of flavor.
What do you enjoy doing outside of your chef life?
I love to spend time with my wife and kids outside. I'm more family-oriented these days. Taking the kids fishing for an afternoon is a really great way to just let time melt away with them.
What to you is the best part of working with Ontario food and drink?
I love everything about Ontario food and drink. These are all products made by my friends and or family members. I grew up being in a family that had farmland. By using these products I'm supporting them and my community. I wouldn't be where I am today without them.
Why is Feast On important to you and your restaurant?
As I mentioned above, producers are my friends and family. Growing up and helping my friends and family with their farms gave me an appreciation of where all of our food comes from. It takes to run a farm. I'm really glad that I have the ability to use as many Ontario products as I can and teach my young talented team about food and its source.
What does your 'Perfect Weekend' in Conestogo look like?
Well, there's only us at Crowsfoot Smokehaus, and another small little cafe in Conestogo. If I'm not working my perfect weekend would have to be taking my kids fishing on the river. Even if we don't catch anything. Just spending that quality time with my kids watching them grow. I enjoy eating from Bangkok Cuisine in Kitchener, so my perfect weekend would also involve grabbing a meal from there.
---