For the last few weeks, we've been getting to know the vendors at the Virtual Farmers Market through short interviews and vignettes. You can see past segments in the series here.
---
Littleleaf Farms is a small Microgreen Family Farm proud to offer their customers a variety of microgreens that are grown using organic methods with consideration for the health of consumers and the environment. All of their microgreens are grown in Ontario with certified organic and GMO-free seeds. We use organic certified soil and ozonated water for the most naturally grown greens that are sure to have a fresh crisp flavour, big impact and nutritious crunch!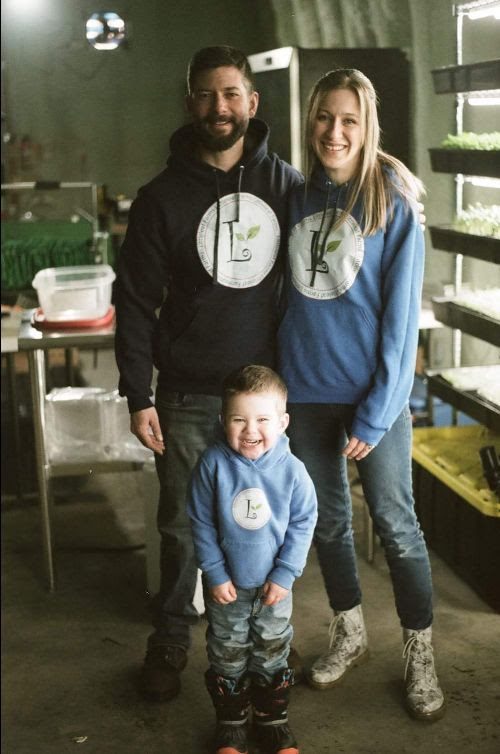 For as long as we can remember, co-owners Larissa and Jon have been intrigued by nature and our place within the natural world.
"We believe that food fuels the body and good food enlivens the spirit. Dedication to the health and well-being of their customers, stewardship of the planet and providing a top-quality nutritious product are the motivating factors at Littleleaf Farms."
Working with plants in a farming situation has been a lifelong ambition for Jon and Larissa. They both have extensive experience working with plants. Larissa is a certified Horticultural Technician with experience growing a variety of crops as well as working with the largest Microgreen Grower in Canada where she learned a bountiful amount of information and growing methods to provide a high quality nutritious microgreen product at Littleleaf Farms. Jon has felt called to his vocation ever since a field trip to a local farm in the Durham Region in the first grade. Working with his hands close to his family has been a blessing.
"We both feel honoured with the opportunity to grow nutritious food for local communities."
Since the pandemic hit their initial customer base of 25 weekly restaurants has been significantly impacted and reduced.  "We have been blessed to be able to  pivot our business model to include selling directly to consumers" says Larissa. "Being a part of the Green Circle Food Hub online Virtual Farmers Market has been a huge help and support. We are so thankful to be a part of the Market, and have met so many amazing farmers from the market over the past several months. We are very thankful to be a part of the local community working together to bring high quality, nutritious food to so many families across the GTA and Durham Region.  Without the help of the online farmers market we would not be able to touch as many people as we are with the support of the market. We are very grateful to be a part of Virtual Farmers Market and all that they do  and for all of the continued support from our local communities - thank you all so much!"
---

Graze & Gather, formerly the Virtual Farmers Market, was formed by farmers in the early days of the pandemic, out of the tremendous need for collaboration and cooperation between farmers and homes. The GCF Hub increases access to the best, seasonal food from small producers and provides a direct connection to the people growing and making your food.