Everyone knows that the best parties always end up in the kitchen. Meet Heather Pond, the Owner of Blue Elephant Artisan Brewery in Simcoe, Ontario.
---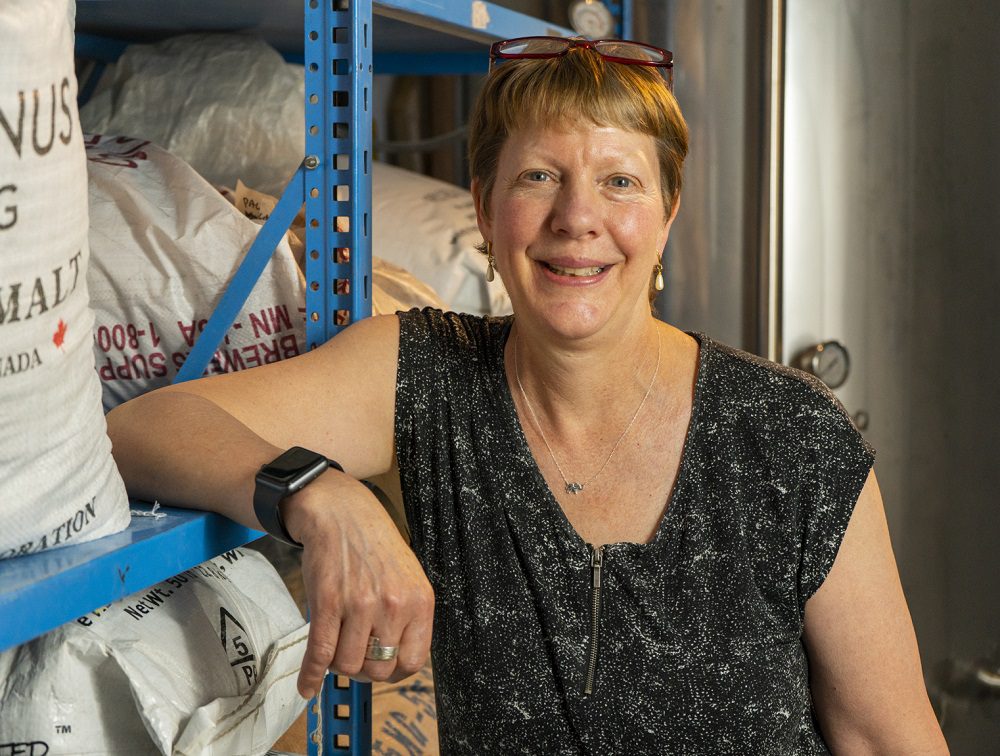 HEATHER POND
BLUE ELEPHANT ARTISAN BREWERY

Simcoe, ON
---
How did Blue Elephant Artisan Brewery come to be?
I've always been in the food industry. I've traveled the world living and working as a Pastry Chef in hotels in places across South America, Europe, and China. After having kids, it was time to start thinking about settling down somewhere, and the restaurant we're in today was on the market. So, we decided to give restaurant ownership a whirl!
Blue Elephant has been serving Norfolk County since 1992. We originally opened as a fine dining establishment, and then turned the bar section of the restaurant into an English Pub. As time progressed, we added an outdoor shed for parties, expanded our kitchen, and in 2021, we built a brewery. The addition of the brewery happened pretty organically. At the time that we built it, small breweries were big in the U.S. and other places like Europe. When I lived in Europe, I lived in a little village with a brewpub and always thought that the brewpub was really neat. So, I think in the back of my head having a brewery was always something that I thought might be interesting to incorporate here. Now, we're a Brew House with lots of options for food and beverage.
We have always used local products in our cooking. We were basically doing local before 'local' was even a 'thing'. Through the years, we have evolved with the changing times and the economy, while pivoting with other establishments that have come and gone.
What is your favorite part of owning a brewpub?
My favorite part is being able to control what we serve, both food and beverage-wise. Being an independent owner-operator is very rewarding. We are always trying new menu items and flavors of beer, some work and some don't. Being able to control what we serve also gives my staff a lot of flexibility and opportunity to be creative, as we are never told (except by our customers) what we can or cannot do.
What is your favorite seasonal ingredient to feature in beer?
Probably Strawberry. I love our Strawberry Lager (which has won a Silver in the Ontario Brewing competition). The beer incorporates fresh local strawberries which we are known for here. Local hops, which are grown down the road by Mark at the Great Canadian Hops in Norfolk, are also an important part of the beer.
What's your drink of choice?
A Strawberry Daiquiri…in season!!!! Also, I love all of the different types of beer that our Head Brewer, Sarah Fritch creates!
What's your favorite food & beer pairing?
Probably our Warm Shitake Mushroom Salad and our Gentlemen's Pilsner. The Warm Shitake Mushroom Salad uses local mushrooms from the Simcoe Mushroom farm, and the Gentlemen's Pilsner was created for and used as the official beer for The Mumford & Sons concert held in Simcoe in 2013. I love all the flavor and slight maltiness from the beer. It works well with the salad's house-made herb vinaigrette that the Shitake Mushrooms and leeks are cooked in.
What to you is the best part of working with Ontario food and drink?
Being able to support the community while having access to incredible ingredients. We are extremely lucky living here with all the fresh local produce we can get! It really is the best!
I was born and raised in this area. Half of my family members had farms, and I spent a lot of time at my grandma's, who also lived on a farm. Using local ingredients has always been part of who I am. I live in a farming community and have always wanted to incorporate the products of other community members. There's nothing nicer than knowing that your potatoes are from one of your customers.
Living abroad also helped to instill in me the importance of local products. When I lived in Columbia, we had no choice but to use local ingredients, as nothing was imported. 'Local' wasn't even a 'thing', it's just what people did, all of the food products that were used were local.
Why is Feast On important to you and your restaurant?
It really is a great recognition and something I'm proud of. From opening this restaurant in 1992, we have worked very hard to cook, source, and support local!
What does your 'Perfect Weekend' in Simcoe look like?
My perfect weekend is 24 degrees sunny, with low humidity, no sick team members, and happy customers outside on one of our two patios, while enjoying friends and family and indulging in a Local Strawberry Lager!
On weekends I also love to play golf at a local course, visit Dover to get ice cream and follow my ice cream stop with a long drive along the lakeshore.
---