For the last few weeks, we've been getting to know the vendors at the Virtual Farmers Market through short interviews and vignettes. You can see past segments in the series here.
---
So Delish was established to connect people to great local, organic, ethically raised food. If we can minimize our ecological footprint by supporting our local farmers and waste less of what's grown, our planet will be a better place.  So Delish had earned Foodland Ontario recognition and certification for providing products exclusively sourced from Ontario farms. All of our food is sourced from organic, Ontario farms.  If it's not grown in Ontario, and not organic, you won't find it in our products.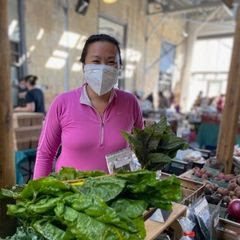 Originally So Delish was launched as Baby Delish, fresh, locally sourced baby food. So Delish is a result of the non-baby clientele who fell in love with the "baby-food" from Baby Delish. The original Baby Delish single ingredient purees are still sold in frozen offerings, as well as market favourites in freeze form.
In  2018, we had the opportunity to partner with one of our supplier farms by getting stuck in on the farm.  What an incredible experience that was! Starting at the beginning of the season, we prepped seedlings for local plant sales and then things very quickly went full tilt.  Our gracious farmer Brenda Knechtel shared her expertise and wealth of knowledge while working side by side in the fields.
Working on the farm also gave us insight into exactly how much never even makes it off the farm.  The desire to reduce waste led to an on-field brainstorming session where our dehydrated line was conceived.  Dehydrated food has a much longer shelf life, and our products make using them so easy and tasty!
So Delish has several dried veggies on the Market this week, including Cayenne Peppers, Dried Parsley, and Dried Cherry Tomatoes.
---

Graze & Gather, formerly the Virtual Farmers Market, was formed by farmers in the early days of the pandemic, out of the tremendous need for collaboration and cooperation between farmers and homes. The GCF Hub increases access to the best, seasonal food from small producers and provides a direct connection to the people growing and making your food.