Originally published in the Virtual Farmers Market newsletter. August 2020.
---
Finding land that is financially accessible to young, first generation farmers is a challenge. No one knows this better than Erin and Tyler of Foragers Farms. In the search for farmable land, Erin and Tyler had to get resourceful and through connecting with local farmers found out about Farmlink.net, a website joining people to land opportunities. After multiple meetings, extensive research and land tours, the move was made in 2016 to Headwaters Community Farm and Education Center in Cobourg, Ontario. This was a great chance for them to get started on a beautiful piece of land close to a local market. It was also an opportunity to try and earn a living and find a place in this new community through growing a diversity of annual vegetables.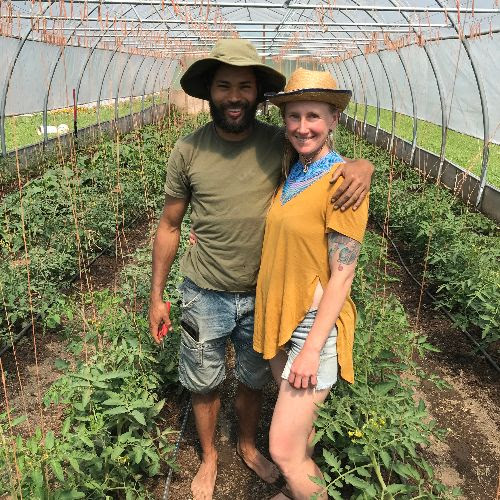 In their second year on the land, it became quite apparent that the water supply was insufficient for the needs of their 1 acre farm. With the intention of building the farm up to two acres of production in this space, this young family had to make a decision; either move the farm and start from scratch leasing land with water access, or wait to see if a dug well would yield water through spring fed aquifers. They decided to choose patience and remain at the place they had already begun to establish roots. This was also an easy choice considering the amazing relationships and connections that had been formed in the area.
As it would turn out, after digging three 35' deep holes, no water was found.  Their farm on this beautiful space came up against some big hurdles. Complications with their water and land security made it tricky to navigate an already challenging endeavour as young, first generation farmers. They continued to persist with open hearts and minds to see where this journey would take them and what valuable lessons it would teach.
In the third season they made a strategy to use straw mulch and drip tape to conserve water. They connected two more cisterns (water tanks) to the barn to make a total of 3,500 gallons, and borrowed a friends trailer, outfitted with 2-1,000L totes and a gas pump with some fire hoses to collect water as a back up system. Using these tools they were able to successfully grow on 1.5 acres with mostly normal precipitation. At this point, the land has yet to be severed and by increasing their gardens to two acres they could start to think about how they would pay a mortgage and, one day after paying the bank, could own the means of production.
This brings us to the spring of 2020. With the sudden outbreak of Covid-19, Erin and Tyler worked diligently to adjust to the changes caused by the pandemic and continued to provide their community with the freshest, healthiest food possible. The pandemic brought even greater uncertainty to small-scale farmers as markets were closed down and have only recently begun to open up to a steadier pace. The markets are not only a great place for the community to access the freshest food, but are a valuable opportunity to connect and engage with the humble hearts and hands behind the process.
Aside from the pandemic, this year has thrown another hurdle towards Erin and Tyler and many other farmers. A severe drought is facing Ontario and after 6 weeks with hardly any rain the crops are struggling and the team at Foragers Farms are depleting their physical resources. Collecting water and modifying the irrigation system has became a full time job and is still not enough to give all the crops a sufficient amount of water. This system has become Erin and Tyler's only way of getting water to the gardens, besides ordering water on a truck which has been extremely costly and exhausting.
That's where the Green Circle Virtual Food Hub - and their network of supporters comes in. They're asking for those benefitting from Erin and Tyler's hard work to help out. Either through financial endowment, CSA share purchases or weekly produce purchases through the hub. Your purchases help Erin and Tyler cover the costly expenses of irrigation and provide invaluable encouragement and a greater sense of community and support.
In the midst of a global pandemic, it is more vital than ever that we support organizations and communities working to protect and conserve this beautiful Earth and planet we call home. Food security, sovereignty, and sustainability have always been close to Erin and Tylers heart and a huge part of their mission. The folks at Foragers Farms are more than just farmers, they are caretakers of the land and believe in natural growing practices and living with great respect for nature and future generations.
"It is our dream to see this farm and the relationships it has created sustained. There is still so much more we hope to give back to the land and the community, and we are inspired each day by the beauty and grace which surrounds us. If we can connect to, heal, and nurture the land, it will in turn heal and nurture us" say Erin and Taylor.
"The biggest challenge we face now is not unlike what most of the world's farmers are battling with. Access to viable farmland and capitol to invest in the complex systems needed to operate an ecological diverse farm. We are being asked to take on massive amounts of debt in order to own the means of production, meanwhile the cost of food is at an all time low. All of our earnings and profits get invested back into the farm year after year, and farmers are being forced to leverage the land to maximize production in order to stay afloat.
They are asking you to invest in the ones that are willing and able to do the work necessary for all of us to thrive and stay healthy in this ever changing world.
"We are asking you to invest in us."
---
Foragers Farms is a Virtual Farmers Market Vendor
The Virtual Farmers Market was formed by farmers in the early days of the pandemic, out of the tremendous need for collaboration and cooperation between farmers and homes. The GCF Hub increases access to the best, seasonal food from small producers and provides a direct connection to the people growing and making your food.