Everyone knows that the best parties always end in the kitchen. With our series, Kitchen Party, we're sitting down with Feast On Chefs & purveyors to get to know them and the local foods that inspire them a little better.
---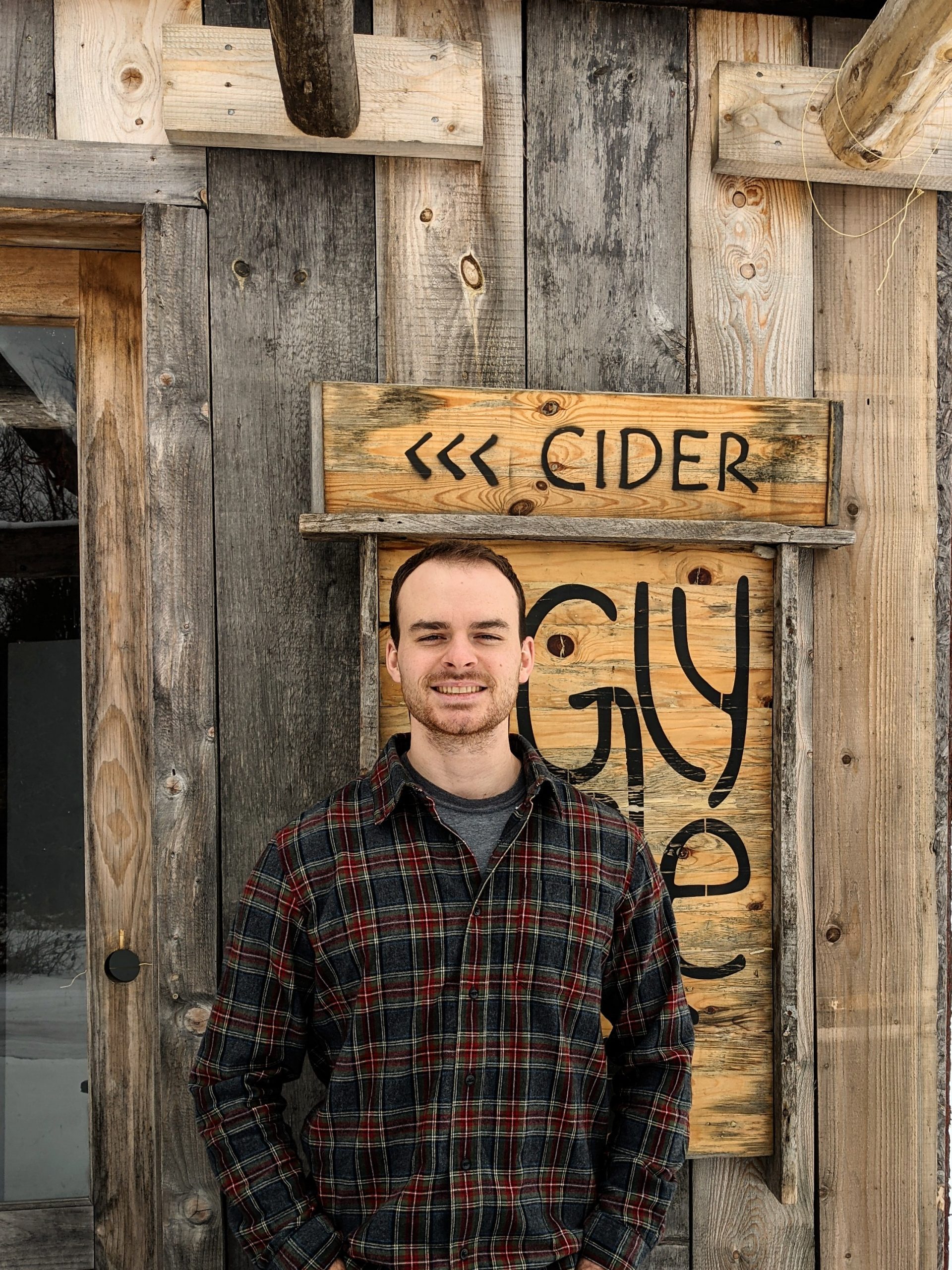 ETHAN HOGUE

UGLY APPLE CIDER
Lanark County, ON
---
Tell us a little about how you became a cider-maker.
It started off with harvesting just apples from the property. When I was a kid, my family always harvested apples. At that time, we would only harvest from eating trees, and I'd often be climbing up the trees, filling baskets with apples, and that sort of thing.
Around 2010, maybe 2011 my dad started making cider, and at that time, he operated on a very small scale, but I helped with collecting apples, and then processing them. The apples were all processed by hand, with a hand-cranked mill (now, we've got an electric once, which is nice). From there, I got more and more involved in the business, and I started selling at markets, not as part of the business, but just because I enjoy doing that.
I've always liked drinking cider, and I really liked what my dad was making because it isn't sweetened or carbonated and is a little more of an authentic cider. With the growth of Ugly Apple Cider, I was brought on full-time, and that's kind of how I got to where I am now.
What has been the best part of starting a cidery?
Spending time with family – that's really nice! I like being outside, and I like that the work is varied. I'm involved in the entire process – harvesting, pressing, fermentation, and bottling, I get to do it all.
I also enjoy selling cider at the markets, especially back when we were able to do tastings. Authentic cider is something that is new to many people, something that a lot people have not tried before, and it's nice to be the one to introduce them to it.
So, I would say being involved in the entire cider production and spending time with my family is the best part of what I do.
What is something about the cider-making process that people are often surprised to learn?
The thing that surprises most people about the cider we make, is its taste. People are surprised by the product itself because it is more similar to wine, than anything else. I mean, different places have different definitions of cider. In North America, when we speak about cider, we're used to talking about a sweetly carbonated beer alternative, whereas in a lot of the world it's not seen that way. In many places outside of North America, cider is seen as more of a wine-like product, so the drinking experience is different.
Unless we tell them ahead of time, when people are drinking our cider, they are expecting a sweet, carbonated sort of apple juice, but our product is 100% dry; so there is no residual sugar, and no added sugar or flavor, and that surprises people. Very few people dislike it, it is a very enjoyable drink.
What is your favorite food-cider pairing?
Oh, that's a tricky one. It's difficult to pair cider, because ciders don't have as strong of a flavor as a drink like wine. So, paring cider is not impossible, but it is difficult. I would say one of the best pairings is probably a Spanish style cider with fatty pork –  like a pork chop with a good bit of fat on it. You wouldn't want to pair it with anything too strong. Cider can be acidic, so fattiness tends to pair well with it.
I just drink cider plain. I don't really pair it too much because it's enjoyable on its own. I did have cider with Thanksgiving dinner last year, and the cider went really well with the turkey. So light meats seem to be the way to go.
What are some innovative ways that restaurants can feature your cider?
I've never cooked with cider. Incorporating cider into dishes may work well, but again, because cider doesn't have as strong of flavor as a wine, and is much more subtle, you'd have to be careful how you use it. Maybe a pasta sauce with it could work.
I'd say the best way that restaurants could feature cider, is with charcuterie, provided that there's nothing too crazy in terms of spiced meats and stuff like that.
Why is being part of Feast On important to you?
Because it will assist us as cider producers in reaching a wider audience, and ultimately help to increase awareness around the province about what cider is.  As we reach more people, get our cider into restaurants, and get more of a foothold in the market, more people will have more knowledge about dry, unsweetened, unflavored, cider.
How important is sustainability to you?
Very important. I would say that our cider is about as close to 100% sustainable or green as you can get. We use natural wood corks, which are completely biodegradable, and we use glass packaging which either gets recycled, or returned to us. All of the trees that we harvest from are organic, wild and unmaintained, so there is no use of pesticides or herbicides, and all the water that we use comes from the on-property well.
One of our ciders, the Kintail Gold cider, is made from apples that would typically be discarded. The Mill of Kintail, which is a conservation area, has old heritage trees mixed in with some younger, probably wilding seed-grown trees. Normally, apples that fall from these trees would be raked up, and thrown in a bush, and deer would eat them. But these are good apples, so we made an agreement to harvest the apples, never completely stripping the trees. We take the apples, make cider, and for every bottle of cider that we sell, we give a dollar back to the Mill of Kintail, which runs entirely on funding. It's important to have areas like these available in the community.
What does your ideal weekend in Lanark County look like?
I'm gonna go summer. I'd say that my ideal summer weekend would involve swimming in one of the plethora of rivers and lakes that we've got in the county. I'd be at the cottage, go to the farmers' market, maybe take a trip to the beach, get some sun, and then probably have a bonfire at night.
Carlton Place has some restaurants that I like, so going to a restaurant for dinner there would be nice. A family dinner with grandparents, the immediate family, cousins and aunts, is also enjoyable.
And obviously, my weekend would include drinking cider.
---