Everyone knows that the best parties always end up in the kitchen. Meet Chris Shaw, the chef of Paisley's Bonfire on Queen, which he owns with his fiancée, Jennifer Christie.
---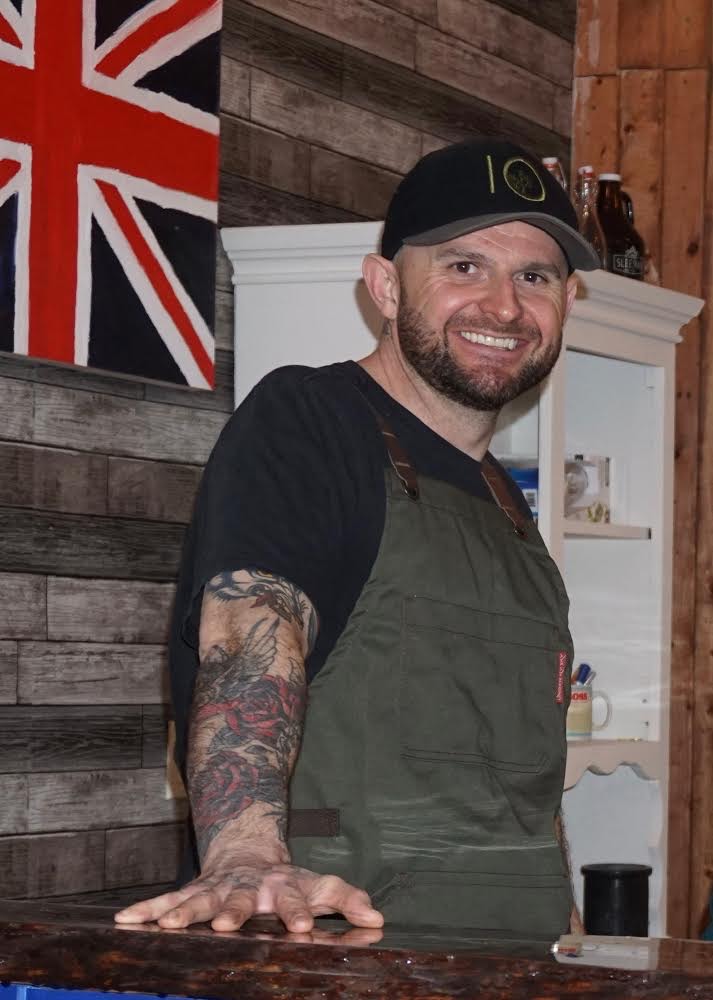 CHRIS SHAW
BONFIRE ON QUEEN
Paisley, ON
---
What's your favorite seasonal ingredient?
Berries! Raspberries and blackberries are my favourites. When I lived over in BC, blackberry season was huge, so we would go out to forage them. I find that foraged berries are so much sweeter.
I love using berries so much and do almost have to stop myself from using them too much. They can be used straight across the board from desserts, to entrees, to appetizers, so I often have to pump the breaks and stop myself from throwing them on everything.
I like to feature berries with a lot of salty meats. I mix things up. Sometimes I'll use them fresh on a board, and sometimes I'll do a nice compote to go with something like duck. We just started using duck from King Cole Ducks, so I like to feature berries with that.
What in your opinion is the most underrated ingredient?
I've found lamb to be a tough sell here, and that blows my mind! I think that lamb is underappreciated and misunderstood. I come from the UK, and we have really good lamb from Ireland and Wales. Next to New Zealand, it's some of the best lamb.
There's a lamb producer in Kincardine that I got some lamb from, and I thought that the lamb would be a big seller, but it was not, which surprised me. Many people see lamb as mutton, this chewy meat that their mom boiled and just killed. They naturally assume that it will be tough. So I'm trying to introduce lamb in my dishes to show how good it can be. I think it's a complete delicacy.
Bonfire on Queen is known for making Neapolitan-style, thin-crust pizzas. What's a pizza ingredient you could not live without?
00 flour, I could never go back to anything else. 00 flour is mainly used for Neapolitan pizzas, and I also use it in my pasta. It's just a better flour for these pizzas. It's a bit more refined on your palette, and you don't feel heavy after eating a pizza made with 00 flour.
Do you have a favorite pizza/beverage pairing?
Cave Spring 2019 Pinot Noir is great with a Margherita pizza, and Mcleans Lazy Hazy works well with anything spicy.
I find that Pinot Noir has just the right balance to work with the acidity of the tomatoes in a straight-up margarita, which is the first pizza that I learned to make. It's always my go-to that I tell everybody to try.
The Lazy Hazy works because it is super easy to drink and it's very fruity so any pizza that has some salt or some spice pairs amazingly.
What is your favorite dish to cook at home?
Curry or a tremendous burger. I do pretty good coconut beef curry, it's my go-to. For my burgers, I use just straight beef. We use local beef from a place called Gilchrist Farms. I'm not the burger guy, Jen loves a good burger, and I find that I can't just do a simple burger. I have to do burgers with things like smoked cheddar, and pork belly, and several other toppings. I can't just do something very simple.
I like to cook at home. For my days off, I find myself planning meals a couple of days in advance because cooking on my days off is an event. I often get the smoker going, get some meat, and do a bunch of stuff with some fresh veggies. I really enjoy it.
Outside of your chef life how would you describe yourself?
I like to keep to myself. I just keep on keeping on and do my thing. I've traveled a lot, so I've always found it very easy to move around. I'll give anything a go once. Like last year, I got into woodwork when building the restaurant, so now I do some carpentry every now and again. I built the bar pretty much everything in the restaurant I feel. I like to give things a go.
What to you is the best part of working with Ontario food and drink?
The personal interaction with everyone, from the farmers to the butchers to the brewers. Jen grew up on a farm not far from here, so knowing all of these other farmers was super important to us. There are some super local guys we work with, like Dennis Watson, Jen's old school teacher who we get chickens and pigs from. It has been incredibly beneficial and rewarding to build relationships with all these people.
Why is Feast On important to you and your restaurant?
Feast On is important to us because it allows everyone to see our commitment to using local ingredients. Committing to local sourcing is important to us for so many reasons, but it's really about community. If we've learned anything from the past couple of years, having things a little more local and having everyone helping each other is very important.
What does your 'Perfect Weekend' in Paisley look like?
My ideal start to a perfect weekend involves me getting up and making a good breakfast and some coffee. On weekends we like to fire up the smoker and barbecue, and sometimes have dinner with Jen's family.
We like to go to the beaches and river and do some kayaking. I'm also an avid mountain biker, so I hope to hit the trails a little bit more this year.
There's a good Thai restaurant up the street now, and more eateries are coming which is nice.
---