For the last few weeks, we've been getting to know the vendors at the Virtual Farmers Market through short interviews and vignettes. You can see past segments in the series here.
---
Tropic Thunders is a hot sauce and condiments company based in Toronto. We are a husband and wife team, when we started the company in 2016 it wasn't planned but more like fate.  Amancio and Sarinya are both professional chefs by trade for over 15 years in Toronto and internationally. We have so much passion for food and especially for spices, we always experiment with making hot sauces and fermentations. So it only made sense when we got married in 2016, we knew that we wanted our wedding favours to represent our backgrounds and our love for spice and combine them together in a bottle!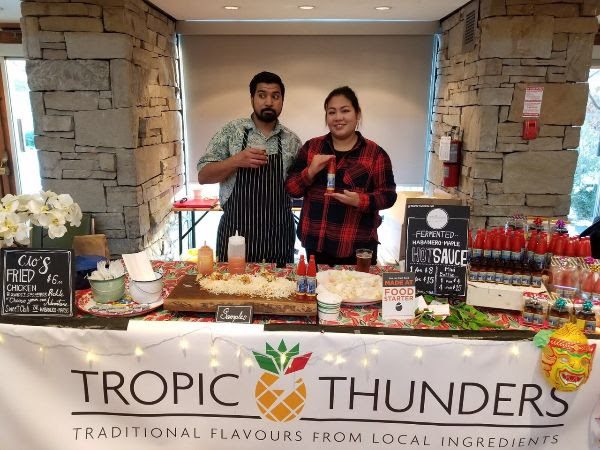 Amancio is originally from Goa, India and grew up in Dubai and Sarinya is from Bangkok, Thailand, so considering our backgrounds, we love our spices and spicy food. It's what reminded us of home. So we came up with our first hot sauce (the OG), a fermented Habanero-Maple hot sauce for our wedding. After many of our guests at the wedding expressed their interests in our hot sauce, and some industry friends wanted to carry it in their stores, we seized the opportunity and started to make bigger batches. And that's how our company began.
We decided to pull at that thread and look into doing this professionally. A couple short years later we have an official Hot Sauce Company, 4 unique flavours & even won a 1st place prize for our Fiery Phoenix hot sauce in a medium heat category at the Heatwave Expo in Hamilton. Just like after a wedding, the adventure is just starting and there are no signs of slowing down!
And as our company grows we get to connect with more farmers and get our hands on more local ingredients as much as possible. We realized that it is the best way to keep our products tasting delicious with the highest quality. We also pride ourselves in a low to zero food waste production, we never throw out our pepper mash  instead we try to be creative, experiment with it and come up with new products. We currently have 4 delicious flavours: The OG: Habanero-Maple, The Fiery Phoenix, Spicy Serrano, and Sweet Red Chilli. And we have even expanded our line into fresh curry pastes, Hummus Topper: Eggplant Chutney, Pizza Topper: Naga Bomb, and Chilli Oil.
---

Graze & Gather, formerly the Virtual Farmers Market, was formed by farmers in the early days of the pandemic, out of the tremendous need for collaboration and cooperation between farmers and homes. The GCF Hub increases access to the best, seasonal food from small producers and provides a direct connection to the people growing and making your food.