The most wonderful time of the year can also be the most daunting if you're the one charged with cooking holiday dinner. So, why not do something a little different this year and let someone else take care of the cooking?
Many restaurants across Ontario are offering festive meals that you can order online for delivery or curbside pick-up. Whether you are looking for a celebratory dinner for two (or one!) or a traditional turkey with all the trimmings, here are 14 local restaurants that you can order from (and support) this holiday season.
---
Richmond Station

Toronto, ON
The Menu: Turducken stuffed with wild rice and herbs | "Cran-Marnier" Sauce | Roasted Root Vegetables | Truffled Scalloped Potatoes | Charred Caraflex Cabbage, Kale & Brussels Salad with Memolette Cheese | Bouche de Noel
Looking for a holiday bird that wows? Order Richmond station's Holiday Turducken Feast (it's a chicken wrapped in a duck, wrapped in a turkey). It includes all the food and fixings to feed one person and you can order enough portions depending on the number of people you wish to wine and dine. If you want cook your own roast, you can order a whole turducken roast that's trussed and ready for the oven.
---
Avling Kitchen & Brewery
Toronto, ON
The Menu: Holiday Roast | Molasses Sourdough | Holiday Scotch Eggs | Roasted Pears, Celery & Blue Cheese | Cider Glazed Brussels Sprouts | Butternut Squash with Maple, Brown Butter & Sage | Mashed Potatoes | Spiced Stout Loaf
The Avling Holiday Box includes a pre-cooked roast and side dishes that simply need to be reheated. It's good for 2-4 people and comes with complete cooking instructions. There's also a vegetarian option.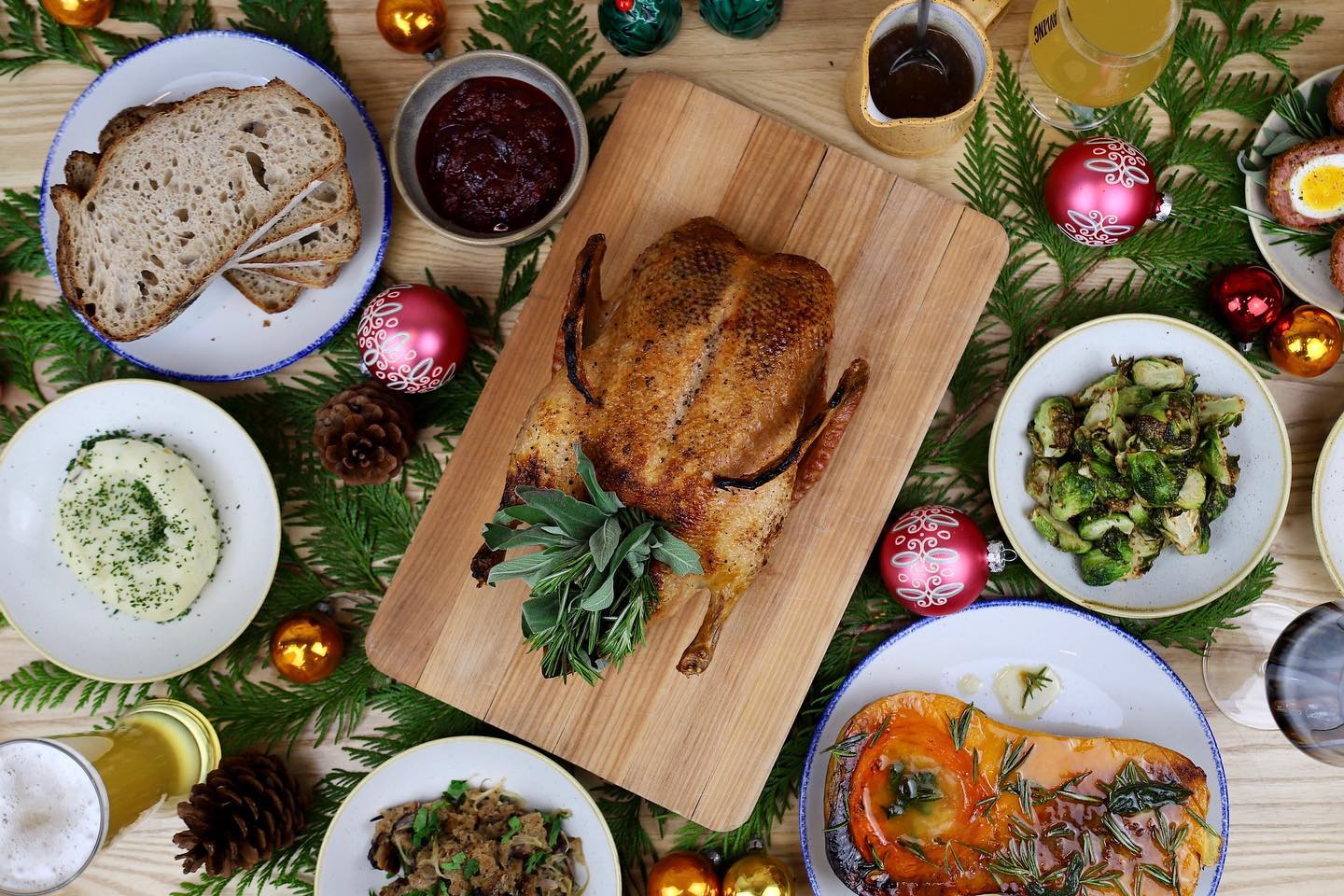 ---
Bistro'67
Whitby, ON
The Menu: Slow Roasted Ontario Turkey Breast | Maple-Bourbon Compound Butter | DC Roasted Carrots | Chef Peter's Scalloped Potatoes | Mushroom-Turkey Gravy | Cranberry & Orange Sauce | Mixed Green Salad with Bistro '67 Vinaigrette | Cauliflower & Cheddar Soup | DC Apple Brioche Bread Pudding with Crème Anglaise.
This turkey dinner for six can be ordered online for curbside pick-up. Not feeling turkey this year? Then go for the Tourtière dinner for four. If you are looking for a nibbles-and-drinks only option, they also offer wine and charcuterie box for six, as well as a selection of ready-to-heat hors d'oeuvres.
---
Heatherlea Farm
Caledon, ON
The Menu: Whole Turkey | Heatherlea's Stuffing | Turkey Gravy | Cranberry Sauce | Apple & Pear Crisp
Heatherlea Farm has a limited, frozen holiday menu that's available for delivery. If you miss out, order from their full holiday menu that includes fresh (uncooked) roasts such as turkey, ham and beef, and a variety of sides, desserts, gravy, stuffing and everything else you'll need for the holidays.
---
Ancaster Mill
Ancaster, ON
The Menu: Focaccia with butter | Arugula Salad | Roasted turkey breast with cornbread stuffing, giblet gravy | Confit Turkey Leg with duck fat brussels sprouts, cranberry sauce | Garlic Mashed potato | Winter vegetable gratin | Bread pudding with candied nuts, caramel sauce
Pre-order Ancaster Mill's delicious Christmas Eve Supper and enjoy it from the comfort of your home. There's an option for kids, with child's size portions of their Christmas Eve Supper, as well as a vegetarian option.
---
Sanagan's Meat Locker
Toronto, ON
The Menu: Holiday Roasts | A selection of Sides, Sauces & Desserts
Put together your own festive menu with Sanagan's holiday offerings. There's an array of holiday roasts to select from, and various sides, sauces, prepared foods and charcuterie that can be added to your order. For a dramatic dessert, order their traditional, house-made Christmas pudding – it's ready to steam, comes with hard sauce and can be moistened with warm brandy and set alight before serving.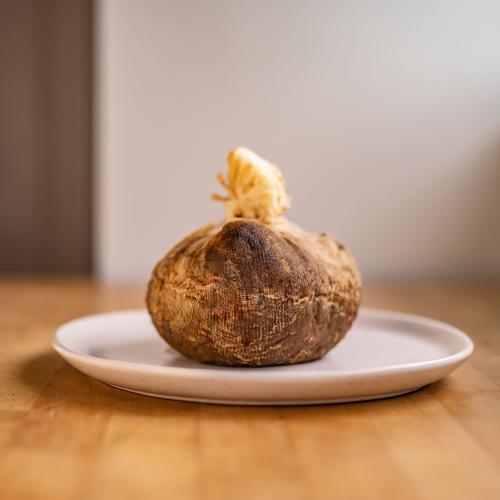 ---
Marben
Toronto, ON
The Menu: Chicken Ballantine or Beef Wellington or Caramelised Onion & Sweet Potato Tart | Mini Charcuterie Board| Tomato & Ricotta Curd with Roasted Beets | Sticky Toffee Pudding with Butterscotch Sauce
Marben has you covered from snacks till dessert with this festive 4-course meal. The hard work's already been done, all you have to do is reheat and serve!
---
Cascata
Carlisle, ON

facebook.com/cascatabistro
The Menu: Turkey | Honey Glazed Ham | Gravy & Mashed Potatoes | Stuffing | Cranberry Sauce | Brussels Sprouts | Glazed Parsnips | Chocolate Cheesecake or Apple Pie
Curated by Chef Paul, this turkey dinner can be picked up (prepared, hot and ready to eat) on Christmas eve or as a warm-up kit for the weekend. For something a little different, there's also a braised lamb shanks option.
---
Black Dog
Kingston, ON
The Menu: Roasted Parsnip & Pear Soup | Radicchio Salad |Turkey with Sage| Homemade Turkey Gravy |Fig & Caramelized Onion Stuffing | Creamy Garlic Mashed Potato with Herbs | Buttered Roots & Sprouts | Cauliflower Almond Gratin |Orange Cranberry compote | Gingerbread Cheesecake
This traditional holiday feast for four comes with everything you need to celebrate the big day, and can be ordered online for pick-up or delivery.
---
Spirit Tree Estate Cidery
Caledon, ON
The Menu: Vegetarian French Onion Soup or Wassail Salad or Red & White Fish Cakes | Tourtiere or Salmon Wellington or Birds Together (roast turkey and gooe with tuffing) | Sticky Toffee Pudding with Hard Whiskey Sauce or Slice of Pie a la mode
Chef Andre has prepared a mouthwatering 3-course dinner that everyone in your family will love! Meals are fully cooked, but need to be reheated before serving and portions are single servings. There's also a special New Year's Eve menu that includes a Spirit Tree Master charcuterie board and a delicious 3-course dinner.
---
Graffiti Market
Kitchener, ON
The Menu: Herb Brined & Roasted Turkey Breast | Yukon Gold Mashed Potatoes | Brussel Sprouts & Bacon | Roasted Root Vegetables | Focaccia Stuffing | Turkey Gravy | Cranberry Sauce
This beautiful holiday dinner comes fully cooked and tastefully packaged — all you need to do is pop it in the oven to warm, serve, and enjoy! There are options to add on dinner rolls, salads and floral centrepieces for the table.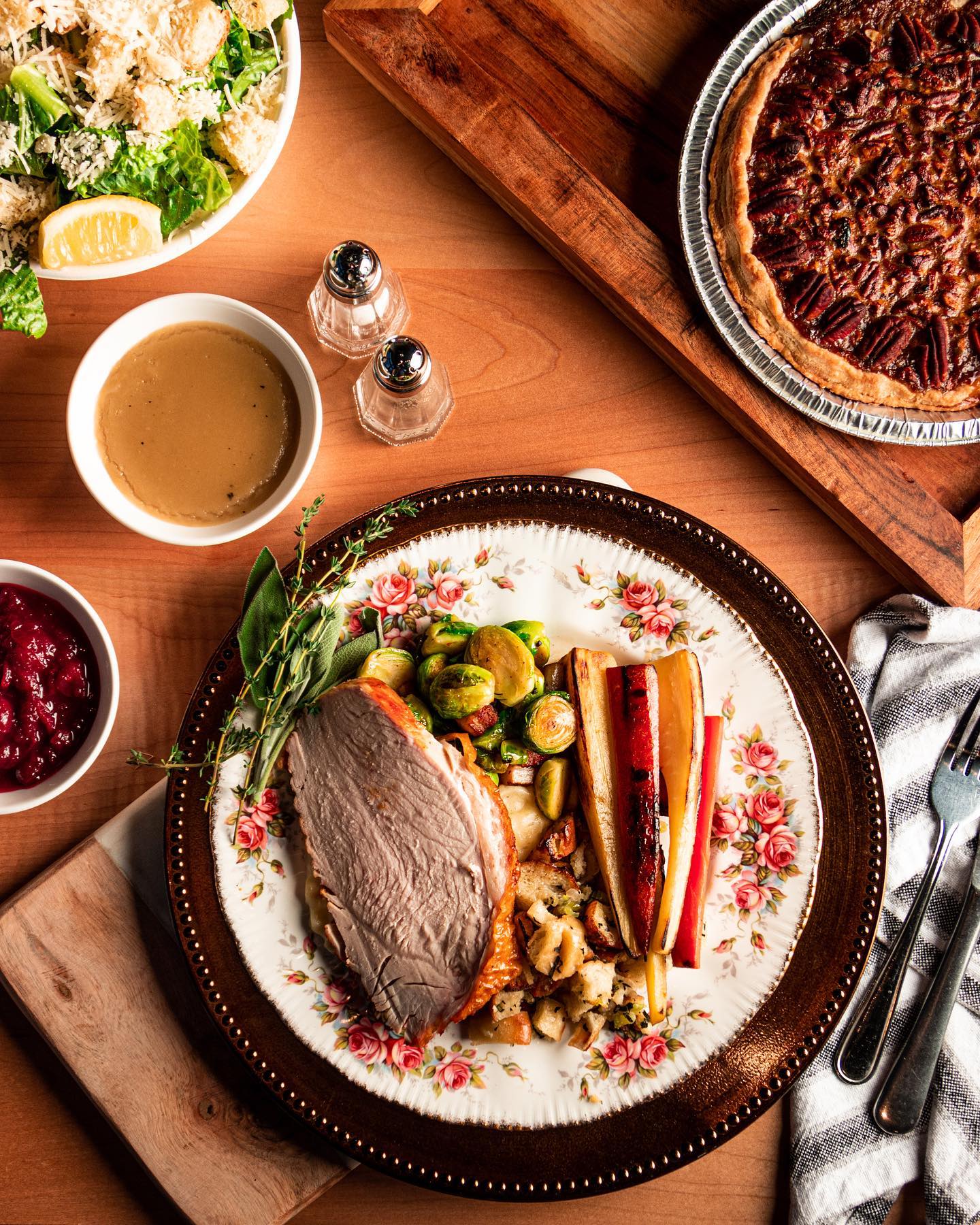 ---
Donna's
Toronto, ON
The Menu: Smoked Salmon Rillette | Marinated Butter Beans | @prairieboybread Sourdough | Roast Duck with Onion & Mushroom Gravy | Buttered Rutabaga | Brussels Sprouts & Roast Potatoes | Pear Trifle | With or w/o wine pairing
Donna's Holiday Heat-And-Eat Dinner is good for two to four people and includes an option to add a wine pairing.
---
Port
Pickering, ON
facebook.com/PORTdiningbarpatio
The Menu: Winter Veg Soup | Beet & Orange Salad | Roast Turkey & Smoked Turkey Sausage | Brussel Sprouts & Smashed Red Skin Potatoes | Chestnut Stuffing | Turkey Gravy & Cranberry Mustard | Sticky Toffee Pudding & Egg Nog Cream
Perfect for those who want to avoid visiting the grocery store during the busy festive period, Port's Christmas feast to-go is available for pre-order.
---
Thatcher Farms
Rockwood, ON
The Menu: Holiday Roasts | Kitchen Sides – Gravy, Cranberry Sauce, Mashed Potatoes, Stuffing, & Dinner Rolls | Desserts
Thatcher Farms' Christmas and New Year's online menu offers a wide array of holiday roasts (from fresh to ready-to-cook), pre-cooked sides and desserts. Pre-order online for pick-up at the farm.
---
Looking for some great local wines and beers to pair with your holiday dinner? Check out our Holiday Gift Guide!