Feast On certified since 2015, Le Select Bistro is a well-loved Toronto institution with one of the largest wine collections, a terrasse and garden, and classic French cuisine. Chef Laura Maxwell is a George Brown College graduate and a Red Seal certified Chef. She was a winner of the Ontario Hostelry Institute's Top 30 Under 30 Award for 2012.
We asked her to contribute a recipe to the Savour Ontario collection that celebrates Ontario dairy in a big way. Here's what she had to say:
"This salad is one of my favourites to make at the restaurant during a very busy day. It's packed full of fresh, bold flavours which complement each other beautifully, and is satisfying—but still light—to enjoy on a hot day. The cream cheese dressing recipe is very easy to throw together, and gives you a little extra to have with veggies or crackers as a snack later on."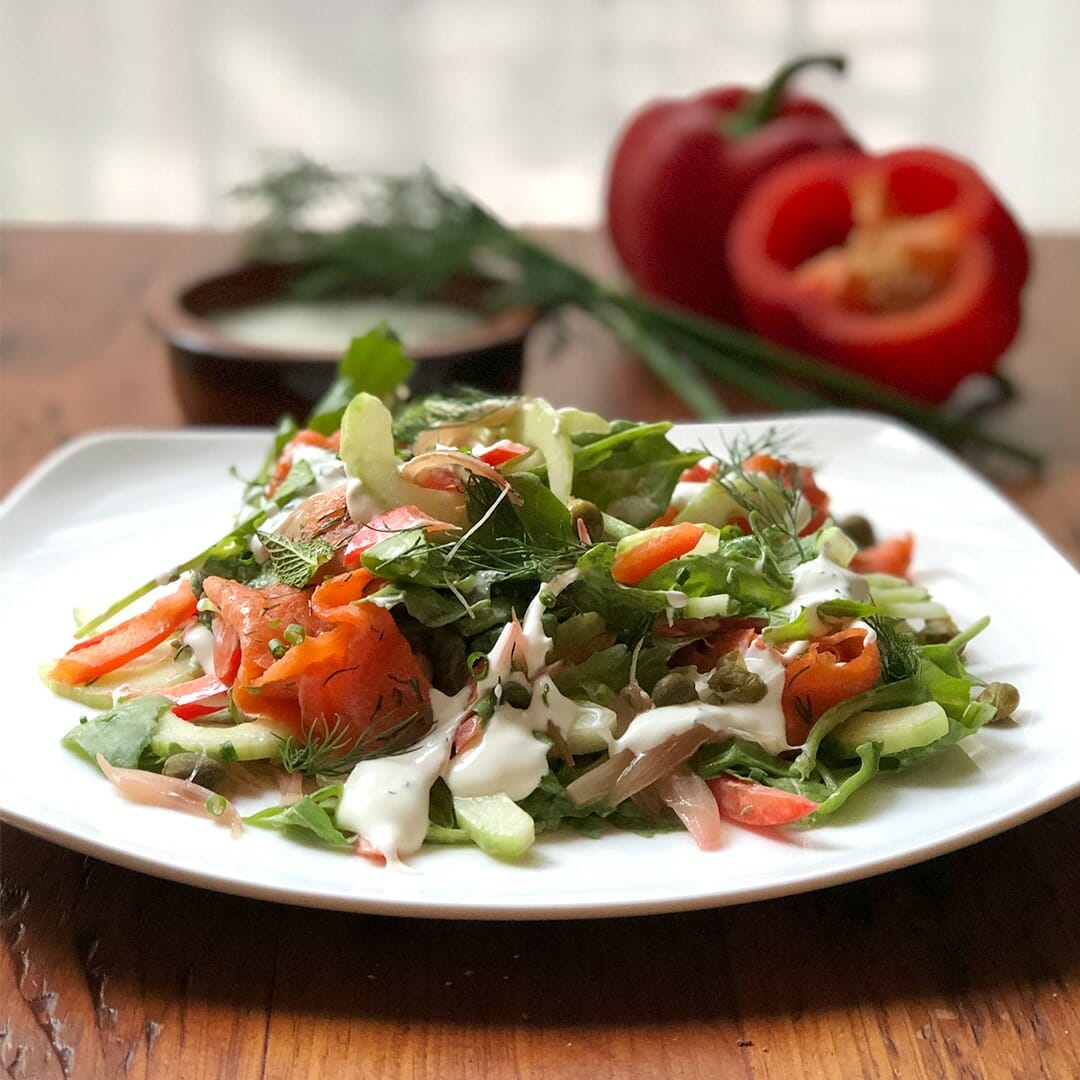 GRAVLAX & SUMMER VEGETABLE SALAD WITH CHIVE CREAM CHEESE DRESSING
WHAT YOU NEED
Salad ingredients:
8 cups fresh arugula
1 red bell pepper, sliced into 1-inch pieces
½ cucumber, peeled and deseeded, then sliced into thin, half-moon slices
¼ cup capers (non-pareil are best, if you can find them)
200 g sustainably sourced smoked salmon or Ontario trout gravlax
4 tbsp chives, finely minced
2 sprigs dill, picked with stems removed
8 mint leaves, finely sliced
2 tbsp sherry vinegar
Pickled Shallots ingredients:
2 large shallots, julienned
60 ml white wine vinegar
1 tsp vegetable oil
Salt, to taste
Chive Cream Cheese Dressing ingredients:
250 ml Ontario cream cheese, softened at room temperature
4 tbsp 35% cream
4 tbsp plain yogurt
2 tbsp dill, finely chopped
3 sprigs chives, finely chopped
---
INSTRUCTIONS
Pickled Shallots instructions:
Bring a small frying pan to high heat and add oil.
When oil reaches smoke point, add shallots and pinch of salt to extract moisture.
Stirring constantly, sauté shallots until they have softened and almost translucent, but not browned.
Add vinegar and reduce heat to medium until moisture has evaporated.
Remove from heat and transfer to a plate in the fridge to cool before using.
Chive Cream Cheese Dressing instructions:
Place first 3 ingredients in blender and mix to combine until smooth.
Add the herbs and mix on low speed to combine.
Refrigerate for up to 6 days.
Salad Assembly instructions:
In a large bowl add chopped mint, 4 tbsp Chive Cream Cheese Dressing, 2 tbsp sherry vinegar and a pinch of salt. Mix together with a fork.
Add in your arugula, red pepper, pickled shallots and cucumber. Toss gently to coat the vegetables.
Distribute your salad between 4 plates. Evenly divide the remaining chives, dill and capers by sprinkling on top of each salad.
Divide the Gravlax into 50-gram portions and arrange on each plate.
Finish with another drizzle of the Chive Cream Cheese Dressing overtop.
---
Get Cooking!