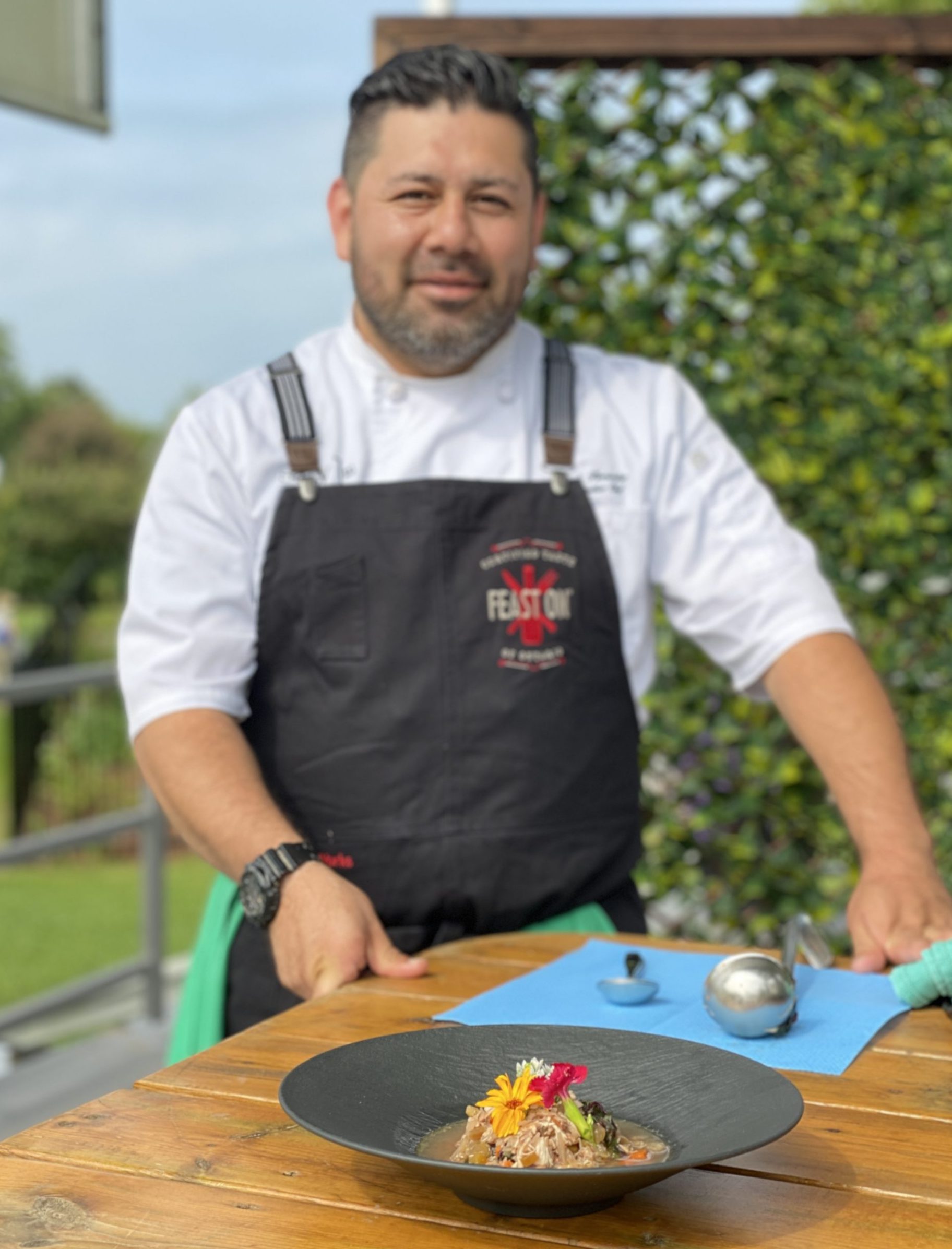 CHEF SAYS: 
"I love cooking with rabbit because I find that the meat is very versatile. Depending on the age of the rabbit there is many different ways to prepare it. Braising, poaching or roasting are the primary ways but you can sauté it, make it into a presse, terrines or a nice garnish for a salad. Hot or cold it has a rich flavour that can be intense.
I chose rabbit because my theme is 'Humans and Wildlife'. I've always been interested in the Lynx, and after some research found that hares (classified as same family as rabbits) are what lynx enjoy to eat most. The rest of the dish can be guided based on what vegetables are in season to make the broth stand out more. "
---
Summer Rabbit Pot au Feu
SERVES 4
FEATURING…
Pancetta from Linton Pasture Pork in Walton
Boots Farms Produce from Scotland, ON
Rabbit from Abate Packers in Authur
VQA White Wine from Peller Estates in Niagara-on-the-Lake
INGREDIENTS
1 whole Ontario rabbit, de-boned and cut into chunks
1/4lb Ontario Carrot
1/2lb Ontario Onion
1/4lb Ontario Celery
2 Bay leaves
3 sprigs Thyme
2 sprigs Rosemary
3 cloves Garlic
1 litre Chicken stock
4 ounces Ontario pancetta, diced
1/2lb Ontario Leeks, sliced and washed
1 cup VQA Ontario White wine
1 cup Ontario Sweet peas
1 bunch Ontario Swiss chard, sliced thin
1/4lb Ontario Radish, quartered
Carrot top pesto (optional)
METHOD
Sear pieces of rabbit in hot oil first. Using flour is optional but you do not have to.
Once rabbit is brown, take out of pot and add carrot, onion, celery, bay leaves, thyme, rosemary, garlic and stock and simmer for about 1.5-2hrs or until meat is tender.
Strain liquid from pot and put aside. Discard the vegetables.
In new pot, once heated add 1 teaspoon oil (grape seed preferred) and pancetta and render on medium heat until brown.
Add leeks and cook until leeks are very tender. Turn down the temp to medium low if needed.
Add white wine and reduce by half.
Add the liquid that the rabbit was braised in earlier and bring to a boil
Once boiling, turn down to simmer and add remainder of ingredients. Cook for about 3 min. Serve in a bowl and garnish with carrot to pesto
---
About Chef Denis Hernandez
Denis is the Executive Chef and Co-owner at S&V Uptown in Waterloo. A graduate of the Niagara Culinary Institute, Denis has worked across the province, from London to the Niagara region. While his background is in French cuisine, Denis enjoys modernizing classic dishes and loves showcasing local ingredients.