While we're eager to get back out there, we still enjoy doing some things at home. A virtual tasting experience is one of those things. Tasty Tours' Virtual Chocolate Tasting Kits – launched just in time for the holidays – bring you a decadent tasting experience that can be enjoyed with family and friends while staying six feet apart. They also make great gifts.

Tasty Tours is an award-winning food tour and chocolate tour company based out of Toronto. Its founder and creator of the Toronto Truffle or Toffle™, Audrey Ooi, has been hosting chocolate tours, tastings, dinners and chocolate-making workshops for over 9 years. She's also toured cacao farms around the world and is a certified chocolate taster and a member of the Fine Chocolate Industry Association. Her Chocolate Tasting Kits are designed to encourage folks to discover the wonderful world of craft chocolate.
The Experience
Each kit comes with four locally crafted, artisanal chocolate bars, a bag of premium-grade raw cacao beans and cacao nibs from a craft cacao supplier, tasting tools, and a free online tasting guide. There are two tasting kits to choose from: the regular Virtual Chocolate Tasting Kit and a Holiday Virtual Chocolate Tasting kit which includes an additional holiday-themed chocolate bar and 2 seasonal truffles.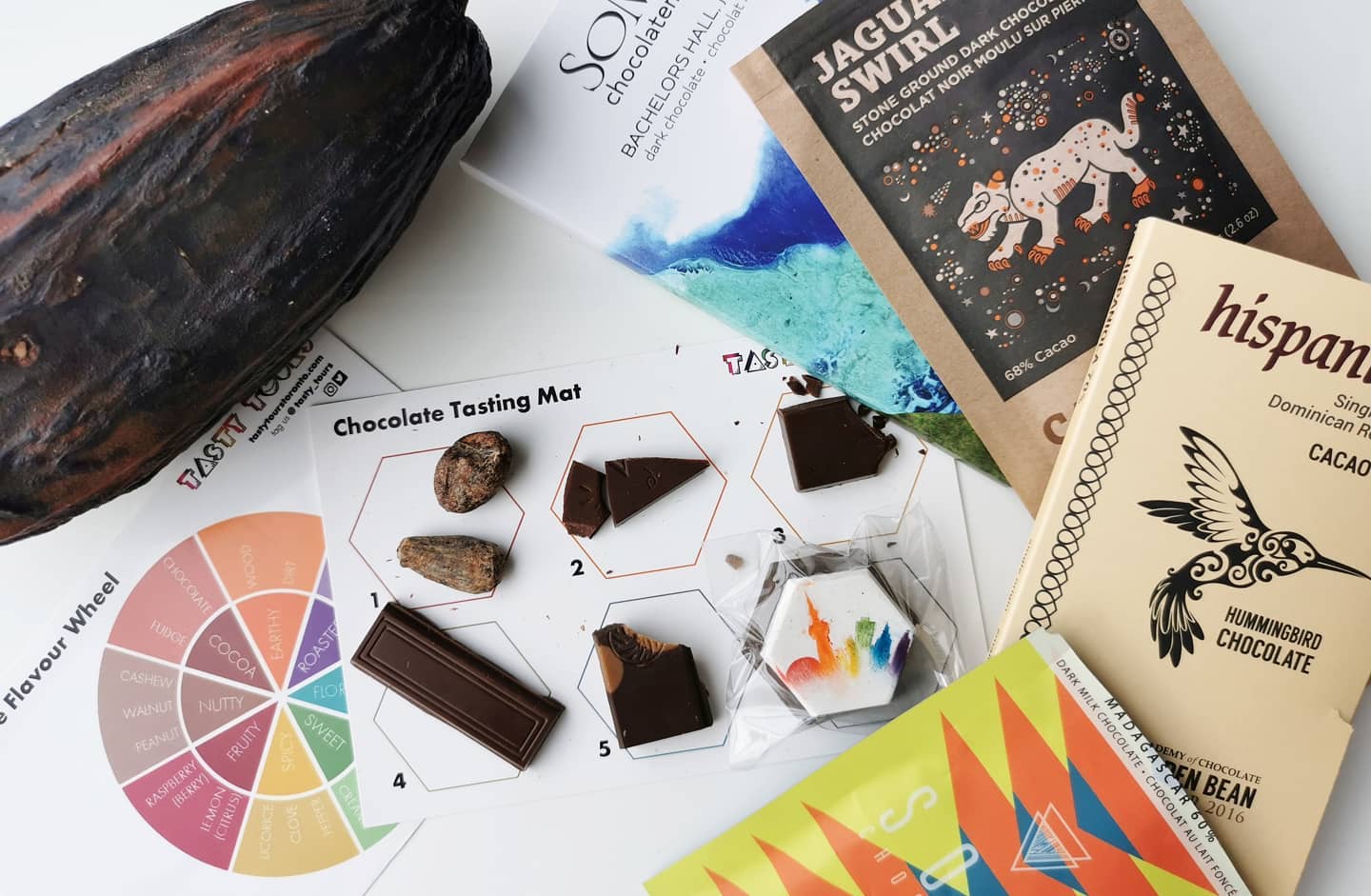 Tasting kits can be purchased via Tasty Tours' website. Once you purchase your kit, you need to book a free 30-minute guided tasting on Tasty Tours' event calendar. During the guided tasting, Tasty Tour's resident chocolate expert will talk you through the art of tasting chocolate and the process of making chocolate – from bean to bar. Virtual guided tastings are available year-round, so you can choose a time that works best for you and your friends. Kits are good for two but can accommodate as many people as you are willing to share your chocolates with!
To book this sweet experience, visit tastytourstoronto.com.
---
Need more great gift ideas? Check our Holiday Gift Guide!