CONTENT FROM: GREAT TASTE OF ONTARIO REPORT
PUBLISHED DECEMBER 9, 2022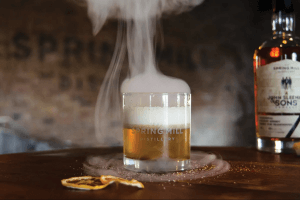 If there's one thing Ontario always delivers, it's a delicious drink. Home to ciders and unique cocktails, the province is filled with a variety of options that will have you content and coming back for more during the winter months. From Waterloo to Simcoe County, here's where you can go to grab some sweet or savoury sips.
Guelph: Spring Mill Distillery's Smoked Maple Bourbon Sour
Situated in Southwestern Ontario and known as "The Royal City," Guelph is home to Spring Mill Distillery, a craft distillery built by the Sleeman family in 1836. Serving a curated drink list that changes from season to season, the mixologists at Spring Mill use carefully-chosen ingredients sure to wake up your taste buds. The Smoked Maple Bourbon Sour contains a mixture of lemon juice, maple syrup, Angostura bitters, egg whites and more, easily making this drink a standout on the menu.
https://www.springmilldistillery.com
Thunder Bay: Tomlin's French Connection
Who doesn't love Thunder Bay? It's the sunniest city in Eastern Canada (trust us, it's true), and it's also home to one of the best restaurants in the province: Tomlin. But the food menu at this cozy restaurant isn't the only thing worth checking out; their cocktails also deserve equal appreciation. This winter, try the French Connection, a festive masterpiece composed of brandy, bosc pear, clove, lemon and sparkling wine.
Collingwood: Gibson & Co.'s Hot Toddy
Gibson & Co., an elevated cafe and bottle shop located in the heart of downtown Collingwood in Simcoe County, flaunts an array of enticing drinks on their robust menu, but the Hot Toddy is definitely the perfect drink for winter. A classic since it was invented in the early 18th century, Gibson & Co.'s spin on the Hot Toddy contains Maker's Mark Bourbon, maple syrup and fresh lemon juice, and is finished with a cinnamon stick.
https://www.gibsonandcompany.ca
Kitchener: Sugar Run's Inside Out
One must-visit in Waterloo Region? Sugar Run, a speakeasy with a swanky lounge catering to drink enthusiasts in the city's downtown core. Their cocktails are elegant and refined and tend to keep the sweetness minimal, instead focusing on the flavourful notes of each spirit. One sure bet is the Inside Out, which is made with aged bourbon, cognac and Nonino Prunella Mandorlata, then aged for 30 days in decanters made from local beeswax, a technique that adds floral notes and changes the mouthfeel of the drink. Also worth trying? The nostalgically named Nothing Compares (2U), made with American rye, a house-made strawberry-amaro blend, smoked turbinado syrup and Angostura bitters.
Sarnia: The Tin Fiddler's Mama's Mangos
A relatively new addition to downtown Sarnia's dining scene, this brewpub is all about made-from-scratch eats, inventive cocktails and cozy, vintage vibes. Made with beer from another Sarnia small business, River Run Brew Co., the beer cocktails are standouts. Try Mama's Mangos, which is made with vanilla, mango rum, orange, zest, sugar and Here We Go, Mango, a River Run cream ale. Or, opt for one of the pub's signature cocktails. Girl Gang, made with peach and Orange blossom vodka, orange and grenadine, or Hot Mess, a spicy mix of pineapple, jalapeno, orange, white rum and tajin, are both good bets.
Fall in love with the Great Taste of Ontario again and again.
Visit ontarioculinary.com/great-taste to download curated passports to our province's most delicious destinations.