Feast on®️ the Farm:
Huron County
Sunday, October 15, 2023 | 11AM - 3PM
Eddington's Farm
71857 Bluewater Highway
Welcome to Huron County, Ontario's West Coast
Join us at Eddington's Farm to meet the people creating change in Ontario's food and drink space. Indulge in creations by some of the best chefs in Ontario serving up incredible food inspired by the innovation, hard work, and creativity of local farmers.
Every ticket includes:
A selection of dishes curated by participating chefs
A variety of beverages, including craft beer, cider and VQA & Huron County Wines
An exclusive, behind the scenes tour of Eddington's Farm
A $25 Feast On® Gift Voucher that can be redeemed at participating Feast On® restaurants
Price: $125 + taxes and fees
Tickets are non-refundable but can be transferred to someone else.
ON THE MENU
CANAPÉS
Roasted Beets and Brussels Sprouts
topped with maple bacon crumble, cumin-spiced goat cheese and a roasted garlic and rosemary-infused olive oil drizzle
Seasonal Harvest Bisque
MAINS
Ratatouille Pumpkin Bowl
Mediterranean-style Turkey Kofta Meatballs with Charred Cauliflower, Squash, and Sweet Corn
set on sweet potato and chickpea hummus and dolloped with a mint, cilantro, parsley, jalapeno, garlic, and peanut pesto
Grilled Cedar Villa Pork cheeks
Spaghetti Squash Roesti, Tamarind and 'Musuko" Glaze
DESSERT
Individual Apple & Pear "Strudel", "Sorta Rosa" Gelee and Cream
AT THE BAR
Ontario VQA Wines by Sustainable Winegrowing Certified Wineries from across Ontario
Wines by Schatz Winery and Dark Horse Estate Winery and Maelström
Craft beers by Cowbell Brewing Company
Spirits by Bad Apple Brewing Company
Non-alcoholic options by Sapsucker
Every Feast On® the Farm ticket supports recovery in the hospitality sector and helps cover the costs of the industry day
People's Choice Award
$1,000 Prize to the Winning Chef!
Be part of the excitement and cast your vote for the best dish - the prestigious RBC Feast On®: People's Choice Award will be presented to the winning chef with a cash prize of $1000! Come out and join us for an unforgettable day of food, fun, and excitement, and witness the crowning of the next "Champion Chef"!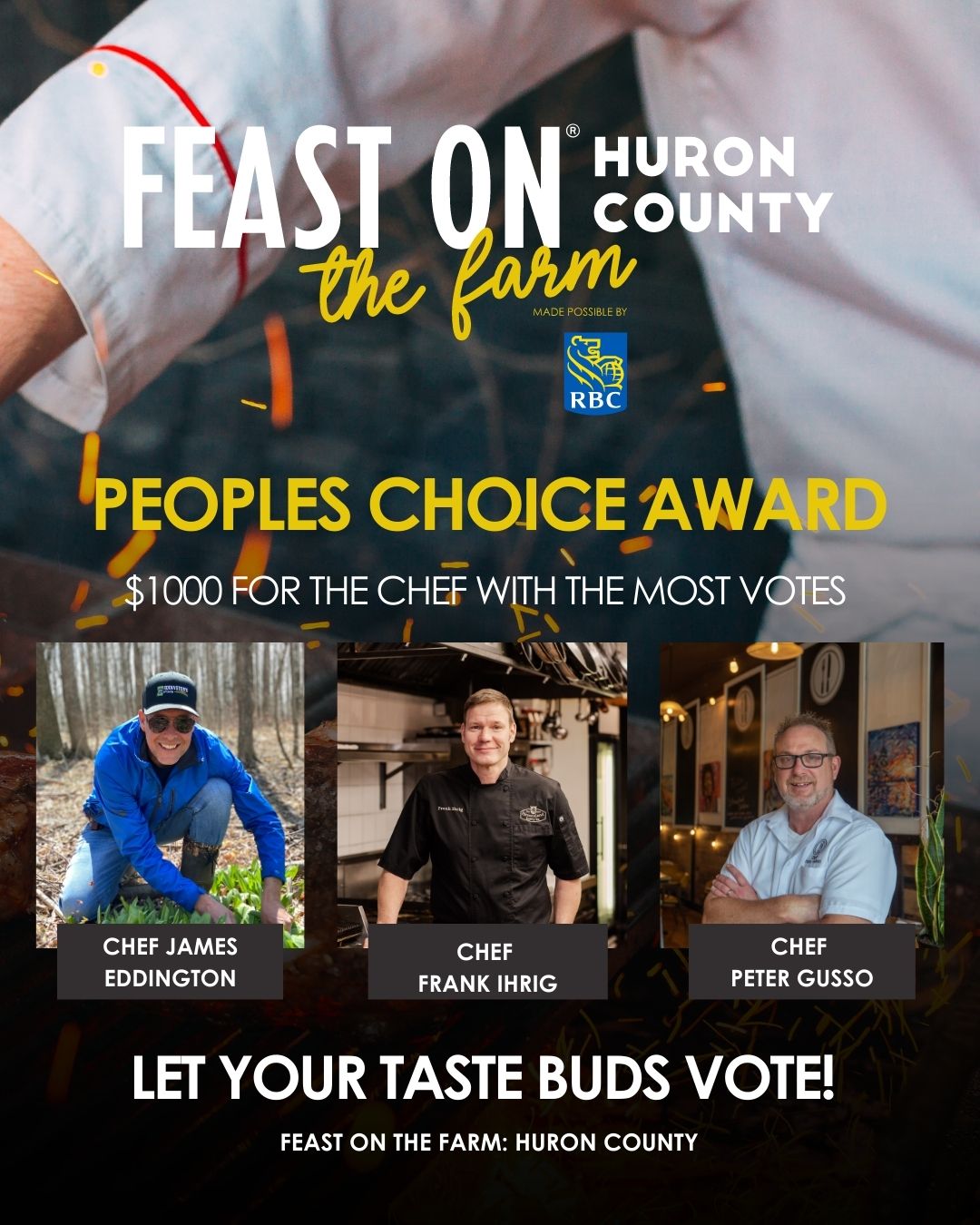 Eddington's Farm encompasses a breathtaking 25 acres of pristine soil along the shores of Lake Huron. It operates as a commercial farm with 15 acres dedicated to rotational crops, including corn, edible beans, and wheat. The farm takes immense pride in cultivating and offering 25 varieties of fruits and vegetables, which are served with great enthusiasm at the restaurant. The property, formerly an art studio belonging to the renowned stained glass artist Christopher Wallace, has been beautifully restored to its natural state. One of the prominent features is the stained glass studio, now transformed into a seedling greenhouse. The farm boasts an array of exotic apples, plums, quince, kiwis, and even blood peaches, passed down from previous generations. Among the bountiful harvest are fresh garden greens, winter root vegetables, nightshades, herbs, and seasonal berries, which always remain favorites among patrons. Eddington's takes immense pride in its commitment to being "farm to table," ensuring that the produce served is truly fresh and sourced directly from their own fields.
Address: 71857 Bluewater Highway
Feast On®️ the Farm is made possible by