Curated Outdoor Events
featuring local food, drinks and plenty of revelry
Feast On® the Farm is a unique two day event series bringing together chefs, producers and food lovers in different parts of Ontario. As a food lover, join us on Sunday to explore in the very best of province. Indulge in creations by some of the best chefs in Ontario and meet the people creating change in Ontario's food and drink space. Every Feast On® the Farm ticket supports recovery in the hospitality sector and helps cover the costs of the industry education day.
Every Feast On® the Farm ticket supports recovery in the hospitality sector and helps cover the costs of the industry education day
Space is extremely limited at these exclusive events. Sign up for the email list to get notified first.
YOUR TICKET INCLUDES:
Delicious dishes made with locally-sourced, ethically farmed ingredients and created by some of Ontario's best chefs
Artisan cocktails, craft beer and VQA Wines
Immersive and engaging programming on the farm
A swag bag of regional goodies including maple syrup, honey, preserves and more!
Living wages for all involved
A subsidy for a hospitality professional to attend Industry Day

JASON BANGERTER
Langdon Hall
Cambridge, Waterloo Region

Thompson Tran
Wooden Boat Food Company
Kitchener, Waterloo Region

Nick Benninger
Fat Sparrow Group
Locations across Waterloo Region

Melanie Robinson
Eclectic Cafe
Orillia, Simcoe County

CARL HEINRICH
The New Farm
Creemore, Simcoe County

JOEL GRAY & HANNAH HARRADINE
Sumac + Salt
Pop-Ups across Simcoe County

Ben Kersley
The Common Stove
Orillia, Simcoe County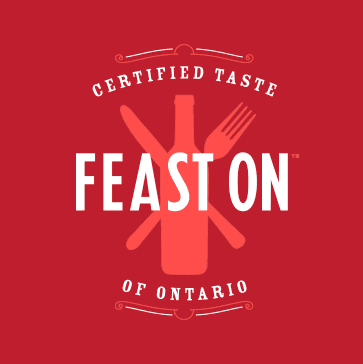 FEAST ON® THE FARM INDUSTRY DAYS
Join us to explore ways to make our industry better - together. There will be plenty of good food and opportunities to catch up with friends you haven't seen in years. Feast On® Certified chefs save $50 - keep an eye on the newsletter for your discount code!

MONDAY,
OCTOBER 25th
AT LANGDON HALL IN WATERLOO REGION
9:00am - 5:00pm
Explore topics like vertical farming, aquaculture, racism and staff retention at immersive talks in the orchard, hands-on demos and more. There'll be plenty of time to reconnect with industry friends on the farm. Space is limited.
"The Culinary Tourism Alliance opened my eyes to the talent in Canada and our place on the culinary map. Their events and programs have the ability to create real, lasting and positive change in the foodservice and tourism industries."
— Post-Event Survey Response
Event Partners
Discover the people and places making our efforts in food tourism recovery possible






Why not make a weekend of it?
Download a Great Taste of Ontario passport and start planning your ultimate weekend adventure. Pick your own apples, eat tacos by the beach or indulge in a slow smoked barbeque picnic. There's plenty to discover in the Great Taste of Ontario. Every check-in supports communities in meaningful ways (and brings you closer to some sweet, sweet prizes!)
STAY AND PLAY
IN WATERLOO REGION
Surrounded by charming towns and heritage sites, Waterloo Region is the perfect stomping ground for intrepid foodies like you looking to get a true taste of adventure.
We've put together three (delicious!) stay and play itineraries for you. Make sure you download a Great Taste of Ontario passport and check-in along the way!
For more inspiration on how to eat, stay and play in Waterloo Region, visit explorewaterloo.ca

1 NIGHT
MARKETS, MOCHAS & MEXICAN
Spend the morning at St. Jacob's Market. Don't miss breakfast at Kitchen Kuttings before heading for a horse drawn trolley ride. Stop in at Ecocafe Village Roasters for a pour over before ordering one of everything at Taco Farm in Uptown Waterloo.
STAY: The Delta Hotel in Waterloo

2 NIGHTS
Exploration, Entertainment and Education
Canoe the Grand River before heading to Borealis Grille for lunch. Spend the afternoon at Doon Heritage Village, followed by slow smoked barbeque (done right!) at The Lancaster Smokehouse. The next day, visit the West Montrose Covered Bridge, take a horseback adventure and explore the food of Uptown Waterloo.
STAY: The Walper Hotel in Downtown Kitchener

3 NIGHTS
Cuisine, Cocktails + Culture
Explore St. Jacob's, home of Canada's largest year-round farmers' market before heading the Wooden Boat Food Company for Vietnamese eats. Take an urban walking tour, visit a real life castle and explore a butterfly garden. Indulge in locally-cured meats, cheese and a feisty gin and tonic while you're at it. Cap it off with a night at Langdon Hall, Ontario's most luxurious inn and spa.
STAY: Puddicombe House in New Hamburg and Langdon Hall in Cambridge