Enjoy a festive weekend in Halton Hills from December 1 to 3
Written By: Visit Halton Hills
December is a time for celebration, nestled in the beauty of the region of Halton's rolling hills. The first weekend of December from the 1 – 3, holds an abundance of events and opportunities to enjoy the holiday spirit. Bring your friends and family and visit Halton Hills this holiday season!
Friday, December 1
Acton, Ontario
Your weekend in Halton Hills begins with a Friday evening in Acton, Ontario. Bundle up and explore the cheery warmth of Main Street's small businesses, decked in holiday spirit. A stunning Light up the Hills display will take place every weekend at the Acton Arena and Community Centre; waltz around the park in a winter wonderland. While you visit, enjoy a warm meal at local favorites The Mexican Way or The Clay Oven, and revel in the seasons change as winter comes upon us.
Georgetown, Ontario
Another stunning light display will be put on Friday evening, for the Ignition Night display by Light up the Hills from 6:30p.m. to 8:00p.m., with an ignition at 7:00p.m. at Dominion Gardens Park, Georgetown, Ontario. The stunning light will illuminate the park every night from 5:00p.m. to 11:00p.m. from December 1 to January 14, offering plenty of opportunities to witness this display of community joy and holiday cheer.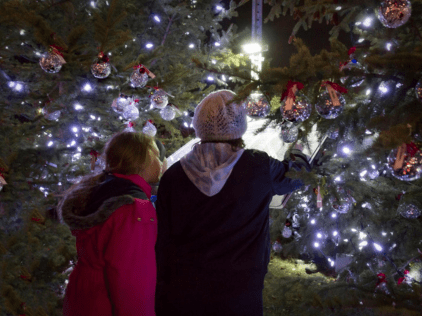 Saturday, December 2
Georgetown, Ontario
Spend your Saturday morning in picturesque, historic Downtown Georgetown, where Downtown Georgetown Holiday Market will be running from 11:00a.m. to 3:00p.m. This market will feature delicious food and drink, craft vendors, a faux ice rink (bring your skates!) and a trackless train for the kiddos to ride along Main Street. Explore the vibrant small businesses celebrating the holidays; visit Silvercreek Socialhaus Café or Lyla's House for your cup of hot cocoa or speciality coffee and visit the artfully curated boutiques for your holiday shopping.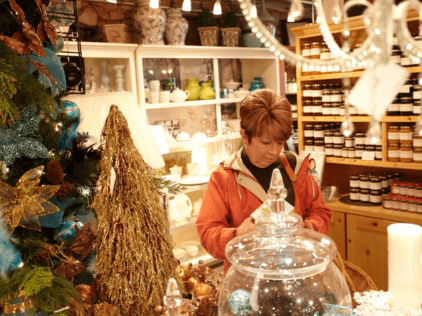 Glen Williams, Ontario
For your second stop, wind down to the valley of the Credit River, to fairytale hamlet Glen Williams, Ontario. Multiple events will be hosted in this quaintly stunning hamlet during this weekend. Visit the Christmas Market at Williams Mill, a uniquely breathtaking community of artists and makers featuring glorious local talent. The market will run throughout the weekend, with hours on Saturday and Sunday from 11:00a.m.-5:00p.m. This event boasts 22 artists, guest vendors, delicious food, live music, photo booths, and a children's market to explore!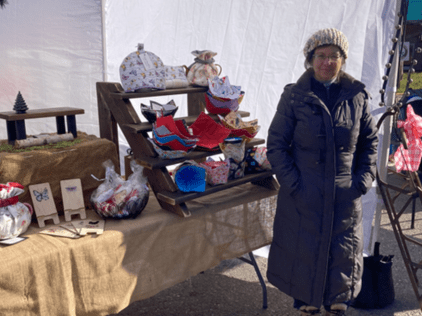 Sunday, December 3
Glen Williams, Ontario
On Sunday, discover the fun at the Christmas Market in the Glen, hosted on Sunday, December 3 from 12:00p.m. to 4:00p.m. Main Street Glen Williams will close for pedestrians and transform into the holiday destination of your dreams! With over 50 vendors the hamlet will be transformed into a community event with amazing food, fun and local small businesses.
In addition to the wonder of the events in Glen Williams, discover the boutiques and businesses that are the very fabric and life of Halton Hills. The Feather Nest Furnishings, Beaumont Mill Antiques and Collectibles, and Main Street Market will be open and bustling with holiday cheer throughout this weekend of fun and celebration! Don't forget to visit the photo booth stops at these businesses, some may even have a special surprise for customers on December 3!
Halton Hills encapsulates a vision of the heartwarming small town, filled with vibrance and life, that offers the warm hospitality of a holiday destination. For more information on upcoming events in Halton Hills, visit and subscribe to Visit Halton Hills Events Calendar.