It's market season here in Ontario, and that means we're looking forward to weekend mornings spent perusing the province's best local markets. We can't wait to taste our way through the vendors and farm stands that bring Ontario's bounty to our cities and towns. Here's our guide to eating your way through the Brampton Farmers' Market.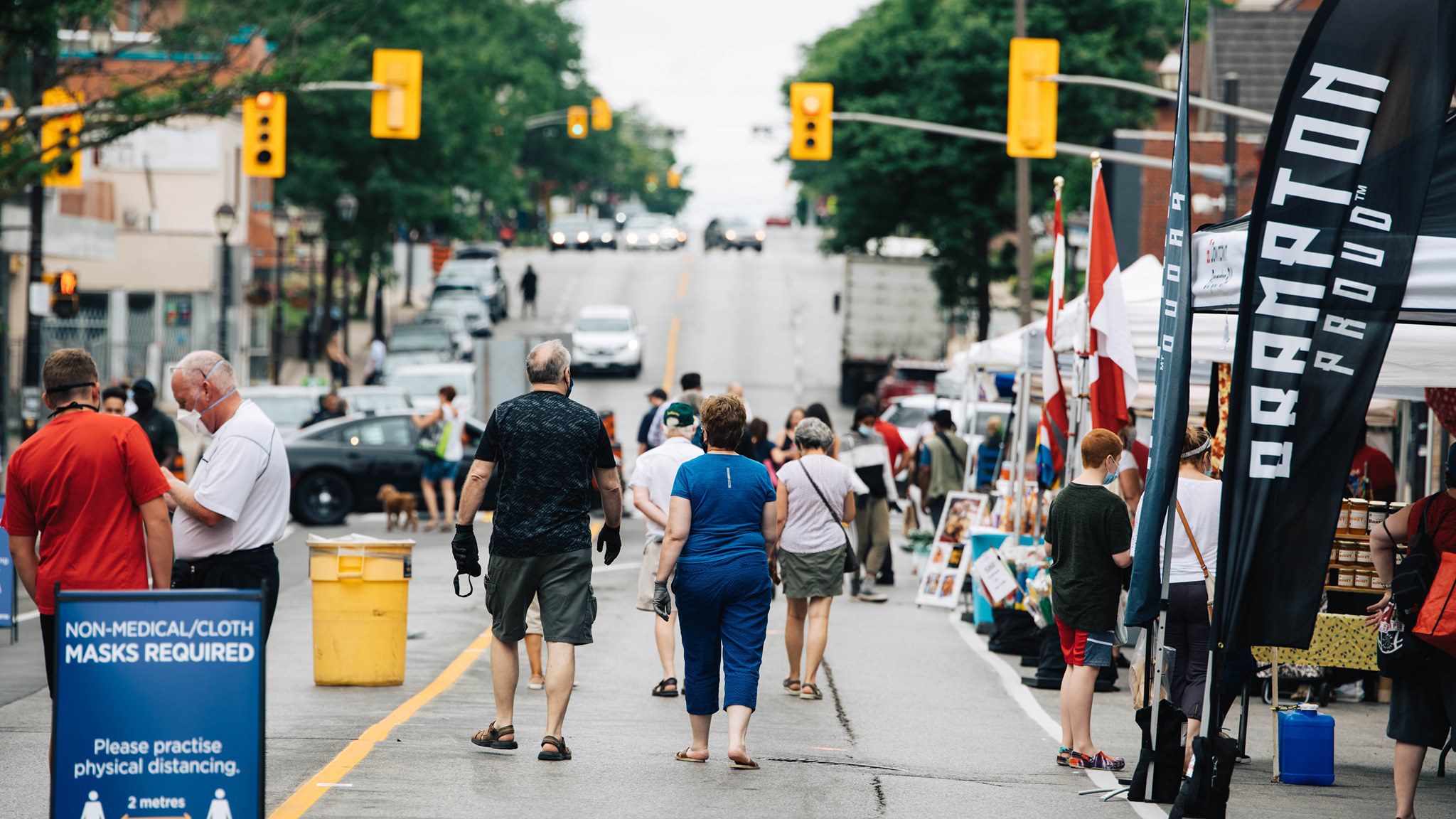 The Brampton Farmers' market — a fixture in the city's food scene — has been running for over 35 years. It's a great place to spend a Saturday morning, nibbling on local treats and chatting up vendors, as you pick your way through stalls of peak-season produce, fresh-baked goods, artisanal foods and local crafts.
There are two sections to this years' market. Section one is located along Ken Whillans Square and Wellington Street South, and section 2 is in Gage Park. While masks are mandatory and eating and drinking are not allowed on the premises, you can still experience some of the best bites the market has to offer.
---
1. Das Brezel Haus
Begin your market tour with a pretzel from Das Brezel Haus. They are hand-twisted and made fresh daily. We recommend the sausage pretzel or Philly soft style topped with cinnamon sugar and sea salt.
View this post on Instagram
---
2. Stock up on fresh produce
Stop by Akachi Farms, Butt's Berry Farm, Fairhaven Farm, Fenwick Berry Farm, Four Seasons Farm, Halton Herb Farm, Kooner Farms, Mann Farm, and Thames River Melons to stock up on fresh fruit and veg.
---
3. Green Geek
Add a few bottles of Greek Geek's cold pressed juice to your fruit and veg haul, so you can eat and drink your way to five a day!
View this post on Instagram
---
4. Jamie's Cracked Corn
It's easy to find Jamie's kettle corn stand – just follow your nose! Using mushroom popcorn, with fewer husks, Jamie's cracked corn gets popped in real kettles in small batches. Pick a few extra bags of this sweet and salty treat for your next movie night or Netflix binge.
View this post on Instagram
---
5. Mi Churros
Classic, filled, covered in rainbow sprinkles, and drizzled with dulce de leche, there's a churro to please everyone's palate at this popular spot.
View this post on Instagram
---
6. Tropix Inc.
Tropix Jamaican Coconut Drops are exactly what you want to munch on in between meals. Hand crafted from fresh coconuts they come in an array of flavours such as chocolate, pumpkin seed, and cranberry. These crunchy treats are moreish, so pick a bag or two or three!
View this post on Instagram
---
7. Mad Mexican
Whether you're planning a DIY taco bar or want to stock up on chips and dips for late-night snacking, be sure to stop by Mad Mexican for fresh salsas and dips, organic tortillas, and hand-cut chips.
View this post on Instagram
---
8. The Queen Gypsy
The Queen Gypsy serves up traditional Serbian and Eastern European fare. You'll find an array of prepared meals like soups in mason jars, cabbage rolls, goulash and stews, as well as traditional breads and pastries.
View this post on Instagram
---
9. Salem's Lott Scary Hot Sauces
DO NOT leave without a bottle (or a 9 pack) of Salem's Lott Scary Hot Sauce. These award-winning, gourmet hot sauces work perfectly with everything, from grilled meats to sandwiches to fried eggs.
View this post on Instagram
---
Here's our guide to eating your way through Ottawa's ByWard Market!