Toronto, Ontario – From September 20th to September 27th, 2020, BLACK FOODIE will be hosting its first BLACK FOODIE Week (BFW). This week-long event, hosted on blackfoodie.co and via BLACK FOODIE's social media channels, will be dedicated to celebrating Black food culture. Each day will feature interactive segments, digital content and livestreamed activations, profiling prominent Black chefs, restaurants, and food entrepreneurs in Toronto.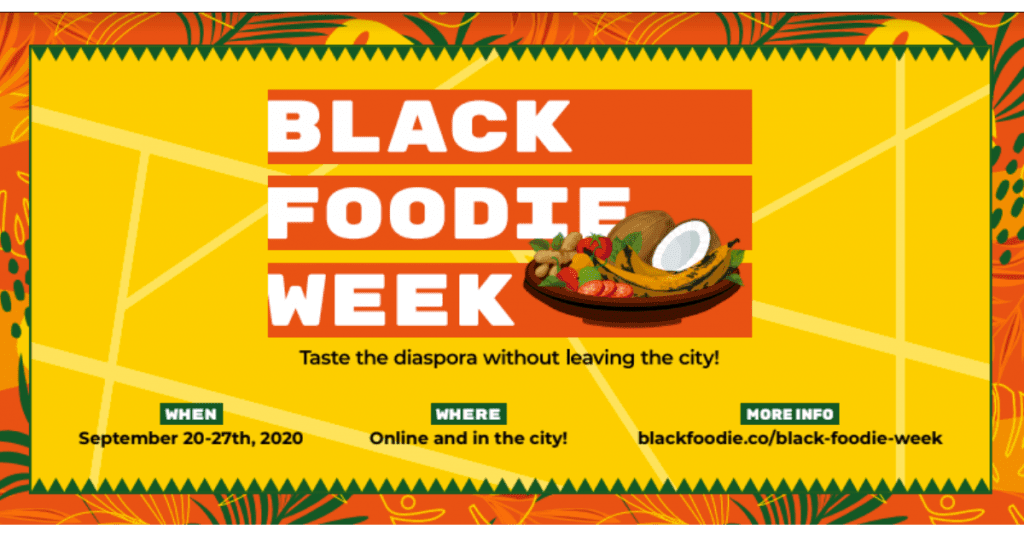 With the support of partners such as the City of Toronto, Restaurants Canada, Interac, and the Culinary Tourism Alliance, BFW will offer Torontonians many ways to discover the diversity and creativity within the city's Black culinary scene. Throughout the week, gourmands and foodies will be invited to visit and support Black-owned restaurants and businesses and help build the Black food scene in Toronto. 
"As the city reopens and regains some of its liveliness and vibrancy, it is crucial we ensure that Black chefs, Black-owned restaurants, and Black culinary creatives are receiving the support they need," states Ellen Asiedu, Strategy Lead at BLACK FOODIE. "This carries even more weight when thinking of the moment we're currently living in."
Through various digital content pieces like cook-alongs, recipe videos, and panel discussions with chefs, restaurateurs, food experts, and influencers, BFW will demystify Afro-Caribbean cuisine, and more importantly, expand the public's understanding of its depth and complexity. As Eden Hagos, Founder of BLACK FOODIE, explains, "Black chefs and Black food culture have been erased from mainstream culinary culture despite the creativity, versatility, rich history they both embody. We want this campaign to drive the general public into Black-owned restaurants to taste the diaspora and help make Toronto a must-visit city to experience Black food culture." 
BLACK FOODIE is a versatile media platform dedicated to exploring, celebrating, and showcasing food culture through a Black lens. As a brand, it focuses on agency, advocacy, and amplification; developing opportunities for Black creatives in food media, amplifying Black stories and experiences, and advocating for better representation and treatment of Black people in the food industry.
---
Media contact:
Media Relations
[email protected]