We need all the Hygge we can get this winter. Pronounced 'hoo-gah', this Danish concept is described in Meik Wiking's Little Book of Hygge, as a "sense of comfort, togetherness and well-being" or "the pursuit of everyday happiness". There are plenty ways to bring a little hygge into your daily life, here's one of our favourites – brewing a cozy-inducing cup of Pluck tea.
Pluck Tea was founded in 2012 by certified tea sommelier Jennifer Commins. As a tea-lover, Jennifer was unhappy with the mediocre tea served in Toronto restaurants and set out to create a beverage that was, as they put it, "anything but your grandmother's cup of tea". Pluck sources premium tea leaves from sustainable sources and combines local ingredients such as Prince Edward County lavender, cranberries from Nova Scotia, and grape skins from Southbrook Vineyards in Niagara to create tea blends that offer a truly unique and delicious taste of place.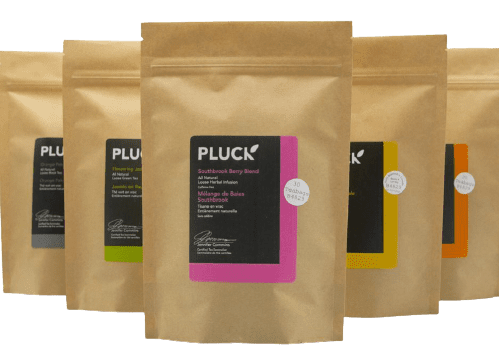 From compostable packaging to zero-waste glass jars and tins, to emission-free deliveries (they've partnered with The Drop – an emission-free delivery service in Toronto that delivers by bicycle or electric car), Pluck is committed to reducing their impact on the environment and goes above and beyond to provide a product that's good for you and good for the planet.
In 2017, Pluck won silver medal at the Global Tea Championship for their Verbena Blue creation, followed by the sustainability award at the North American Tea Association annual conference a year later, for their work in sustainable sourcing. And today, Pluck is known as a leading source for premium tea in Toronto, and provides signature infusions for restaurants, hotels, offices, retail partners and homes across Canada and beyond.
We've been big fans of Pluck since day one. Their commitment to sourcing Ontario products whenever possible – and assisting producers in shifting production and packaging to meet local demands – makes Pluck the gold standard of Feast On Purveyors. Over the years, we've had the pleasure of trying many of their unique tea blends. Here are four of our favorites, perfect for the season!
---
Pluck Tea's best seller, this traditional Earl Grey with its unique notes of bergamot and vanilla bean and full-bodied black tea flavour is great on its own or with a splash of milk. If you are a latte fan, Pluck has a recipe for hot and cold lattes made with this delicious tea blend.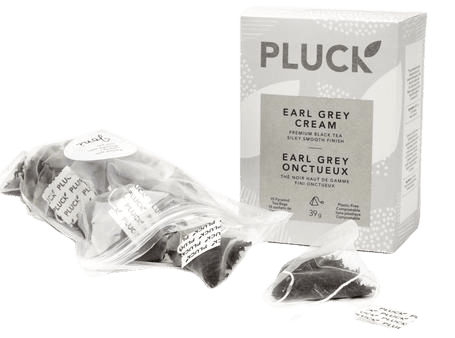 ---
A gentle pick-me-up for any time of day, this signature green tea is infused with lavender grown and dried in Prince Edward County. It's floral and grassy with a subtle hint of ginger. And here's a fun fact, this tea was served to HRH Prince Charles and Camilla on their most recent trip to Canada!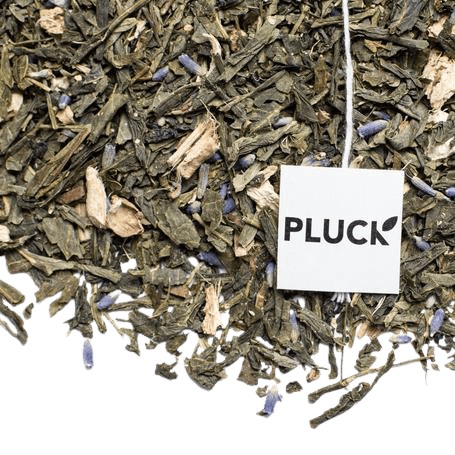 ---
A BREWING TIP FROM PLUCK
Boiling water can burn delicate green tea leaves making the tea taste bitter, use hot water instead. Japanese and Spring green teas are best brewed with slightly cooler temperatures (160-170 degrees F), while Chinese greens steep well around the 170-180 degree mark.
---
An herbal infusion of lemongrass, ginger, spices, butterfly pea flower and lemon verbena, among other natural ingredients, this award-winning tea is delicious on its own or lightly sweetened. The butterfly pea flowers release a beautiful blue pigment into the tea when it's brewed. Add a generous amount of lemon to this already pretty tea and watch the colour change from blue to purple. Pure hygge magic!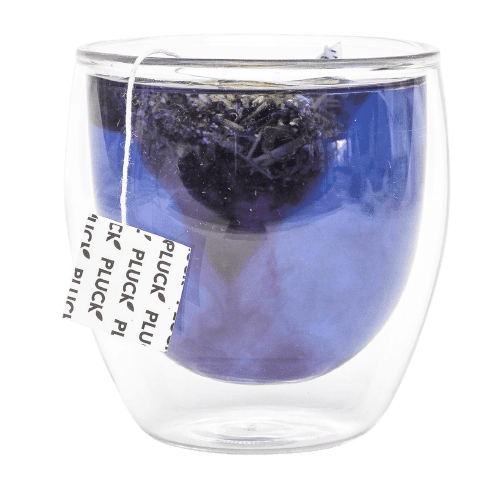 ---
A chocolate peppermint rooibos tea blended with freshly roasted cacao nibs and shells from Chocosol – a Toronto based bean-to-bar chocolate maker. Smooth, aromatic and decadent, this is a great brew to cosy up with this winter.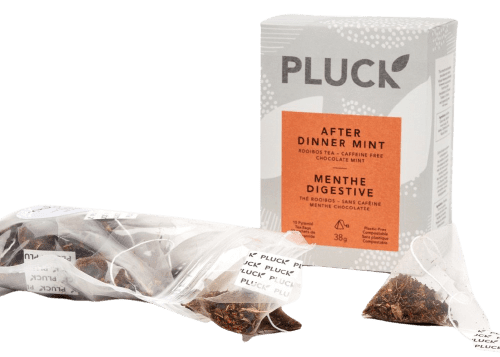 ---
Not your typical Chai, this delicious sticky honey chai is expertly blended with honey from Toronto Bee Rescue and freshly ground, warming spices like cloves, cardamom, cinnamon, ginger, black peppercorns, star anise and directly traded premium black tea leaves from Emrok Estates in Kenya. Perfect for making hot or cold Chai lattes! You can read more about the partnership between Pluck and Toronto Bee Rescue here.
Learn more about Pluck Teas at pluckteas.com