Did you know that Ontario proudly holds the title of Canada's asparagus capital? Norfolk County takes the lead by cultivating approximately 1,500 acres of green, purple, and white asparagus every spring! That's a lot of asparagus.
Enjoy Ontario Asparagus Season
With the asparagus season spanning through May and June, right now is the ideal time to indulge in this nutritious vegetable. Asparagus is a rich source of vitamins C and A and an excellent provider of folate. More importantly, it's so dang tasty.
Don't pass up the chance to savour the freshness of locally-grown Ontario asparagus this year! Read on for ways to do just that.
Way No.1:  Pick your own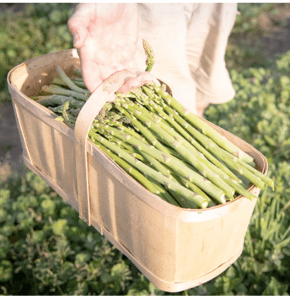 When we think of pick-your-own patches, strawberries, blueberries and apples usually come to mind, but you can also pick-your-own asparagus in Ontario! Here are a few recommended farms to checkout:
Where: 2935 Barrie Hill Rd, Springwater, ON. (View Map)
This thriving farm, owned and operated by a close-knit family, cultivates a vast expanse of land spanning over 200 acres dedicated to the growth of an abundant variety of fruits and vegetables.
Originally founded as a tobacco farm back in 1968, it has since evolved to encompass the cultivation of an array of fresh produce and vibrant flowers.
Visitors to this farm have the delightful opportunity to handpick a selection of delectable offerings, including asparagus, strawberries, blueberries, raspberries, apples, and pumpkins when in season.
Where: 251 Morris Rd, Bradford, ON. (View Map)
Ye's Farm, formerly recognized as the Bradford Asparagus Farm, extends an exceptional opportunity for visitors to engage in the practice of pick-your-own asparagus.
This immersive experience allows individuals to partake in the hands-on process of harvesting fresh asparagus directly from the fields.
To ensure a memorable and enlightening outing, the farm offers detailed instructions on the art of selecting and picking the finest asparagus stalks. This endeavour promises a blend of entertainment and education for all who venture to Ye's Farm
Where: 1805 Taunton Rd, Hampton, ON. (View Map)
As the spring season arrives, the focus shifts to the much-anticipated arrival of asparagus at the farm. It proudly takes the title of being the very first perennial vegetable of the pick-your-own season.
Join the farm in their lively asparagus patch, where you can personally experience the joy of harvesting this delicious vegetable firsthand. Alongside this exciting opportunity, admission also grants access to their expansive playland.
Within this space, you'll find an array of attractions including a slide hill, mini putt, Pingle's racetrack, sandbox, basketball grain hoppers, straw pyramid, and various games. Additionally, visitors can delight in the chance to interact with the farm's friendly animals. If you're bringing the kids along, this is the place.
Way no.2 Enjoy asparagus dishes at Local Restaurants
Check out these dishes from Ontario restaurants.
Barrie's Farm Nachos dish from Borealis Grille & Bar, Kitchener + Guelph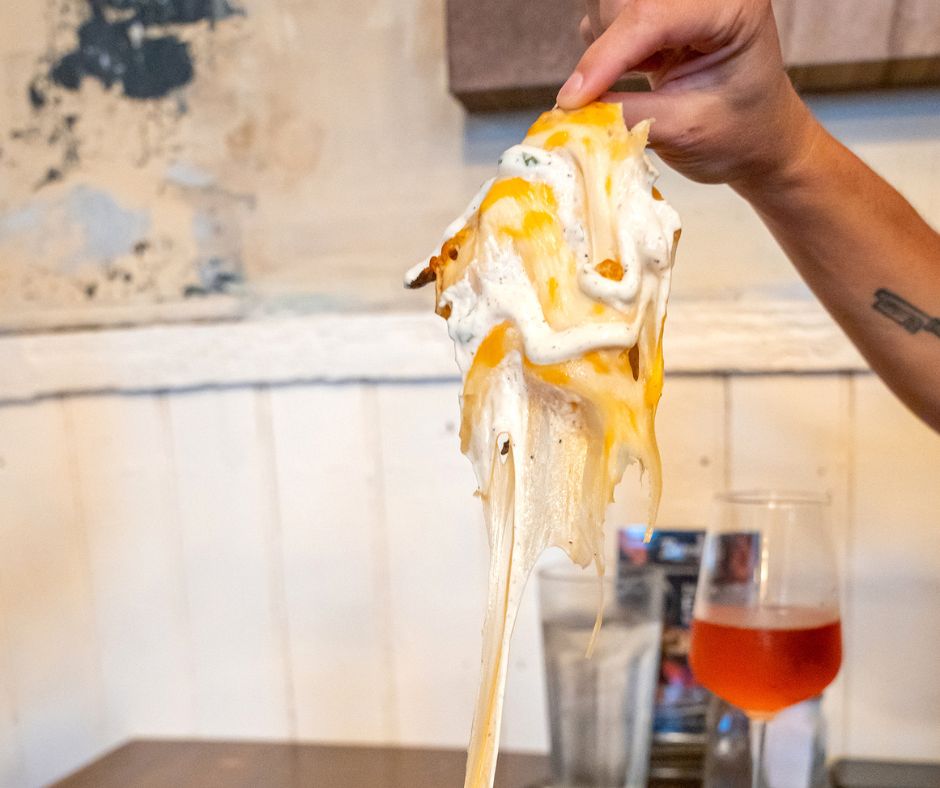 Enjoy the delectable Barrie's Farm Nachos, a gluten-free delight made with locally sourced corn and asparagus chips. Indulge in the perfect blend of cheesy and crispy goodness. Trust us, you need these in your life.
Asparagus and Jammie Eggs at the Lark, Belleville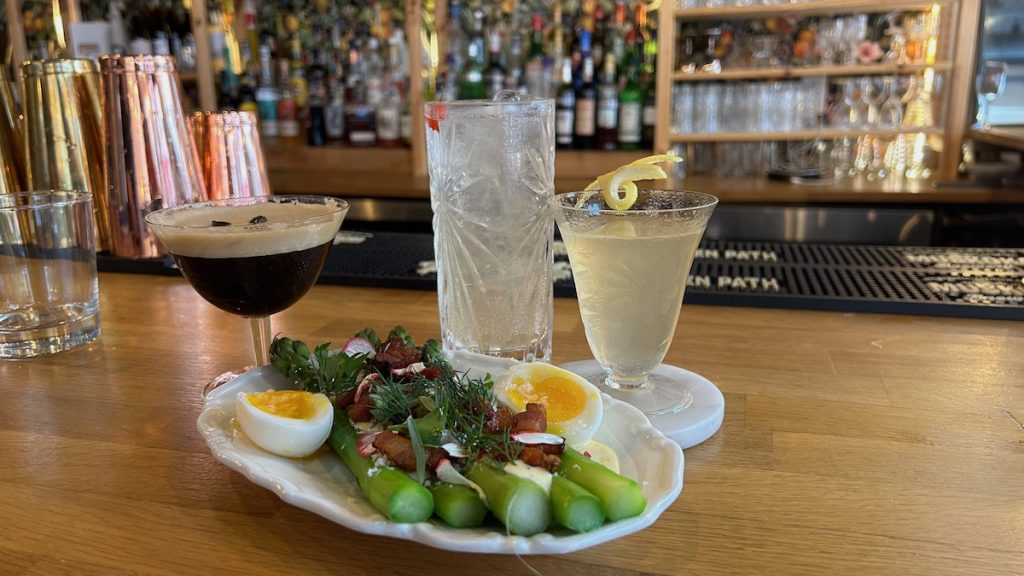 The Lark in Belleville is a trendy cocktail bar with a menu full of mouthwatering meals sure to please your palette. This time of year, indulge in their asparagus appetizer complete with jammy eggs and edible flowers or go full on with their asparagus risotto.
Other Feast On® Restaurants
During this time of year, numerous Feast On® restaurants proudly unveil their special asparagus dishes. Embrace the season's bounty and treat yourself to a wide array of culinary creations highlighting the versatility and freshness of asparagus.
We suggest checking out our list of Feast On® restaurants here and find one near you serving up that asparagussy (yes that's an adjective now) goodness!
Way No.3 Discover the Norfolk County Asparagus Trail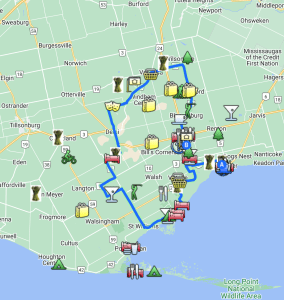 Norfolk County's Asparagus Trail is a delightful culinary adventure that takes visitors on a journey through the picturesque region of Norfolk County, known for its thriving asparagus farms.
The trail showcases the rich agricultural heritage of the area and offers a unique opportunity to explore and savor the finest asparagus produce.
The trail consists of a curated selection of participating farms, where visitors can immerse themselves in the world of asparagus. Along the trail, you can engage in pick-your-own experiences, allowing you to handpick the freshest asparagus straight from the fields.
You may also have the chance to interact with local farmers and learn about the art of asparagus cultivation.
Get Out There!
Don't let this vibrant season pass you by. Whether you're indulging in the crisp freshness of asparagus chips, embarking on a farm-to-table adventure, or discovering the secrets of asparagus farming, Ontario's asparagus season promises to delight your taste buds, ignite your curiosity, and create lasting memories.