If you need more reasons to drink good whisky, you're in luck. Here are three you just can't argue with!

1. It's delicious. Mark Twain said, "Too much of anything is bad, but too much good whiskey is barely enough." Mark Twain was a smart man.
2. It makes a pretty big impact on our economy. Spirits aren't the biggest business in the province, but a study conducted a few years ago by the Ministry of Agriculture, Food and Rural Affairs determined that Ontario spirits contributed about $1.5 billion to our economy and supported jobs for some 6,000 Ontario families. Sure, that's not just whiskey; but I'll refer you back to point one for why whiskey.
3. Many of them are grain to glass, which means you're also supporting Ontario's farmers. While we may not grow a ton of wheat around these parts, we do grow rye, barley and corn. All good things for whiskey making!
---
Now that you're convinced, here are four of our favorite Ontario whiskies available now. We encourage you to explore the growing community of distillers creating exceptional products in Ontario. They're great stocking stuffers, but we won't judge if you just keep them for yourselves either!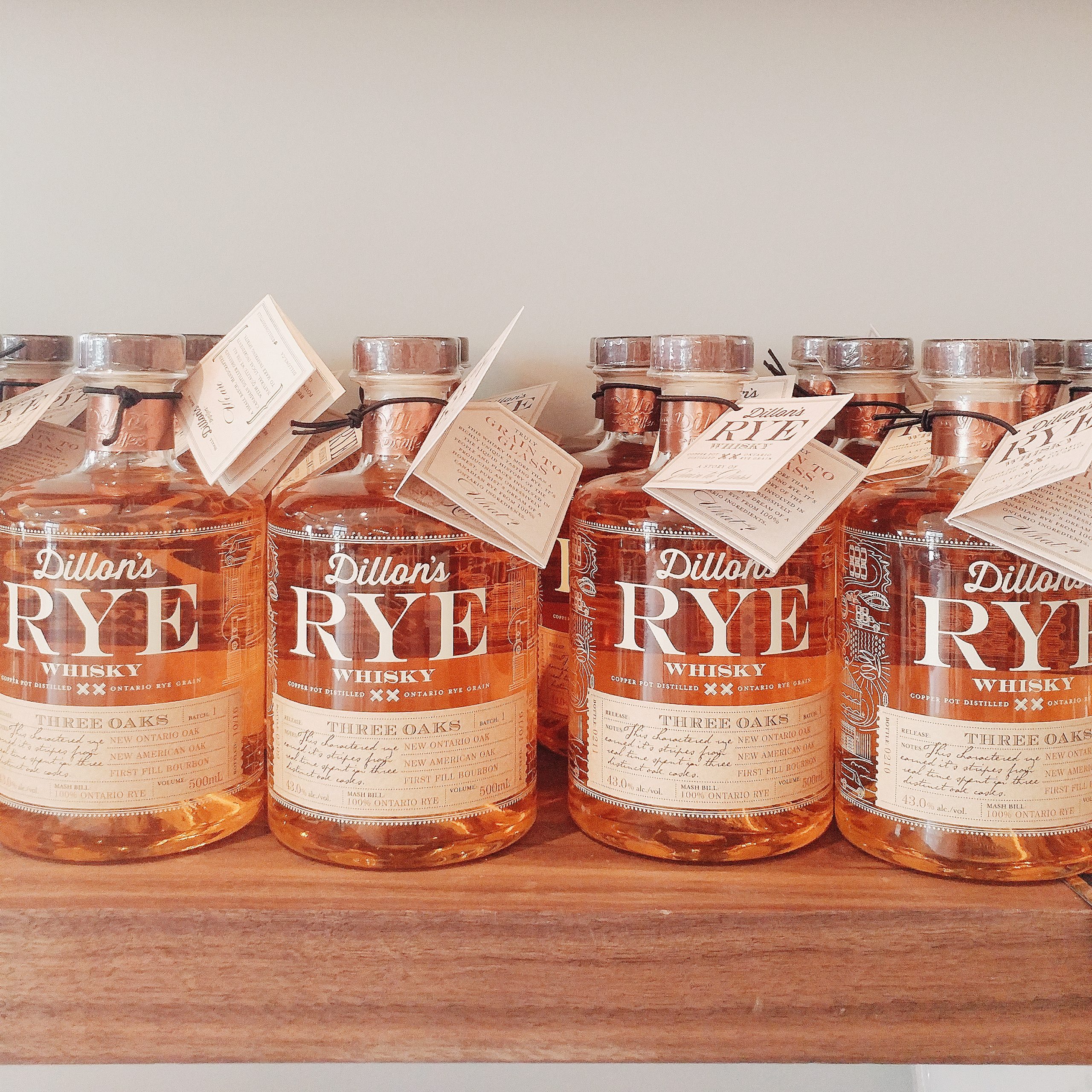 Perth Canadian Whisky
Top Shelf Distillers
Perth, Ontario    topshelfdistillers.com
This beautiful Ontario whisky has a big legacy on its shoulders. Awarded Gold at the 2020 Canadian Artisan Spirit Competition, this blended Canadian whisky marks the end of a 100-year drought. That is to say, it's existence marks the first time in over a century, that a Canadian whisky has been mashed, distilled, barrel-aged and bottled in Perth, Ontario. The area was once a hub for distilling!
Batch 2 Rye Whisky
Dillon's Small Batch Distillers
Beamsville, Ontario    dillons.ca
Years and years and years of planning, investment, hard work, sweat, tears, wins, luck and good people went into making this whisky. It's made from 100% Ontario rye grain and aged in oak casks. Definitely a special sipper.
Premium Craft Whisky
Wolfhead Distillery
Windsor, Ontario   drinkwolfhead.com
When you're distillery shares space with the largest cooperage in Canada, you're bound to make good whisky. Wolfhead makes theirs with rye and also offers flavoured varieties like coffee and apple caramel for those looking for something a little sweeter.
North of 7 Whiskey
North of 7 Disillery
Ottawa, Ontario  northof7distillery.ca
Almost all the grain used for Nof7 Whiskey (heritage purple corn, wheat, rye and barley) is sourced locally from Moulin St.-Georges Mill (corn from the Alexandria area) and Against the Grain farm in Winchester!