A trip to Simcoe County provides plenty of ways to unwind.
Whether you're taking in fall colours, dining out and shopping in Collingwood, or exploring the impressive Friday Harbour in Innisfil- this massive county packs the punch when it comes to adventure and relaxation.
On our recent trip, we were lucky enough to sip our way through Simcoe County enjoying everything from craft beer and wine to craft spirits, great coffee, cocktails, and even mead. Keep reading to learn about some of these unforgettable stops!
Craft Beer
A pint of craft brew on a beautiful fall, spring, summer or winter day? Count us in! We checked out two of Simcoe County's many fantastic breweries and were not disappointed.
1. Quayle's Brewing Company
Where: 4567 12 Line N, Coldwater, ON. (View Map)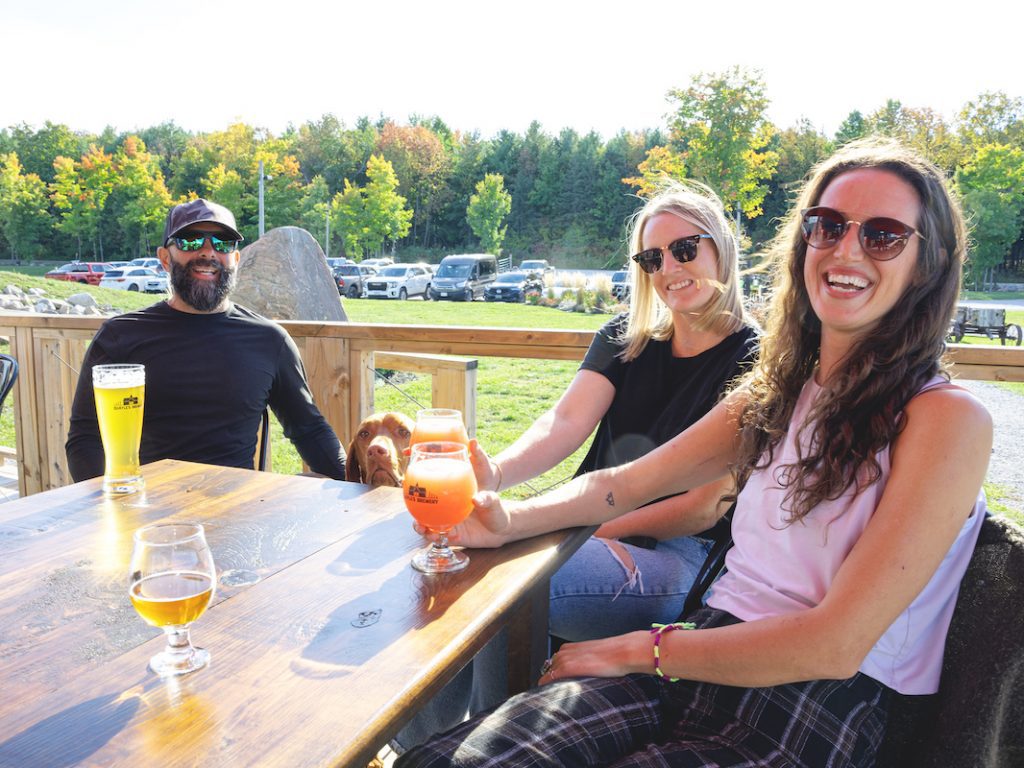 Quayle's Brewing Company is just off Highway 11 in Oro-Medonte and is a destination in its own right. Crafting over 100 brews since they opened, Quayle's is always experimenting with new flavours (including a killer crab apple sour that was on tap when we visited) and pushing the boundaries of Ontario's brewing industry.
Nestled between Georgian Bay and Lake Simcoe, this brew farm is home to a beautiful, 12-acre hop yard that is overlooked as you sit on the brewery patio enjoying a flight of beer and some of their tasty food.
With a menu that changes often, you can pair their inventive ales with dishes like shredded pork poutine, chilli cheese fries, and for those with a sweet tooth – homemade butter tarts. Enjoy one of their live from-the-patio events or even have your wedding there! This spot is truly one to behold.
2. Black Bellows Brewing
Where: 40 Simcoe St, Collingwood, ON. (View Map)
In downtown Collingwood, Black Bellows Brewing is in what was Collingwood's longest-running business for over 140 years. Today, this brewery has fantastic vibes both inside and out and a lineup of brews sure to please.
We loved their Beach Freak Pale Ale and Big Buck IPA but with a tap list that rotates regularly, you'll want to return a few times (at least!). We paired our flights up with some drool-worthy tostadas and chicken wings to hit the spot.
Wine
In addition to beer, you can also try award-winning wine in Simcoe County. The added bonus: views of beautiful Hawkley Valley.
3. Windrush Estate Winery
Where: 3100 Concession Rd 3 Adjala, Palgrave, ON. (View Map)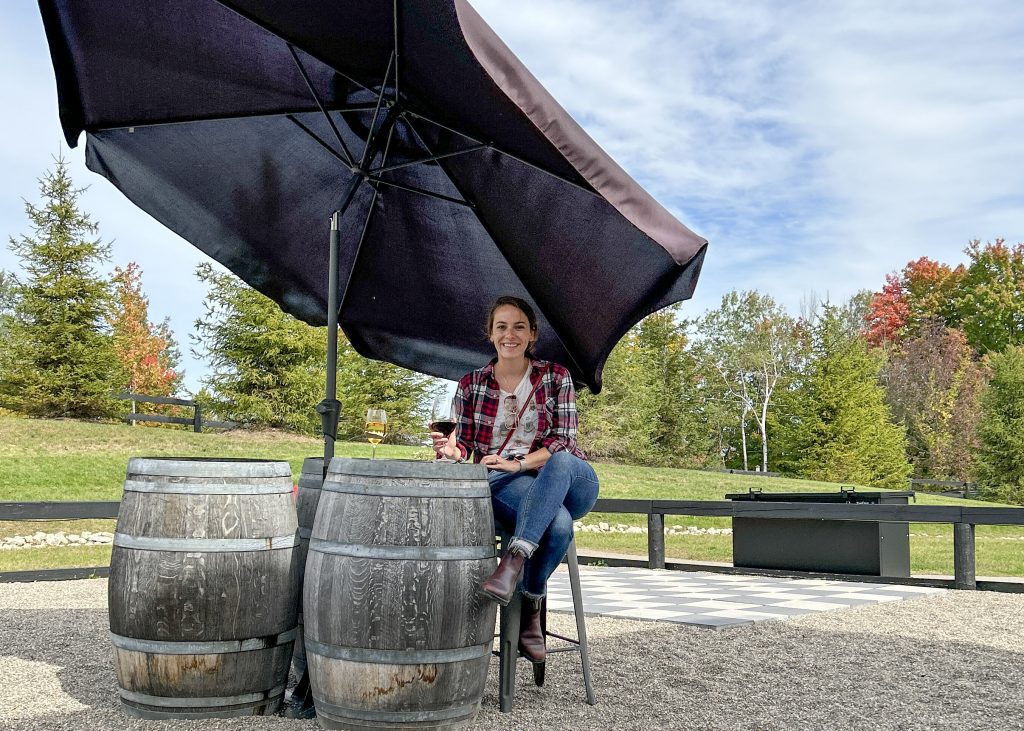 If this sounds up your alley, you'll want to stop at Windrush Estates Winery in Palgrave.
This winery is tucked away down a gravel road on a beautiful property. You can book a tour and tasting of their facility in advance and Johnathan, the in-house winemaker and vintner, will walk you through four tastings of their award-winning wine.
Afterward, head to the retail shop to grab a glass or two of their wine to enjoy out on the patio in nice weather. You'll love exploring this corner of the county with high-top tables made from old wine barrels.
If you're feeling nibbly, call a few days in advance and book a spot on the terrace at Windrush Chateau (one driveway down) where you can enjoy a glass of wine and a charcuterie board with sweeping views of the valley in all its glory.
They also host dinners and concerts throughout the summer and early fall so keep an eye on the website for upcoming ones.
Craft Spirits
They really do have it all in Simcoe County and that includes vodka and gin made with locally-grown potatoes.
4. Beattie's Distillers
Where: 6673 Line 13, Alliston, ON. (View Map)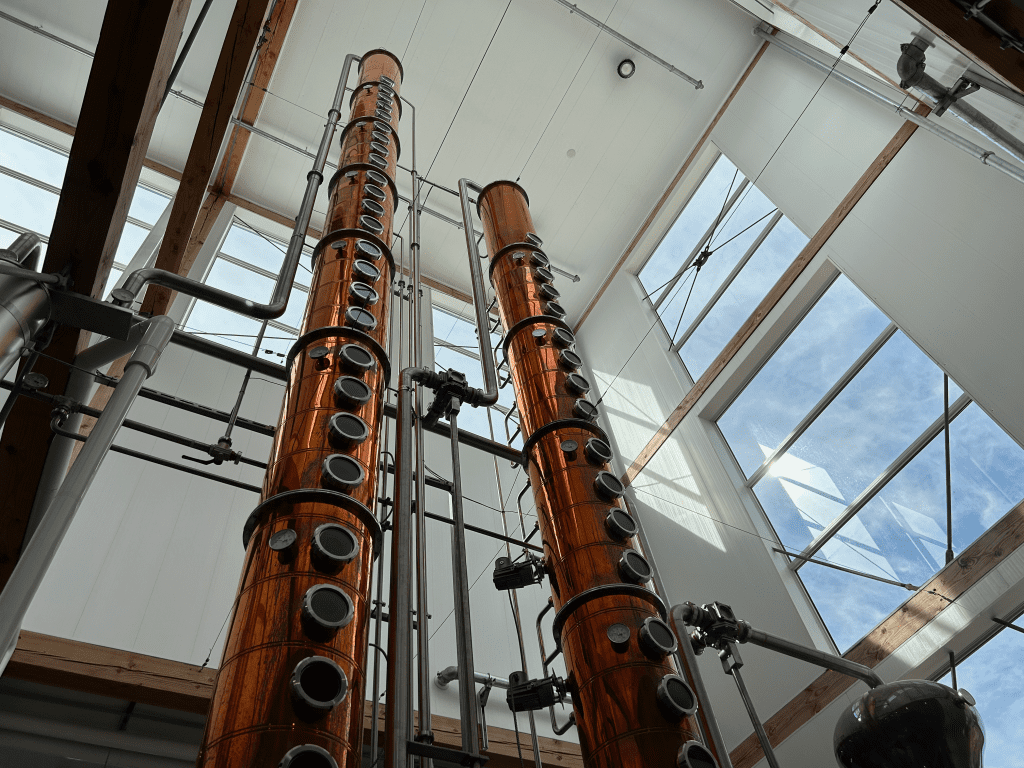 From Windrush Estates Winery, Beattie's Distillers is just a fifteen-minute drive. If you find yourself at a potato farm, you're in the right spot!
Drive all the way to the back of the property and around the side of the final building, and you'll find Beattie's Distillers.
Head inside the retail shop to check out their tanks with their large copper piping and to talk with the friendly staff about all the different spirits they distill on-site.
Making both gin and vodka in-house, Beattie's uses their own potatoes and sweet potatoes, as well as ingredients from as nearby as possible (like Bala cranberries in their orange cranberry gin!) to create their spirits. You'll find other inventive flavours like sumac, blueberry, lemongrass, and more.
Located on a fifth-generation farm, this distillery knows what they're doing. Do some sampling in the shop to figure out which bottles to purchase before heading out the door!
Also, keep an eye on their social media to find out when they have their signature kettle chips. They move fast!
Mead (Honey Wine)
For those who don't know, mead is an alcoholic bevy made by fermenting honey and mixing it with water. It's been around since the Palaeolithic era (and maybe even earlier)!
5. Ontario Honey Creations
Where: 938343 Airport Rd, Mulmur, ON. (View Map)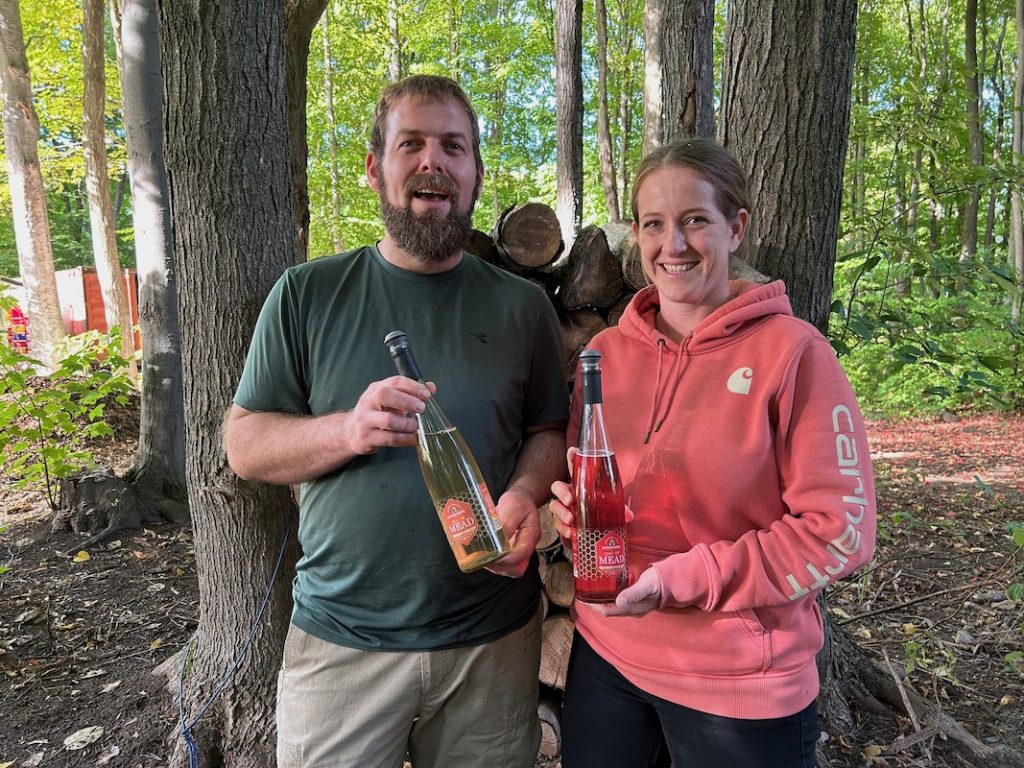 Have you ever tried mead or honey wine? Whether you've never had it or are a seasoned aficionado, Ontario Honey Creations is worth a visit. See what all the buzz is about when you head to this small honey producer in Mulmar and sign up for their mead tasting.
Owners Peter and Sarah will take you out under the maple trees and guide you through a tasting from driest to off-dry as you sip your way through all kinds of flavours from hopped mead to cranberry and peach!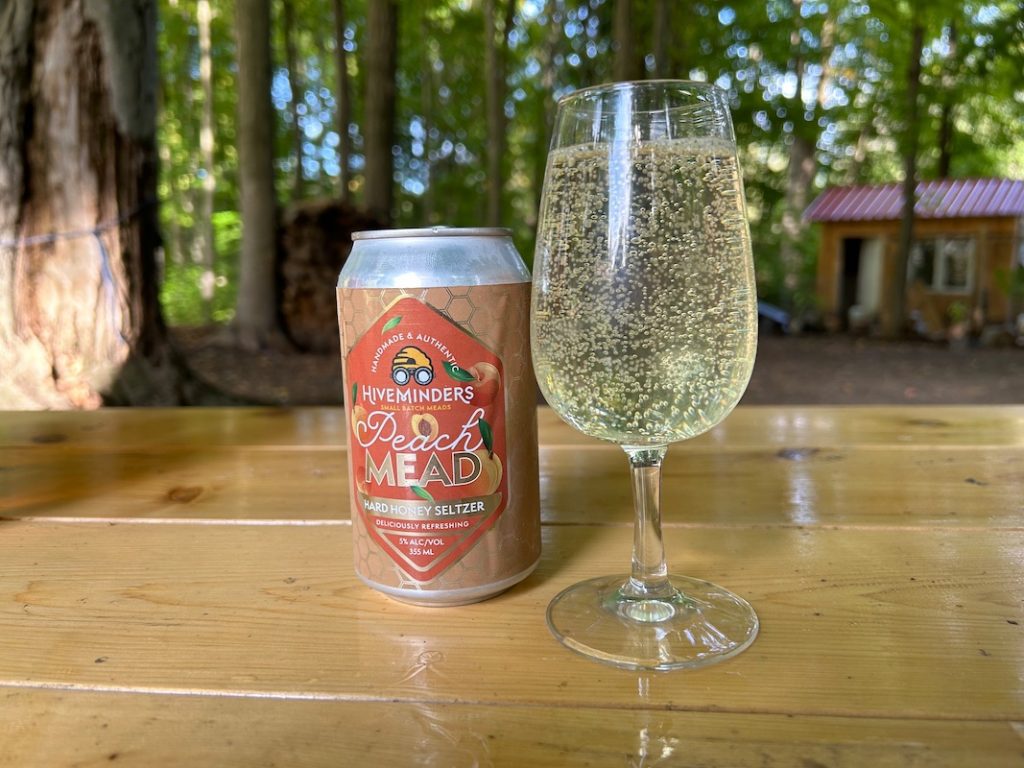 If you fall in love (and we think you just may), head to their shop to purchase some mead in cans or bottles as well as some of their fantastic honey which is influenced by the regions where they keep their hives. You can also check out their honey vinegar which is a unique addition to any meal.
Really love bees? Us too! Stay tuned in 2023 for Peter and Sarah's beekeeping experience where you'll be able to visit the hives and bottle your own honey.
Cider (or Cyder)
We didn't forget about you, cider lovers! Using apples grown right in Simcoe County, we were happy to enjoy the local fare.
6. Duntroon Cyder House
Where: 3079 Simcoe County Rd 124, Duntroon, ON. (View Map)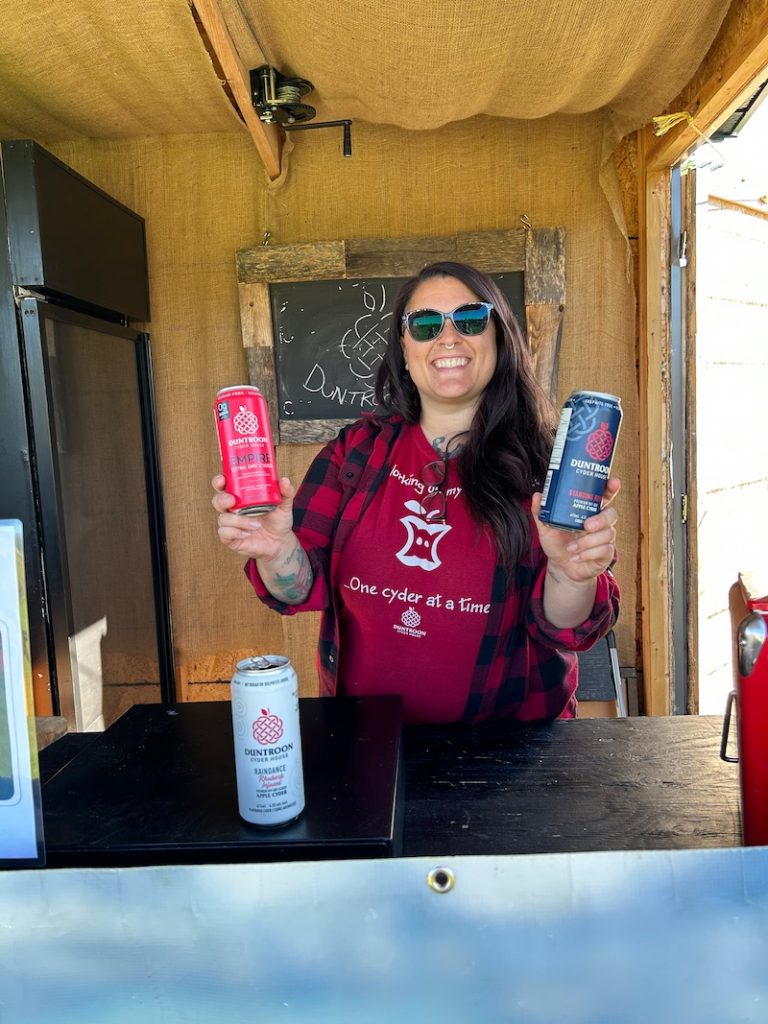 This cyder house is located on Dunridge Farms – an organic farm that grows garlic, pears, and of course, apples. These apples go right into the English-style cyder that we've come to love!
Duntroon is home to four flagship cyders (including a net-zero cider which our eco-loving hearts adore) as well as several rotating, small-batch cyders that allow the cidermaker to experiment.
The farm itself makes for a beautiful visit. Grab a cider flight to enjoy out on the tasting green alongside one of their offered snacks together with friends (and your doggo too)! It provides all the feel-good vibes of rural Simcoe County.
Unreal Cocktails
We love a great cocktail and there are some restaurants in Simcoe County doing some pretty legendary ones.
7. 1858 Caesar Bar
Where: 158 Hurontario St, Collingwood, ON. (View Map)
Note: this spot also has locations in Sauble Beach and Toronto!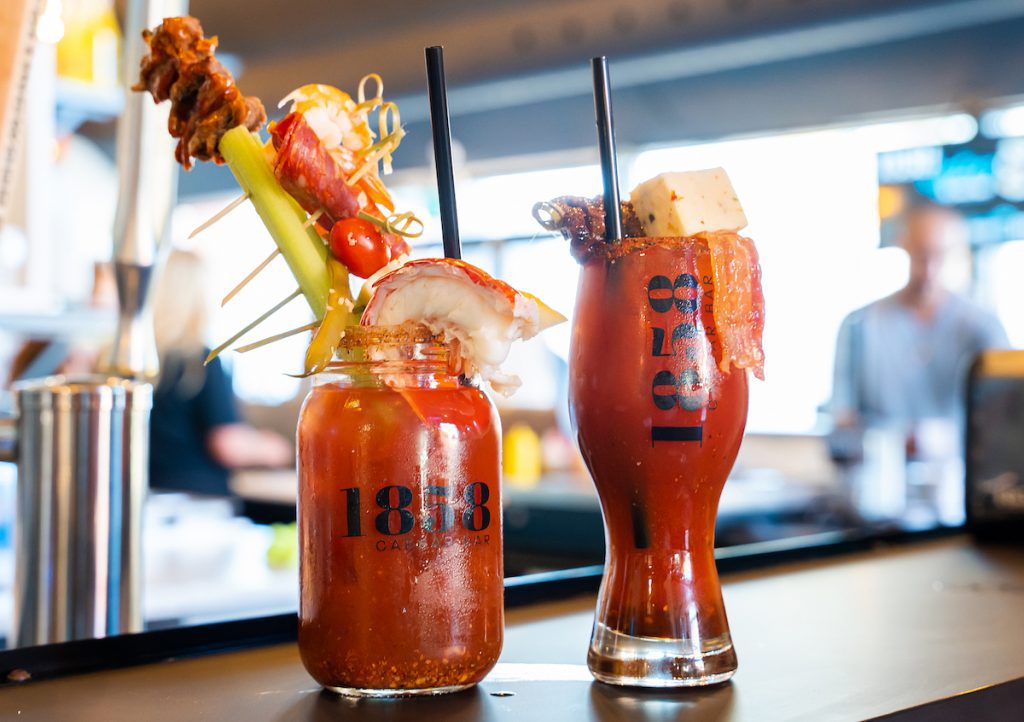 You (maybe) know the saying: "Can't see a Caesar and not want a Caesar." This beloved Canadian cocktail IS the menu at 1858 Caesar Bar where a whole host of epic Caesar combos await.
Think crazy garnishes with chicken wings and "surf n' turf" with an actual lobster tail on it. Whether you fancy Korean flavours like savoury, umami beef or perhaps a little Sushi & Saki, they have you covered.
8. Tremont Café
Where: 100 Pine St, Collingwood, ON. (View Map)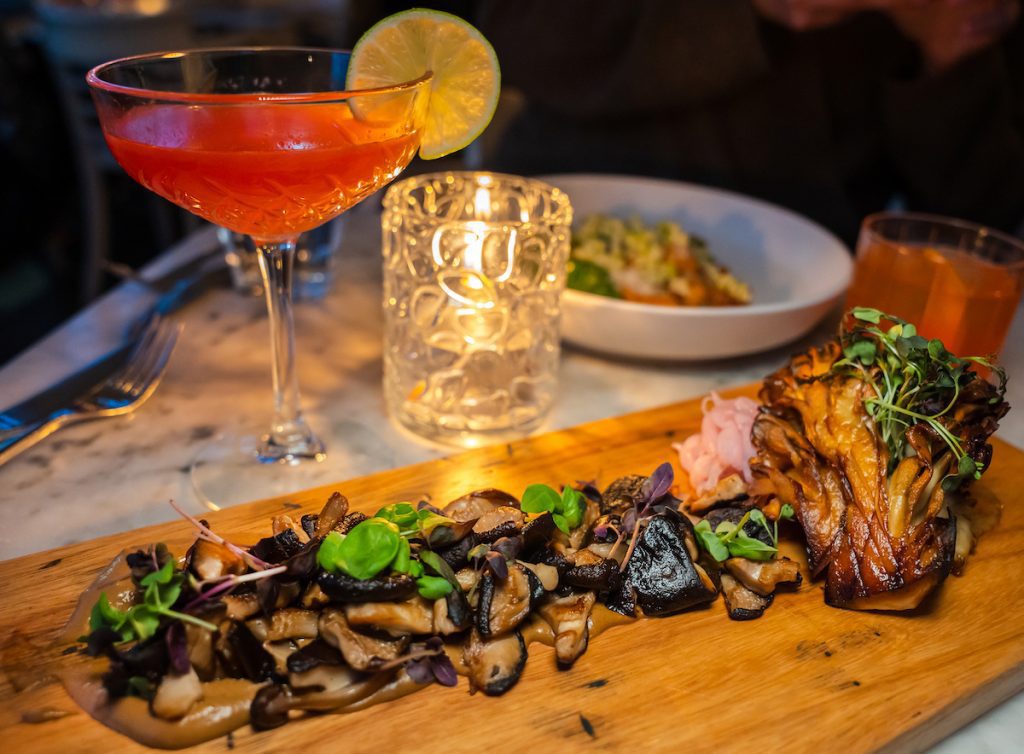 From 1858 Caesar Bar, Tremont Café is just a four-minute walk away. Their carefully crafted menu has some real beauties when it comes to cocktails.
This dining hot spot has a menu full of spirits including several bourbons, gins, whiskeys, campari and sakis.
We highly encourage ordering a cocktail or two (or asking the bartender for their recommendation). We enjoyed a lovely gin cocktail and a Campari daiquiri that did not disappoint!
To say the food here is good is a complete understatement so be sure to bank on spending an evening of delicious slow food and beverage here. We recommend booking your spot in advance as this cozy resto fills up quickly!
9. The Beach Club at Friday Harbour
Where: 3740 Sunreef Ave, Innisfil, ON. (View Map)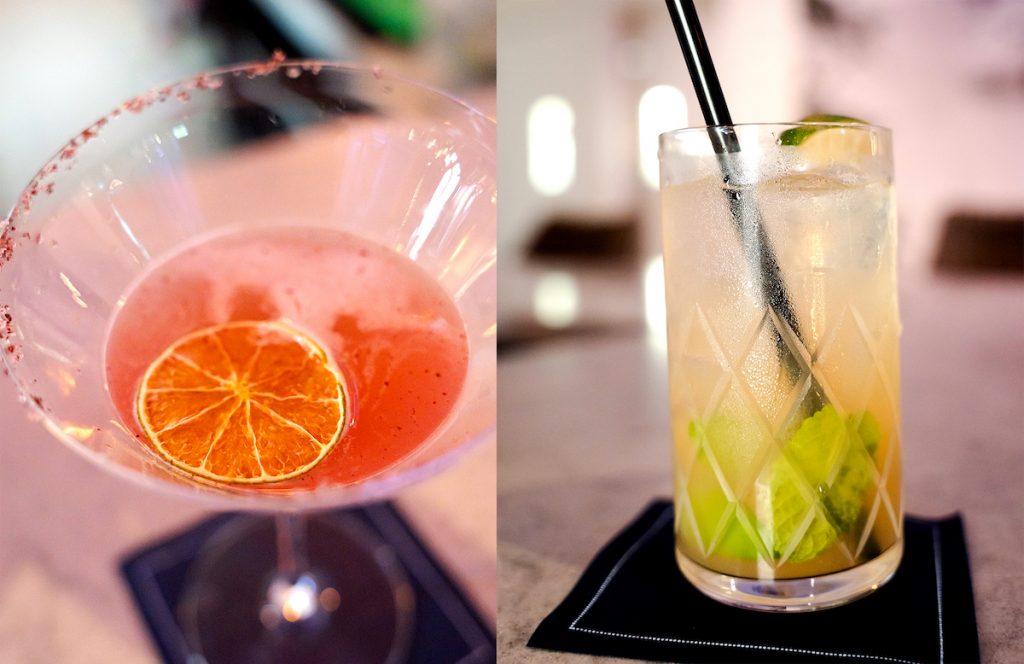 For those who have never been to Friday Harbour, it's quite the place. Part resort, part shopping destination, part marina and part foodie hub, we had a hard time deciding where we wanted to eat (there are so many options) and settled on The Beach Club – a trendy water-front resto with flavourful dishes and beachy drinks.
The restaurant itself is located on the far end of property – take the shuttle or enjoy a walk along the marina if you'd like to check out some rather nice boats on a beautiful day.
Once you arrive, you'll be greeted by a warm, large fire right in the centre of the restaurant and a menu full of deliciousness. We ordered up a pineapple mojito and a Staghorn Sumac: a signature cocktail made with Beattie's sumac vodka, Chambord, citrus juice, sumac sugar rim raspberries and lime peel.
How could we not pair those tasty cocktails up with some delicious eats too? We enjoyed mussels, burrata salad and "opa" toast topped with whipped feta cheese, candied cherry tomatoes and olive tapenade. Need we say more?
Coffee
Of course, not all great drinks are alcoholic! We LOVE a mean cup of coffee too. Read on for the spots that surpassed our java-filled dreams.
10. The Press Market
Where: 2 Mountain Rd Unit 3, Collingwood, ON. (View Map)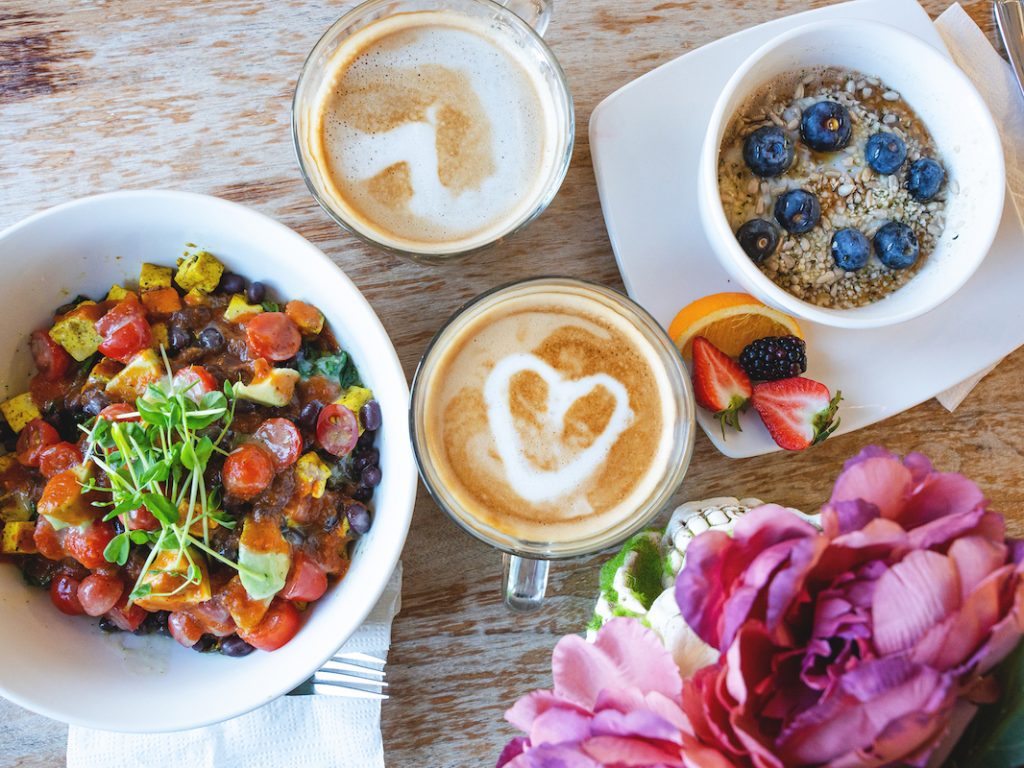 Fancy starting your day with a great cup of coffee and perhaps something on the healthier side? For light meals that don't compromise on flavour, check out The Press Market.
We enjoyed a great cappuccino and latte (classic!) as well as a fruit smoothie for an extra zing to the morning! The breakfast menu paired up wonderfully and was a pretty epic way to start our morning.
11. Gibson & Co.
Where: 93 Hurontario St Unit 3, Collingwood, ON. (View Map)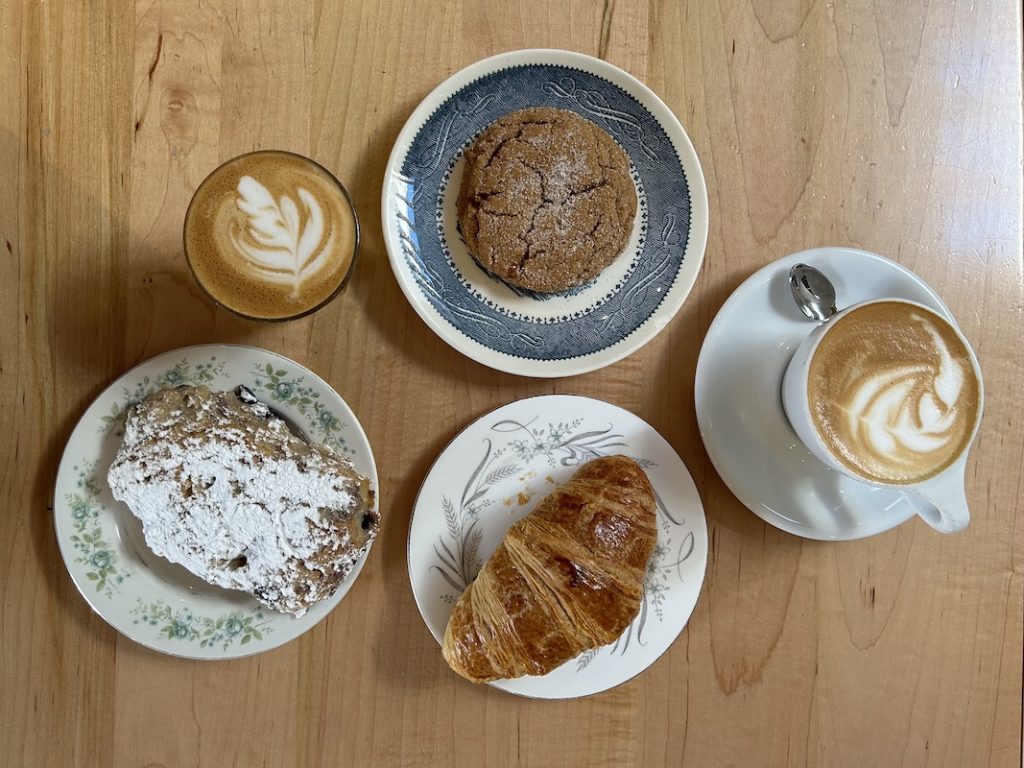 Spoiler alert! If you want one of Ontario's best cortados or cappuccinos, add Gibson & Co. in downtown Collingwood to your list of must-hit spots.
This café/bottle shop is nestled down the coolest little alleyway and opens up into a spot with great vibes, an entire wine library, and hit-the-spot baked goods as well as savoury bites like avocado toast.
It's an awesome spot if you want to set up and work for the day, and in the evening transforms from café to bar.
We fell head over heels for their coffee menu, croissants, ginger molasses cookie and their blueberry scone which can only be described as a muffin-top-scone hybrid.
All Aboard the Brew Bus
Of course, if you're going to sip your way through Simcoe County, you should definitely have a designated driver. Don't have a willing volunteer? Consider booking the Brew Bus and enjoying yourselves that way! They offer beer, wine and cider tours as well as on board snacks and refreshments and guide who is knowledgeable about what you're drinking. What more could you ask for?