You know what you don't want to be this holiday season? You don't want to be the guy (or girl!) who shows up empty handed. Have no fear local food lover. We've got you covered. We've combed the province — a hard job, we know — for the most delicious and devilishly easy gifts under $25. From treats from your kitchen to great gifts for theirs, any one of our picks will have you invited back, year after year!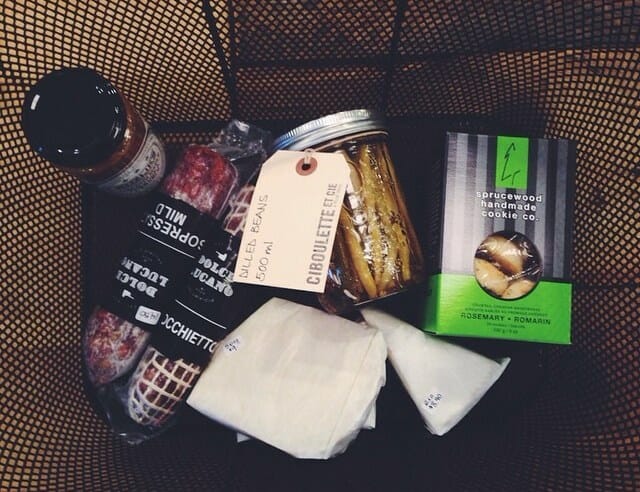 So, without further ado, OCTA's favourite holiday hostess gifts:
---
Bring On The Bubbles
Classic. Elegant. Always appropriate. Sparkling wine is never a bad choice when wondering what to bring. It pairs with every food and gives folks something to chat over while your host puts the finishing touches on your dinner.
Get The Goods:
Our pick? The Grange of Prince Edward 2010 Sparkling Riesling. It's light with notes of honeysuckle, peach, lemon and honey. Get a case
direct from the winery
and avoid last minute gift-giving stress all season!
---
A Nod to Nog
Is there anything better then Sheldon Creek Diary's egg nog? A limited batch of this stuff is bottle every year. For those who know to get their paws on it, it's a quintessential part of the holidays. The glass bottle is a little vintage, a little classy, and whole lot green.
Get The Goods:
Find it at
Stasis Preserves
,
Heatherlea Farm Market
or
The Spirit Tree Cidery Bakeshop
.
---
I Gots 99 Problems, But Meat Ain't One.
Showing up with an armful of cured meat might seem strange in some circles, but for food lovers — it's something to celebrate! Whether you choose a salumi, a pate or even a festive terrine, try to call ahead and find out what VQA your host is pouring.
Get The Goods:
We're digging
Dolce Lucano
's spicy sopprassata — available at the Evergreen Brick Works Farmers Market — and Mikey's creative terrines at
Sanagan's Meat Locker
in Kensington Market.

Bring Cider for Santa
… and all your friends! With so many 'intolerances' floating about these days, showing up with cider can save your host a headache and a half when uncle jimmy's new girlfriend announces she can't have gluten or sulfites.
Get the Goods:
We're going nuts over the ginger cider from
Beaver Valley Cidery
and
Spirit Tree Cidery
's Hopped Cider. Both come in big bottles so you're not rollin' up with a sixer lookin' like a fool.
---
Pile On The Pickles
Homemade pickles (like
these
,
these
or
these
!) are a great token when arriving at a dinner party. They're personal, thoughtful and delightfully tangy. If you didn't have a pickling party this year (For shame!) head to a local food shop a pick up something special.
Get the Goods:
We're digging Andre's pickled beans from
Ciboulette et Cie
right about now (and the morning after in a caesar!) and the house-made rhubarb jelly from
Gilead Café.
---
When All Else Fails, Bring Cake.
Or pie. Pie is an excellent option as well. Bringing dessert relieves stress for the host or hostess and shows you care. Besides, who doesn't like cake? No one.
Get the Goods:
Have your host slice up the Strawberry Cake from
Cake & Loaf.
Vanilla bean custard folded with house-made Ontario strawberry preserve. Feeling like pie? Pick up the caramel apple crumble pie from
Thornbury Bakery
on The Apple Pie Trail.
---
And remember, your host deserves to put their feet up too. Always offer to help with the dishes.
---

Happy Holidays from everyone here at the OCTA office!