One of our favorite meals, despite the season, is the St. Lawrence Salad at Cafe Belong. In the winter, it's full of sprouts, shoots and cheeses. Come summer, it's packed with fresh fruit and greens. It's more of a concept than a recipe — and now, it's yours.
"I remember it like it was yesterday, Chef Brad was standing up in front of 30 or so hungry people proclaiming "Brown butter will not hurt you!". Full stop. If it does anything, it will warm the cold, frozen cockles of your kale eating heart — my words, not his. Once you've got this dressing down, it's all about mixing textures and eating in season. Use fresh, local greens in the summer, sprouts in the winter. Cheese and root veggies are great in the fall — and right now, tonight, go get some local peaches and sub those in. I love mixing in the Fire Blend from Kind Organics in New Market. Sandra grows the most beautiful, flavourful greens!" — Agatha Podgorski, Community Manager
You can find the recipe for the vinaigrette here.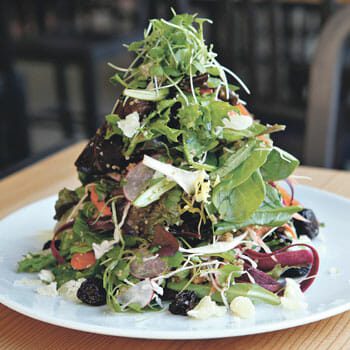 [yumprint-recipe id='58']