One of our favorite meals, despite the season, is the St. Lawrence Salad at Cafe Belong. In the winter, it's full of sprouts, shoots and cheeses. Come summer, it's packed with fresh fruit and greens. It's more of a concept than a recipe — and now, it's yours.
"I remember it like it was yesterday, Chef Brad was standing up in front of 30 or so hungry people proclaiming "Brown butter will not hurt you!". Full stop. If it does anything, it will warm the cold, frozen cockles of your kale eating heart — my words, not his. Once you've got this dressing down, it's all about mixing textures and eating in season. Use fresh, local greens in the summer, sprouts in the winter. Cheese and root veggies are great in the fall — and right now, tonight, go get some local peaches and sub those in. I love mixing in the Fire Blend from Kind Organics in New Market. Sandra grows the most beautiful, flavourful greens!" — Agatha Podgorski, Community Manager
You can find the recipe for the vinaigrette here.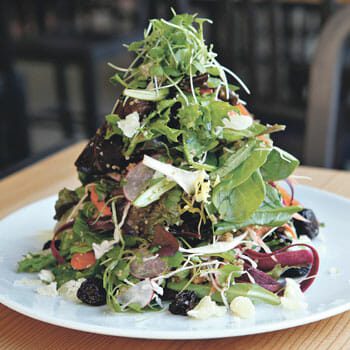 St. Lawrence Salad
2015-08-05 20:08:37
Serves 4
Ingredients
1/2 cup Brown Butter Vinaigrette
2 carrots (or other fresh roots such as parsnips or beets)
About 6 oz mixed salad greens and micro greens (about 12 cups/3L loosely packed)
About 1/4 cup cold cooked grains (such as quinoa, pearl/pot barley, spelt)
About 1/2 cup raw pecans or other nuts, toasted
1 pear or other tree fruit (such as apple or peach), thinly sliced with skin on
About 1/4 cup dried cranberries (or other dried fruit such as raisins or cherries)
About 2 oz crumbled chèvre (soft, unripened goat's cheese) or other young cheese
Instructions
Fresh flat-leaf parsley leaves
For vinaigrette, in medium saucepan, melt butter over high and watch closely as it foams, falls and foams again while the solids start to brown and smell like toasted hazelnuts. This may take 3 to 5 minutes depending on your stove. Remove from heat as soon as the butter browns so it doesn't burn.
Place shallots in medium stainless steel bowl. Place fine-mesh strainer over bowl. Slowly pour butter through strainer, being careful as it will foam; discard solids (little browned bits). Let cool 5 minutes. Whisk in vinegar, honey and mustard. Taste; adjust if desired. Whisk again. You should have about 1/2 cup (125 mL).
This vinaigrette must be served warm. If not using immediately, transfer to plastic squeeze bottle and refrigerate up to 2 weeks. When ready to use, place squeeze bottle in bowl of hot water until it warms and loosens again. Or place in saucepan of briskly simmering water. Shake well before using.
For salad, peel and trim carrot or other roots. Using vegetable peeler, shave into long, extremely thin strips. Transfer to bowl of ice water until curled and crisp, about 10 minutes. When ready to use, drain and pat dry.
In large mixing bowl, combine roots, greens, nuts, fruit, cheese and parsley. Add 1/4 cup (60 mL) vinaigrette. Toss well; taste. Add more vinaigrette, 1 tbsp (15 mL) at a time, if desired.
Mound on serving platter. Serve immediately.
Adapted from Cafe Belong
Adapted from Cafe Belong
Culinary Tourism Alliance https://ontarioculinary.com/