New year, new you. Right? Don't let your healthy eating resolutions get you down! Eating right can be delicious — just ask Chef Julia Graham from The Quirky Carrot. She's shared her recipe for a delicious, resolution-friendly wrap.
"At The Quirky Carrot they are passionate about food! Where it comes from, how it is grown, along with the preparation and presentation of the final product. We want to offer you fresh, healthy, REAL food. More then a restaurant, The Quirky Carrot also offers classes! Discover different cuisines and learn valuable skills, all while having fun in an intimate social setting. After all, every great party begins in the kitchen, right? Most classes are hands-on, allowing you to roll up your sleeves and have a more meaningful experience."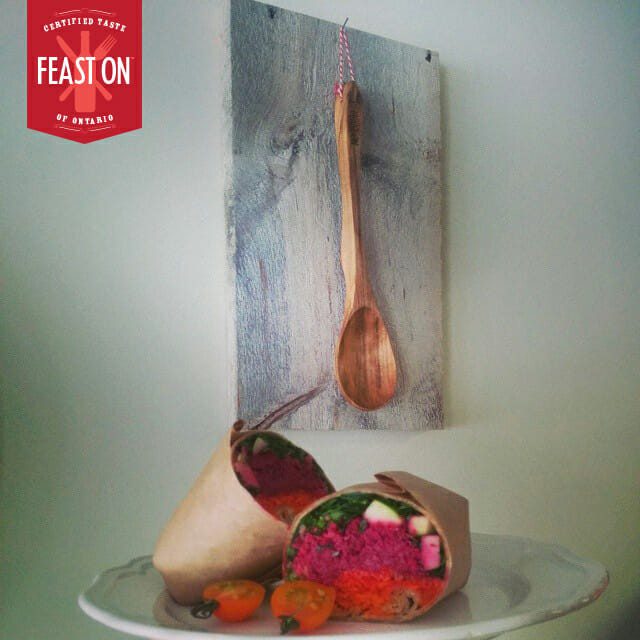 Rainbow Wrap
2015-01-08 21:45:10
Want it gluten free? Swap the tortillas for big ol' collard green leaves. It's delicious, we promise.
Ingredients
2 large Ontario candy cane beets, grated
2 large Ontario yellow beets, grated
1 large Ontario red beet, grated
1/2 cup soft goat cheese -- we like Woolwich Dairy
Salt & Pepper to taste
2 large Ontario carrots, shredded
2 cups cooked quinoa
1/4 tsp ground cumin
zest & juice of 1 lemon
1/2 cup golden raisins
1 cup Ontario black walnuts (or pumpkin seeds!)
2 cups Ontario winter kale
1 diced tart Ontario apple
2 whole-grain tortillas
Instructions
In a medium sauce pan, cook quinoa until soft. Fluff with fork. Add cumin, pinch of salt, lemon zest, lemon juice, raisins and walnuts. Stir and set aside to cool.
In a seperate bowl, shred kale and massage with a bit of oil and salt. Once translucent, add diced apple. Set aside.
To assemble, lay tortilla on flat surface. Pile half the beets, carrots, kale slaw and quinoa slightly off center on the wrap. Fold sides in so they nearly touch -- but gently -- you don't want to tear the wrap. With sides folded in, use your thumbs to bring up the bottom of the tortilla. This is almost like wrapping a present; tuck in the ends while bringing up the bottom flap. Bring up the bottom of the tortilla and pull it tightly.Roll the bottom of the tortilla tightly. From here on out you'll be rolling up the tortilla as tightly as you can, squeezing the roll back towards you as you go. Roll... Keep rolling... Press and crease the end of the tortilla as you finish rolling it up. Try to curve the rest of the tortilla around the wrap so it stays in place.
Cut in half to display your colourful creation, serve and enjoy!
Notes
Using collard greens? When selecting collard greens, choose the larger leaves that have the least holes in them and aren't shriveled at the tops. If you can't find large enough collard leaves, you can secure the wraps with a toothpick to prevent the filling from falling out. Or, use slightly less filling and tell everyone not to limit themselves to just one!
Adapted from The Quirky Carrot
Adapted from The Quirky Carrot
Culinary Tourism Alliance https://ontarioculinary.com/
---
Did you know? Ontario grown carrots and beets are stored in special silos all winter long, making it possible to preserve the autumn harvest? In the olden days they used root cellars to do the same thing!
---