Last week, we taught you how to host the perfect northern fish-fry. Now, courtesy of
Feast ON Chef James Eddington
, we're gonna show you how to take things up a notch!
Eddington's occupies the original Carling homestead, built in 1970, in the town of Exeter. Now well over a decade in business, Eddington's attributes the restaurant's success to creating flavourful and creative meals consistently using the best of Huron County's bounty. Whether it's pork from The Whole Pig, garlic from The Garlic Box or beautiful perch from Purdy's Fisheries — you'll find the best in local flavours coming out of Eddington's kitchen.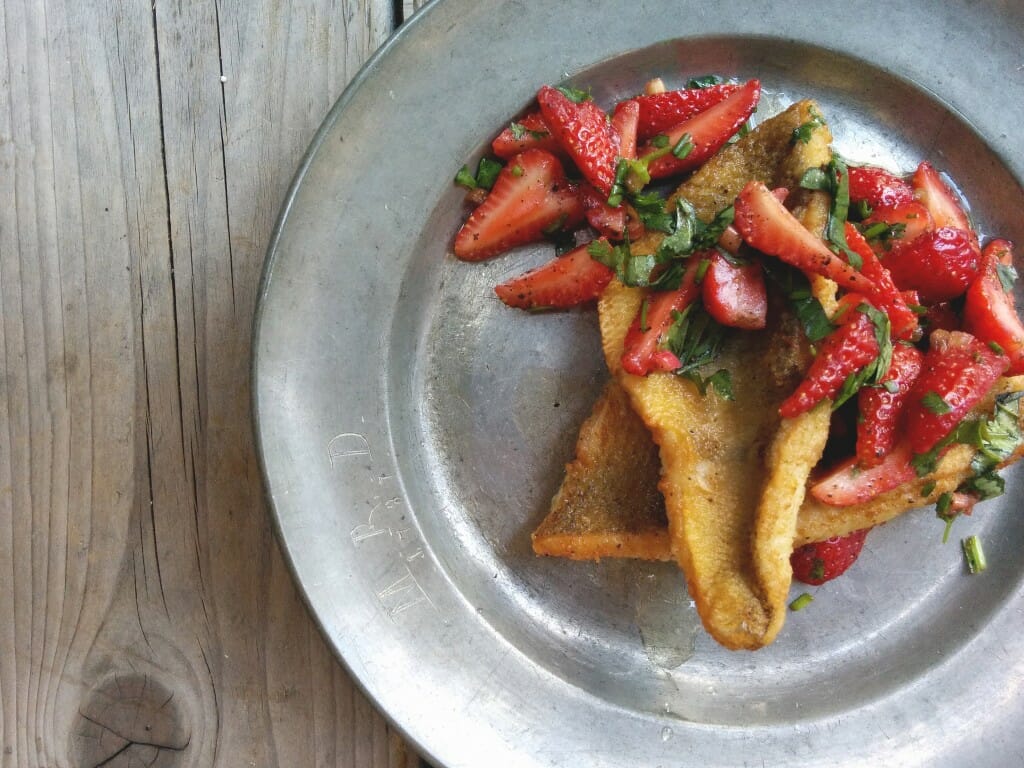 Fried Perch with Strawberry Salsa
2015-06-09 20:17:07
Serves 2
Chef says: The joy of such a fresh seasonal recipe is you can change your ingredients throughout many seasons! Can't find strawberries? Try blueberry! Late harvest peach is lovely too. Not into fruit? Sub in Asparagus. Have fun and be creative!
Ingredients
1 lb Fresh Pickerel, cleaned
¼ cup Ontario garlic scapes, diced
½ cup Ontario strawberries, diced
2 tbsp Ontario honey
5 sprigs fresh cilantro, chopped
3 sprigs fresh basil, chopped
Salt and pepper to taste
1 cup of flour mixed with salt/pepper and cayenne
1L Grape seed oil
Instructions
Before setting out, mix 1 cup flour with 1 tsp of salt, pepper and cayenne. Pack in ziplock bag. This mix can be used to dredge chicken, fish or even veggies for an easy fireside "fish" fry!
Lightly dredge cleaned pickerel in pre-mixed flour mixture shaking off any excess. Fill large cast iron pan with approximately 1 inch of oil. Heat over hot coals or gas stove.
Drop dredged pickerel into hot oil for approx 2 minutes per side, depending on size of filets. Pickerel should be golden brown. Remove from heat and drain on paper towel or newspaper.
Meanwhile, in a bowl, add garlic scapes, red pepper, strawberries, honey, cilantro, and basil. Toss lightly. Salt and pepper to taste. Let stand for 5 minutes.
To serve, top pickerel fillets with fresh salsa.
Notes
Want a perfectly paired wine? Try the light, refreshing Estate Pinot Gris from The Grange of Prince Edward. It's dry, crisp and full of citrus and stone fruit aromas - perfect for white fish or seafood.
Adapted from Eddington's of Exeter
Culinary Tourism Alliance https://ontarioculinary.com/
---
About Taste Tested
From the farm to the table, it's easy to be inspired by Ontario's endless parade of edibles. With "Taste Tested", OCTA's staff are sharing their freshest finds and dishing out their favourites of the season.
Come discover what's on our table – literally!