Enjoy Burlington's delicious food scene with a new 'Take Out' edition of Taste of Burlington. Redesigned to keep your safety and comfort top of mind.
BURLINGTON, Ontario – Tourism Burlington is proud to announce Taste of Burlington; presented by PV&V Insurance, the program returns this winter – in a new format, all Take Out. This dining program, typically known for its prix-fixe menus, has been changed up to help the restaurants out. The change, they are now offering unique specials and promotions that they want to feature, ready for you to take out. The new format has been so popular with our businesses, we are proud to say it's our biggest edition ever! With 55 participating eateries and restaurants, you can guarantee you'll be well-fed from February 18-March 21 when the program runs. For the prix-fixe lovers, some restaurants are still offering prix-fixe menus, but we also have frozen options, soup bundles, family breakfast, date nights, make at home meal kits and more!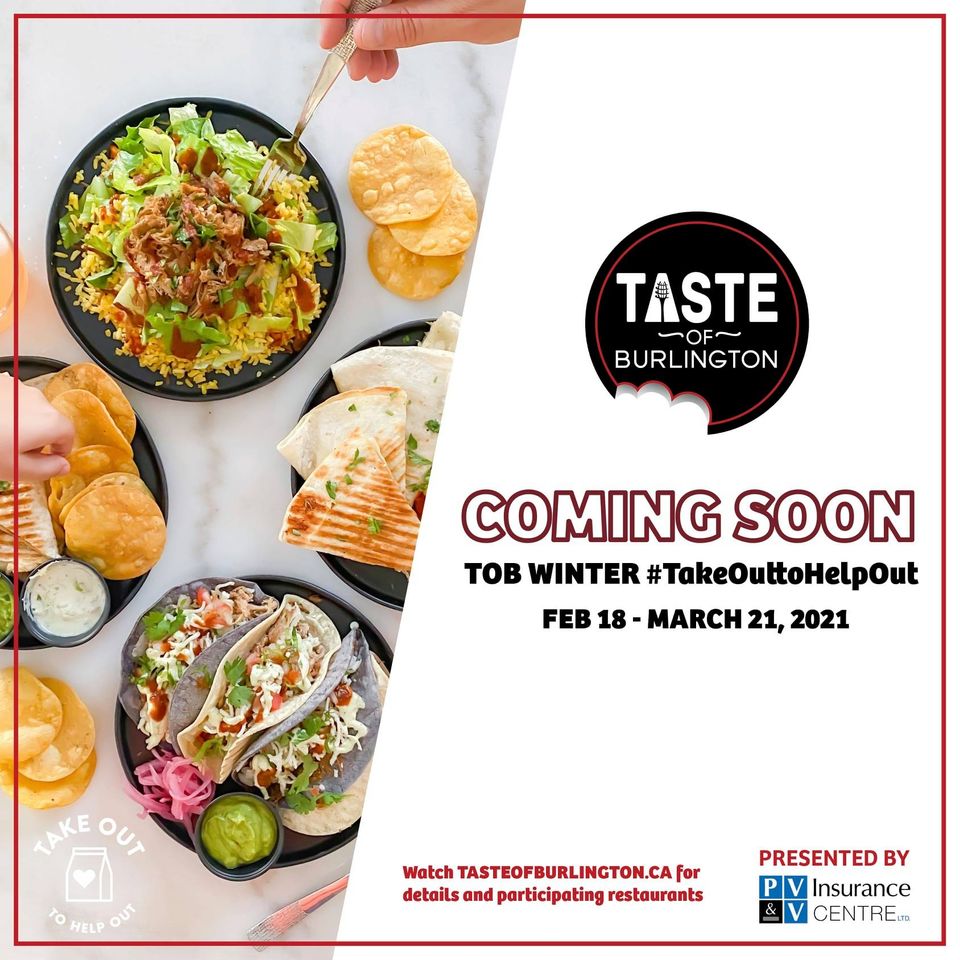 In order to make it easier to view menus, enter to win prizes and receive returning offers from restaurants, Taste of Burlington is once again using a free mobile passport that patrons can sign up for on the Taste of Burlington website. There's no app to download, it's a web-based program and you just sign up. When you use the passport to check in at restaurants you are entered to win weekly gift card giveaways as well as the grand prize draw of a $500 gift card to the Taste restaurant of your choice.
Taste of Burlington meals will not be available through 3rd party delivery services as we are making every effort to support our local restaurants. All specials and promotions can be ordered directly from the restaurant and picked up from them. Check in on the passport when picking up at the restaurant for your chance to win!
Kelly Harris, Marketing Specialist at Tourism Burlington and Coordinator of the Taste of Burlington program shares her excitement about the winter program: "It's great to see so many businesses participating in the winter program, making it our biggest program to date. There is no doubt that the restaurants have been hit hard and still have a long road to recovery. This new format has allowed the restaurants to offer what they want and in doing so, diners are going to get to enjoy a great variety of culinary delights. We encourage everyone to #TakeOuttoHelpOut as often as they can."
Taste of Burlington started with just 12 restaurants in 2008 and has steadily grown since. Burlington has been established as a dining destination in the GTA with the variety and uniqueness of a large city combined with the accessibility and service of a small town.
Burlington has something to offer every taste from casual fine dining and intimate bistros to pubs, fast food and specialty shops. The Taste of Burlington program encourages diners to try something new at one of our many dining establishments.
A full list of participating businesses can be found at tasteofburlington.ca/take-out-program
For more information on 2021 Winter Taste of Burlington Take Out program please visit tasteofburlington.ca, or call 905-634-5594 or email [email protected]
---