Everyone knows that the best parties always end in the kitchen. With our series, Kitchen Party, we're sitting down with Feast On Chefs & purveyors to get to know them and the local foods that inspire them a little better.
---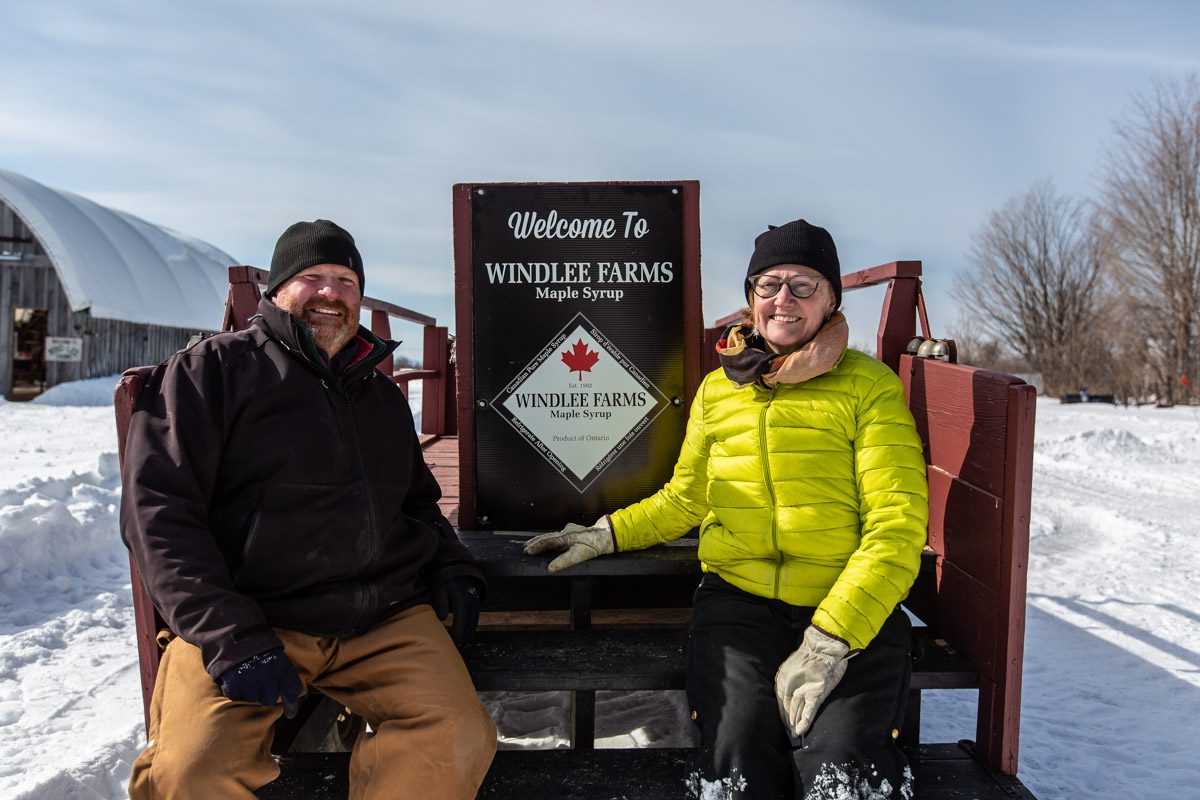 PETER & ANNE LORRIMAN

WINDLEE FARMS MAPLE SYRUP
Tiny, ON
---
Tell us a little about how you became maple syrup producers.
Peter: Well, I originally started when I was a little kid at my parents' place. We had about 4 or 5 taps, and we started boiling back then. Fast forward to 1989, Anne and I bought a farm with a huge maple bush, here in Midland, so in 1992 we started producing maple syrup. We originally started production using our barbecue, and from there we just kept improving, built a proper sugar shack, and got bigger and bigger. We chose the name Windlee, because we're both sailors, and it's always windy up here.
Anne: After having a few businesses, we decided that living on a farm and trying to be self-sufficient could be what we wanted from life. When we bought the farm, we looked at it and asked ourselves, how do we make money off of this farm, and it was kind of glaring in our eyes – that this is a full bush. It's a beautiful farm. We have 150 acres and it's a combination of bush and fields, and there's a huge pond at the bottom of our property also.
Is there a part of maple syrup production that you find most exciting?
Peter: Meeting the customers! We like letting customers come into our sugar shack, and showing them how maple syrup is made, and what's involved. A lot of people do not know that it takes 40 litres of sap to make 1 litre of maple syrup.
Anne: And the neat thing about meeting our customers is that it's helped get us involved with our Tiny Township! Our township has events that we've been jumping into – one is called Farm Crawl. During Farm Crawl, people are put into busses and they go and see some farms. One of those farms is ours. It's always amazing to hear people say, "You know, I've never been to a farm before, let alone a sugar bush". The best part about having visitors is watching their faces light up when they drink a little maple syrup. A lot of people say they've never had good maple syrup, so when they taste ours, they go, "This is what it's supposed to taste like?" So, we obviously have to teach more people what good maple syrup is like.
What makes Ontario maple syrup so special?
Peter: Ontario maple syrup is so special because every producer is passionate about what they produce and is committed to making the best maple syrup that they possibly can. Being in your bush and maintaining it well is also very important.
What are some of your favorite ways to use maple syrup?
Peter: We use it a lot in cooking as a natural sweetener. We have a few favorite recipes. We like combining it with teriyaki and using the maple syrup-teriyaki mixture as a glaze when we grill salmon. It's sort of like a barbecue sauce, and it makes the salmon sweet.
We also like melting butter and mixing in maple syrup, then pouring that mixture on corn that we have put on the barbecue.
Anne: Another thing we enjoy doing is making maple taffy. We make taffy on the snow all year round.
What are some innovative ways you've seen maple syrup be used?
Peter: There's a company called Sixty Six Brix. They do high-end catering, and we've met them a couple of times, and they take using maple syrup to another level in the way they present things, it's really well done!
Have you had any special community experiences centered around maple syrup?
Peter: Yeah! There's a local restaurant that's now called Captain Robert's Table. A neat thing they do is have dinners where they celebrate local farmers, and at one of these dinners, they celebrated us.
Anne: So, during the dinners they would have a six or eight-course meal, and they would feature maple syrup in their dishes and show off what you can do with maple syrup, besides just using it on pancakes and things like that. We got to talk about our sugar bush and our farm during the event, and there were lots of people at the restaurant that really enjoyed it. So, it was a great experience.
Peter: We also like to leave communities that visit our farm with a keepsake to remember their experience at our bush and sugar shack. So, we get 4 recipes, we make up recipe cards, and on every sale, we give people recipe cards to take. So, they're not just using maple syrup on pancakes.
Why is Feast On important to you?
Peter: Feast On is important to us because it helps us with getting people that are outside of our area to know more about our maple syrup.
Anne: And we want to celebrate maple syrup! It's not a product that everybody uses, so being part of the Feast On network is a great avenue to get people excited about what we produce!
What does your perfect weekend in Tiny look like?
Peter: So, we sell to a coffee shop called Grounded Coffee, and we like to go down there for breakfast. They make incredible blueberry scones.
Anne: So that [blueberry scone], and a cup of coffee is just amazing. And you can sit at the waterfront and watch the sailboats, or the motorboats coming in and out of the harbor.
Peter: In a perfect world, the other thing we'd love to do is go sailing, but we're so busy, we haven't had an opportunity to do that. We're right on Georgian Bay.
On the weekend we also like to walk in our sugarbush and enjoy the bush, especially in the summertime. The other thing that we like doing is actually sitting in our Muskoka chairs, and watching the sunset.
Anne: We don't sit very often. When you live on a farm you never sit.
Peter: It's just regenerating yourself.
Anne: And it reminds you why you've moved away from the city to go and live on a farm to do all this maple syrup stuff!
---