Everyone knows that the best parties always end in the kitchen. With our series, Kitchen Party, we're sitting down with Feast On Chefs to get to know them, and the local foods that inspire them, a little better.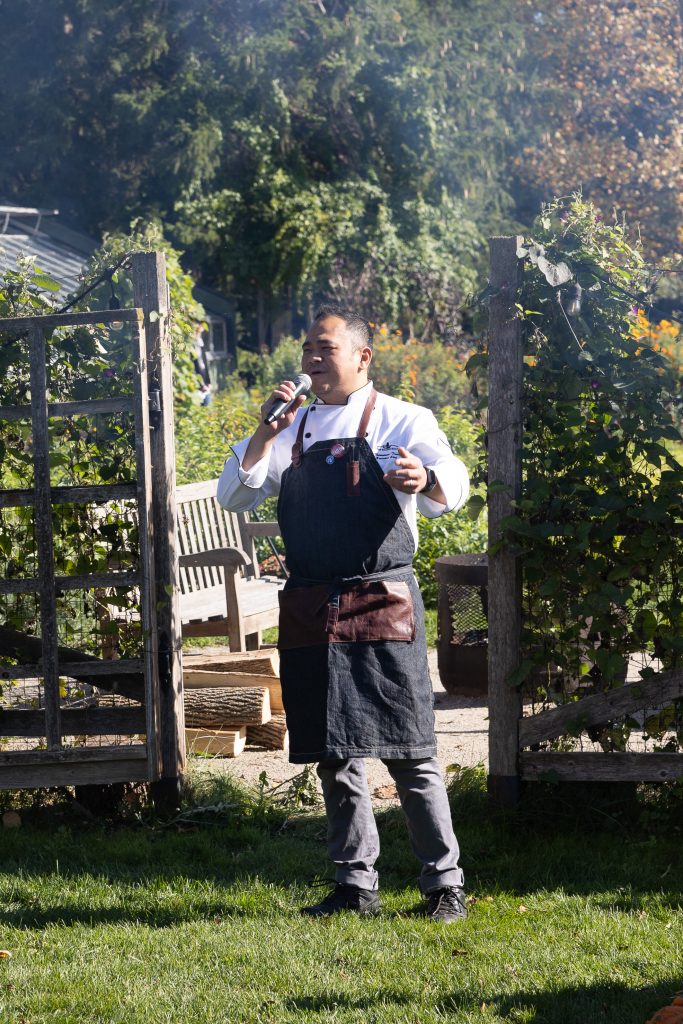 Thompson Tran
Wooden Boat Food Company
Kitchener, ON
---
What's your
favourite
 seasonal ingredient?
All herbs! Cilantro, dill, perilla, mint, sorrel, watercress, mustard greens.
What's your drink of choice?
Old world wine (not based on geographics but in flavour: earthy, musky, herby/leafy, barnyard) or Scotch.
Most underrated ingredient?
Garlic or lard/shmultz.
Favourite
restaurant?
No such place exists in my world. I'll always say yes to Pho, Sushi, or simple, delicious, uncomplicated burger joints; no messy burgers, no extra toppings, just the classic done amazingly well!
What's the best 
part

 of working with Ontario food and drink?

Getting the chance to ask how their kids and wife/husband are doing every week.
Why is Feast On important to you and the uniqueness of your restaurant and catering?
It is all about accountability. The Food and Hospitality industry is small, competitive, and fickle. All restaurants rely on returning patrons to support their businesses and need to accurately and constantly tell their story in a transparent, honest, and clear manner. There are many ways to achieve this, but one of the easiest ways is through the partnership of non-profits like Feast On, who provide third-party assessments of our claims.
Fill in the blank: "If I entered a competitive eating contest, I'd definitely win if the item was _______"
Chicken Feet/Tendon/Blood Tofu/Century Egg/Tripe
What does your 'Perfect Weekend' in Kitchener
 look like?
A visit to Ambrosia Corner Bakery for a coffee and a perfectly baked kouign-amann, chat with Aura, the owner of this cute local community icon. Followed by a quick visit to the Kitchener indoor/outdoor farmers market for fresh local products, hand-made artisan foods and crafts, with a side hop to Golden Hearth Bakery for any number of freshly baked loaves of crusty artisan bread. 
A quick sit down on the newly built LRT (Light Rail Train) for a front seat cruise through the Stirling/Charles street Corridor will take you directly outside GRR (Gran River Rocks), where you can do a quick climb and learn from the best in the area! Make sure you tell Cornelia I sent you. Take a quick 5-minute walk on the Ironhorse Trail to the Wooden Boat Food Company, where you can grab a unique lunch at our eclectic ghost kitchen/restaurant with a consistently rotating small-batch beer from Short Finger Brewing Tap Room with Stu, the taproom manager as your guide to where to go next.
You can hop back on the LRT towards Kitchener downtown, and scope out many of the shops in and around our beautiful city hall building fountain, and do a quick jaunt over to Victoria Park where there are usually family-friendly festivals and concerts. Take a leisurely 20-30 minute walk around gorgeous Victoria Park Lake, to find yourself back into downtown Kitchener where you have ample options for food with many different price points. 
If you're into eating and drinking at a funky darkroom establishment with great service, food and cocktails, then the Grand Trunk Saloon can't be beaten. Wes, the sommelier, will guide you through both the drink and food menu with a lot of information about the cocktails themselves if you wish to be schooled. 
Sunday morning should be left open to go visit many of the local farms in the area for anything from springtime vegetables to fall pumpkins and squashes. Farmer Joel Knight, usually has edible flowers sprouting out in and around his amazing tomato plants with his big swath of Sunflowers swaying back and forth in the background. His Vietnamese potbelly pig, and his numerous goats are a favourite for my kids to go visit. From there, we may go back into town towards the KPL, our state-of-the-art public library for a coffee from Hacienda (inside the library), where I'll most likely be greeted by familiar faces in the community. I would probably finish off the day with a cheap but satisfying meal from any of the number of mom and pop eateries near the east end of Kitchener where there is a colourful and vibrant mix of different cultures from around the world. 
Back home to tuck into some Netflix with the family. 
---