One the most common questions we get asked is: What is Ontario food? With our new series, Made In Ontario, we're spotlighting the treasures, tastes and traditions that make up our fledgling food culture.
Follow along and share your additions with #MadeInOntario!
---
Volume I : Summer Sausage
Similar to salami, Summer Sausage is a beef sausage seasoned with salt, pepper, locally sourced herbs like juniper or garlic. It's then, traditionally, smoked with maple & hickory wood, and cured for months in it's canvas casing. This process means it has an extremely long shelf life, making it easy to ship, store and travel with.
Despite its name, summer sausage is not necessarily made in the summer. The name is really circumstantial– because the sausage was traditionally made with meat scraps, it tended to be made when animals were butchered, which was often in the fall or spring. With spring animals, the sausage tended to be cured in the summer, when the process was needed most. Preserving meat in the hot summer months posed a challenge before refrigeration.
While summer sausage is the general term for many dry sausages that can be stored without refrigeration, in Ontario it specifically refers to the delicious, dense, chewy fermented sausage you find made by Mennonite communities in the South West. There are many different groups of Mennonites, with each community having it's own culture and traditions. Similarly, there are many different versions of summer sausage!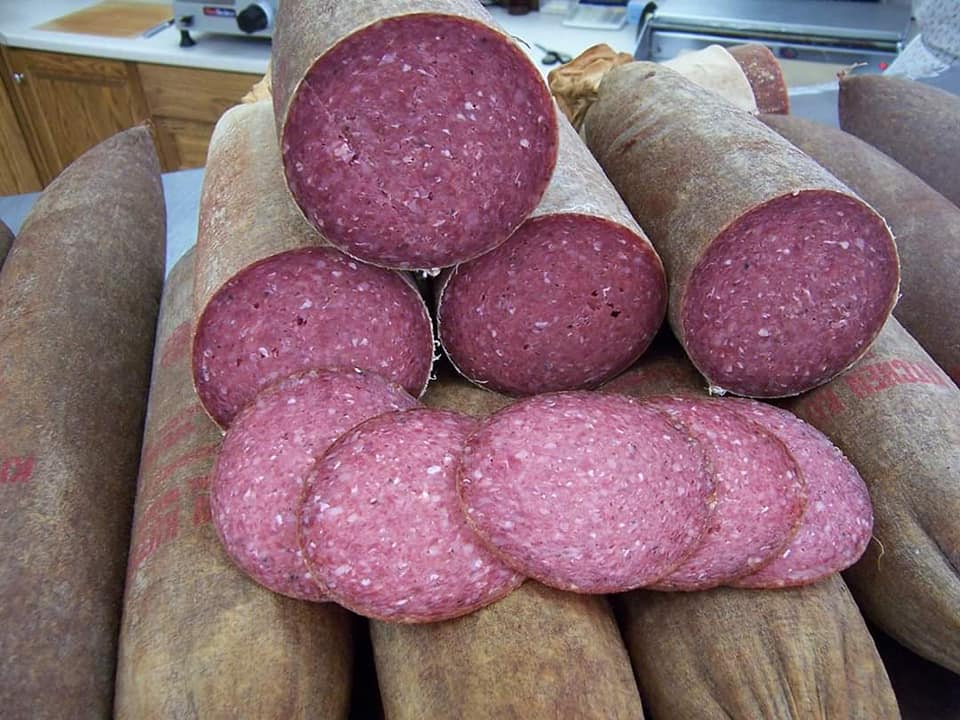 ---
Best spot to find it: St. Jacob's Farmers' Market, Waterloo
Producer who does it right: Kitchen Kuttings Inc.
We really love it: On pizza! Chef Brad Long of Cafe Belong puts in on his seasonal grilled flatbreads with oodles of fresh veggies and mountains of local cheese.
---
What makes Summer Sausage so special?
Ontario is a culture of cultures with a rich tradition of seasonal preserving. The Mennonite community, and it's varied traditions, have hugely influenced the food and farming landscape of Southern Ontario. Summer sausage is a product of both this unique culture and our province's strong reliance on the seasons.
---