One the most common questions we get asked is: What is Ontario food? With our new series, Made In Ontario, we're spotlighting the treasures, tastes and traditions that make up our fledgling food culture.
---
Volume V: Icewine
Ice wine is a type of dessert wine produced from grapes that have been frozen while still attached to the vine.
As the grapes ripen and the temperatures drop, they start to dry and shrivel. Once the temperature drops to -8 degrees for a minimum of 4 days, they are ready to be hand picked. The sugars do not freeze, but the water in the grape does. That means that after pressing, you're left with a more concentrated juice, and very little of it. It's a fickle process because if a freeze does not come quickly enough, the grapes may rot and the crop will be lost. If it lasts to long, the grapes may be to hard to press — as was the case at Vineland Estates in the 1990s, when their pneumatic press gave out while pressing frozen grapes after a -20 deep freeze.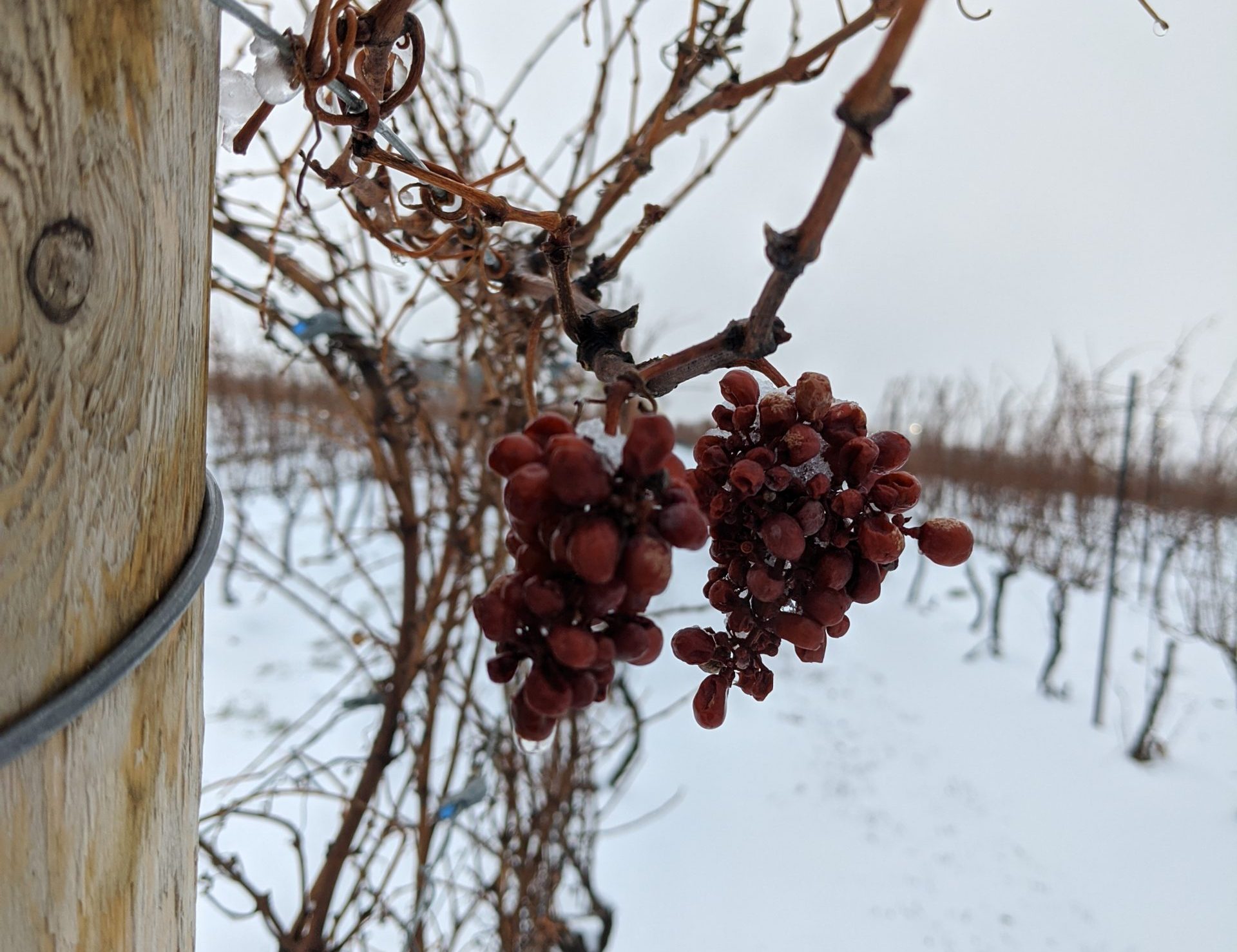 For icewine to be icewine, it must have at least 35 brix of sugar. The high sugar level in the juice leads to a slower-than-normal fermentation. It may take months to complete the fermentation, unlike with table wines.
So, when you combine the difficulty in harvesting, pressing and fermentation, you know you're enjoying is a very precious commodity.
---
Best spot to find it: On dessert menus in restaurants across the province. In the winter months, there are also celebrations across the Niagara Region dedicated to this hot (or should we say cold?) commodity!
Producer who does it right: Inniskillin is one of the oldest icewine producers in Ontario — and to this day, one of the most celebrated.
We really love it: Turned into pillow-y marshmallows, like those at Peller Estates, to be roasted by the fire!
---
What makes Ontario icewine so special?
In contrast to most other wine-producing regions in the world, Ontario, particularly the Niagara Peninsula, consistently undergoes freezing in winter. It's just one more way the area's terroir is so unique. It's also likely why we've become the world's largest ice wine producer. Before Inniskillin brought home  the Grand Prix d'Honneur at 1991 Vinexpo in France for their 1989 Vidal Icewine, we didn't have a wine region. Icewine helped put Ontario, and Canada, on world stage… paving the way for our reds, whites and bubbles!