Fenelon Falls brewing sits right across the road from the Trent-Severn Waterway's Lock 34. On our trip to discover the taste of the Trent-Severn, we dropped in for some brews and views. The spacious craft brewery offers a modern upper-level indoor space with enormous garage door style windows looking out onto Lock 34 where you can watch the boats go by. Outside there's a generous patio space along with a lower level beer-to-go retail shop. We got to try some of the beers on offer while we spoke with Mathew Renda, General Manager of the brewery.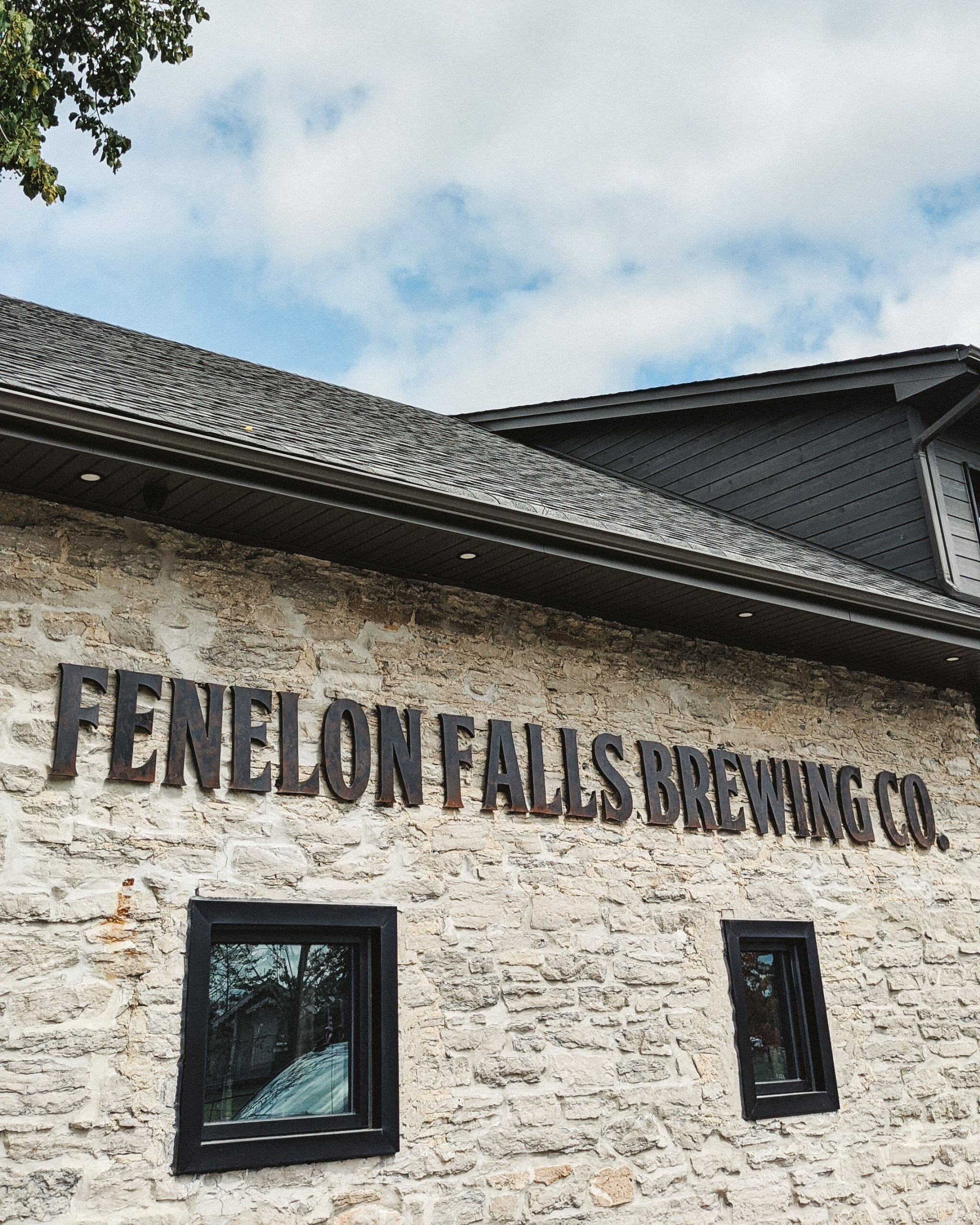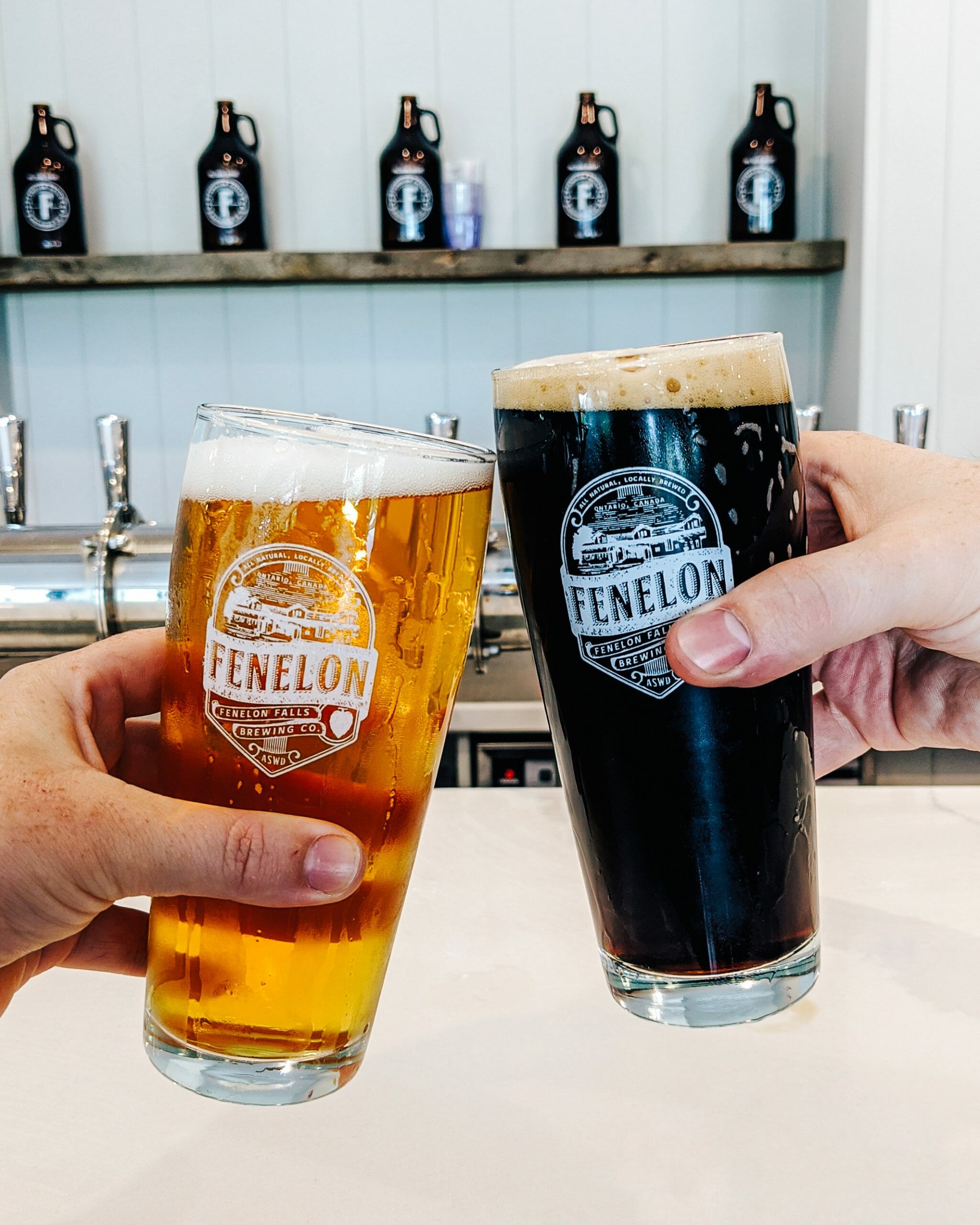 WHAT MAKES 'FENELON FALLS BREWING' SPECIAL?
Featuring heritage stone set 200-years ago, the former Livery Stable has been reinvented to create a spacious and scenic space wrapped around 50-feet of windows overlooking the Trent Severn Waterway's Lock 34 and Cameron Lake. Our space is designed to provide a place for people to gather, to sit a while, and to have a stress-free, quietly amazing experience. It includes a taproom, an event space, and a street-side patio.
WHY FENELON FALLS?
Vinh immigrated to Canada in the 1970s, arriving in Fenelon Falls, not knowing a soul, a word of English, or really having a place that felt like home. That didn't last long. The village welcomed his family unequivocally in every way. Fenelon Falls Brewing Co. is an expression of all of that—accepting opportunities and applying the effort necessary to put a bit of good into the world.  The intention throughout is to shine a light on the people, the heritage, and the life of the region. It's a way of saying thanks, playing a part in the life of the community, and paying forward the tradition of hospitality that has meant so much to them.
WHAT CAN SOMEONE EXPECT WHEN THEY VISIT FENELON FALLS BREWING?
The hand-crafted premium beer paired with housemade items from locally sourced ingredients. Our philosophy is to keep our ingredients simple and our processes to a minimum to make beer and food that allows the flavours and aromas to shine through. Everything is made with no additives and no preservatives. The way it should be.
WHAT DOES BEING ALONG THE TRENT-SEVERN MEAN TO YOU AND YOUR BUSINESS?
The location of our building right along the Trent Severn makes it one of the most picturesque in the Kawarthas.  Guests can boat right up to our brewery and dine in our upstairs taproom, enjoying the beauty of the Trent Severn Waterway's Lock 34 and Cameron Lake outside our 50ft windows.
WHAT'S ONE OTHER BUSINESS OR EXPERIENCE YOU'D RECOMMEND IN THE REGION?
Hop on a bike and explore the 55km Victoria Rail Trail in Kawartha Lakes. The trail follows the former CN rail line, which was constructed beginning in 1874--same time as the incorporation of the village of Fenelon Falls. Public bike rental is located outside our brewery.


Whether you arrive by boat, car or bike, one thing's for certain - you'll get to enjoy some delicious local beers. We tried their American Style Porter - a delightful malt-forward brew with some light floral notes, their Sparkling Kawartha Ale Summer Ale - a crisp golden ale, and took some of their Kawartha Summer Ale to go, a beer brewed in collaboration with Kawartha Conservation - with the net proceeds going to support conservation projects in the region.
---
Fenelon Falls Brewing Co. is located at 4 May Street, Fenelon Falls.
They're currently open for distanced dine-in and online beer orders.
Please check their website for details.