Everyone knows that the best parties always end in the kitchen. With our series Kitchen Party, we're sitting down with Feast On Chefs to get to know them, and the local foods that inspire them, a little better.
---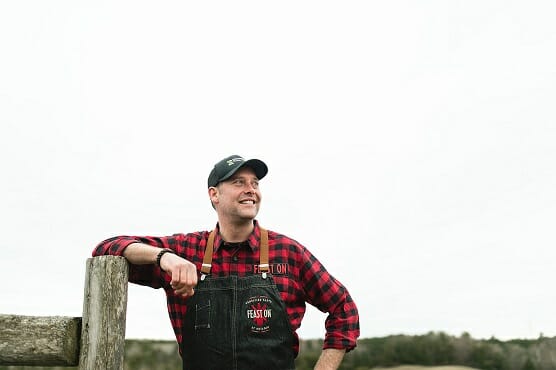 Eddington's of Exeter
Check out their
Feast ON Profile here!
---
What's your favourite seasonal

ingred

ient?

 
I'm not prejudiced with my seasons.  I am always excited when seasonal local ingredients become available. That being said, I particularly like the first pick of raspberries each year and the last batch of fall squash.
What's your drink of choice? 
Forty Creek whisky. In a Manhattan, on the rocks, mixed…I'm easy as long as it's Forty Creek.
Most underrated ingredient? 
Fresh herbs. Easy to grow, great to use and they should always be readily available.
Favourite restaurant? 
Corner Kitchen in North Carolina. I discovered it on a motorcycle trip and wow, what a nice surprise! It really inspired me to dig deeper into local ingredients.
Off-duty, what are you most likely to be cooking at home? 
Steak of any kind – rib eye, strip, tenderloin… I like the BBQ.
What's the best part of working with Ontario food and drink?
I've always said we are blessed to live in such an agriculturally rich area of the world. I love the quality, the seasonal variety and the trust/knowledge of the product. Most of all though, I love the relationships – between farmer/producer, chef/cook and patron/diner.  The balance is as unique as a well composed symphony.
What are you most looking forward to doing in 2016? 
I'm looking forward to expanding the garden at the restaurant! Our newest addition, Chef Anna Bilcke, has quite the green thumb and is a welcome new member of our team.
If I entered a competitive eating contest, I'd definitely win if the item was…. 
Pickled eggs.
Favourite road trip in Ontario?
My favourite place in Ontario to take a road trip to is Algonquin Park.
---
What we're dying to try?
James makes a killer French onion soup.  Piping hot with bubbling cheese, his soup is also finished with red wine and sherry. We're drunk in love with that approach – who's with us?
---