Everyone knows that the best parties always end in the kitchen. With our series, Kitchen Party, we're sitting down with Feast On Chefs to get to know them, and the local foods that inspire them, a little better.
---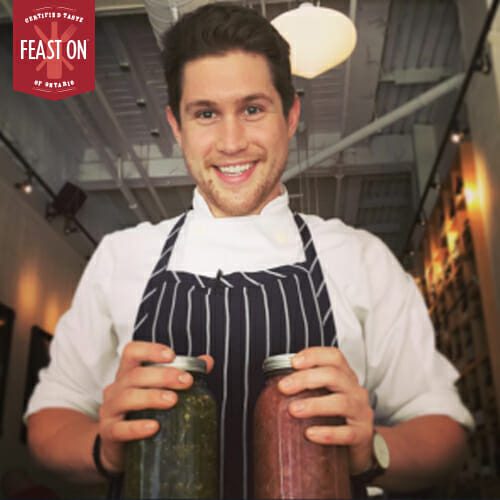 Hayden Johnston
Richmond Station
Toronto
Check out their
Feast On Profile here!
---
What's your favourite seasonal

ingred

ient?
Well, that depends on the season! Right now, corn and peaches!
What's your drink of choice?
Non alcoholic – double espresso from Jimmy's on Ossington. I moved to the Dovercourt and Queen 'hood about a year ago and I am a daily customer! Alcoholic – Gin and Water is my go to, but with 2016 being the "summer of cider" I have been consuming my fair share. Cote Albert from France is my cider of choice.
What is your favourite restaurant?
The Goodson at Queen and Dovercourt. Tasty food, great hospitality and a beautiful space.
Off-duty, what are you most likely to be cooking at home?
PORCH PIZZAS! I have been making a ton of thin crust pizza on my BBQ at home this summer! I swing by Pizzeria Libretto and get 6 balls of dough to go. Throw a little tomato sauce together, pick some basil from my windowsill plant, find some cheese in the fridge and BOOM, dinner is served. I bought a cast iron pizza pan this Spring that works terrifically on the BBQ. Great investment!
What's the best part of working with Ontario food and drink?
Getting to meet the people behind the scenes. From farmers to purveyors, delivery drivers to chefs, there are a lot of fun and colourful characters in our industry.
Fill in the blank: "If I entered a competitive eating contest, I'd definitely win if the item was ____"
My dad's spaghetti!