When you've had enough of grey slush, and are looking a little grey yourself, break free and head outside and warm up to winter in the wonderland that is Peterborough & the Kawarthas. With your heart pumping, the wind in your cheeks and shouts of joy, you can skate on the canal, cross country ski or build a snowperson.
---
Day 1
---
7107 Hwy 28, North Kawartha, ON
Kawartha Nordic offers 46 km of classic trails, 27 km of skate trails and 9 km of snowshoe trails and is located 40 minutes north of Peterborough on Highway 28. With a bright main chalet and quaint warm-up cabins along the trails, this is nordic skiing at it's best. Rental equipment is available and all are welcome. Trail conditions are kept current on the website.

932 Gilchrist Bay Rd. Lakefield, ON
Located in the Kawarthas overlooking beautiful Stoney Lake, Pine Vista Resort provides nature lovers of all ages with first-class cottage accommodations and a multitude of activities at our award-winning 4-star Ontario resort. Skating, curling, shoe shoeing, tobogganing you name the winter activity and Pine Vista Resort has got it!

383 George St. N. Peterborough
Farm to table food has always been a passion for Josh. When he moved to Ontario, he found that although there was an abundance of seasonal food and local producers, it wasn't widely available to consumers in an easy to eat way. In 2018, he launched Kitchen Farmacy at the weekend Farmer's Market in Peterborough. His stand quickly developed a following and each week the demand continued and his dishes sold out. Since the launch, Kitchen Farmacy has developed a community of trusted suppliers for our local and seasonal ingredients.
Kitchen Farmacy further expanded to offer weekly meals that can be delivered right to your door, just heat and serve to enjoy a farm to table meal from comfort of your own home (or rental cottage!) without all the prep.
---
Day 2
---
221 Hunter St. W. Peterborough, ON
Blackhoney is the answer to everyone's sweet tooth. A café with many fancy espressos, breakfast sandwiches, locally sourced food, house made desserts, with catering and custom baking too. Vegan options available.

910 Monaghan Rd, Peterborough, ON
The Canadian Canoe Museum is a unique national heritage centre that explores the canoe's enduring significance to the peoples of Canada, through the world's largest collection of canoes, kayaks and paddled watercraft. Don't have time to stop in? Tour the museum virtually from the comfort of your cabin.
Hunter & Ashburnham Street, Peterborough ON
Gliding along frozen water. Seeing your warm breath in the frosty air. There is nothing more quintessentially Canadian than ice skating. Whether you're looking to take your kids out skating, get out with some friends, or have a romantic arm-in-arm skating excursion with your significant other – you'll want to skate under the shadow of the world-famous Peterborough Lift Lock.

300 Charlotte St, Peterborough
Publican House Brewery is a craft brewery creating some of the finest and most interesting brews in Ontario. Attached to the Brewery is the Feast On Certified Publican House Brew Pub nestled in the 150-year old building that inspired their brands. With a focus on local ingredients, daily specials and a heated patio – suitable for all seasons – you'll be sure to enjoy every bite.
874 Lynchs Rock Rd, Lakefield ON
Wanderlight Alpaca Experience connects families and friends with a curious, marvelous animal – the alpaca – he is your companion for a private, guided farm walk. By appointment only.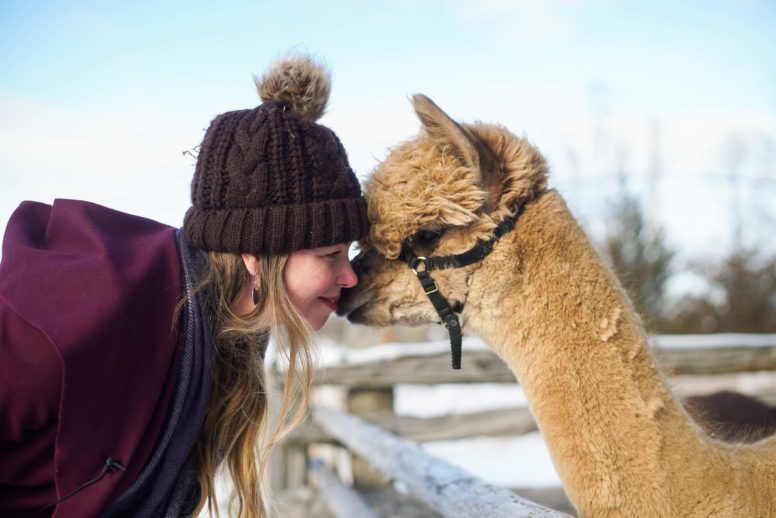 Dine in or grab dinner to take back to the resort from Canoe & Paddle. A proper English Pub beside the river in downtown Lakefield. Combining their three favourite things – craft Ontario beer, fresh pub grub and live music, The Canoe & Paddle hopes to be a focal point for the community by celebrating the rich canoeing heritage of the Kawarthas and offering a warm and friendly social atmosphere.

---