Packing a picnic isn't necessary when heading on a road trip through Almaguin! There are plenty of places where you can pick up freshly grown ingredients to take picnicking to a whole new level. Many accommodations throughout Almaguin are listed on the Almaguin Community Economic Development website. Check for barbecues and fire pits to satisfy cravings for summer scents and grilled perfection!
Coming from the north, check out with The Great Powassan and Area Farmstand Tour where you can source all your summer meals fresh and locally! Fresh vegetables, locally raised meats, cheese and diary, preserves, homemade bread and much more. This runs from Victoria Day weekend until Thanksgiving weekend, offering ample opportunity to visit with friendly faces while eating fresh and local. While in the area, don't forget to swing by Dual Rill Farms to pick up an order for the barbecue or campfire. Dual Rill also has a selection of cheese and veggies to compliment your meals. Any of these hand-crafted and farm raised treats are sure to please your taste buds.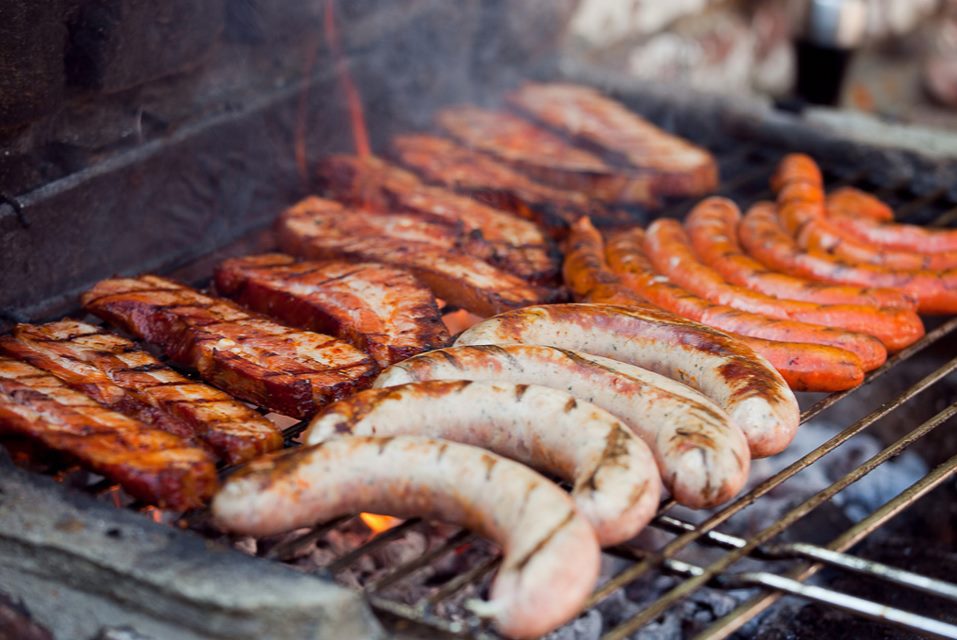 Powassan also has everyone's favourite French Fries at Track Side Fries. Keep an eye on special homemade food at Echoes Restaurant, we've seen burritos, ice cream, Hungarian stuffed peppers, lamb or New York burgers, and hand dipped beer battered haddock pop up over the past couple months as specials and the reviews boast of unforgettable Italian dishes with the go-to meals that are sure to satisfy foodies.
Bombshell Stella's is our newest food truck sensation, located just off highway 11 on highway 518 East. A collaborative approach is taken at Bombshell Stella's featuring ingredients from local farms such as Sterling Hill Farm to bring you loaded poutines, customized funnel cakes (such as fresh rhubarb or blueberry sauce for toppings), weapon burgers, stuffed grilled cheese and so much more!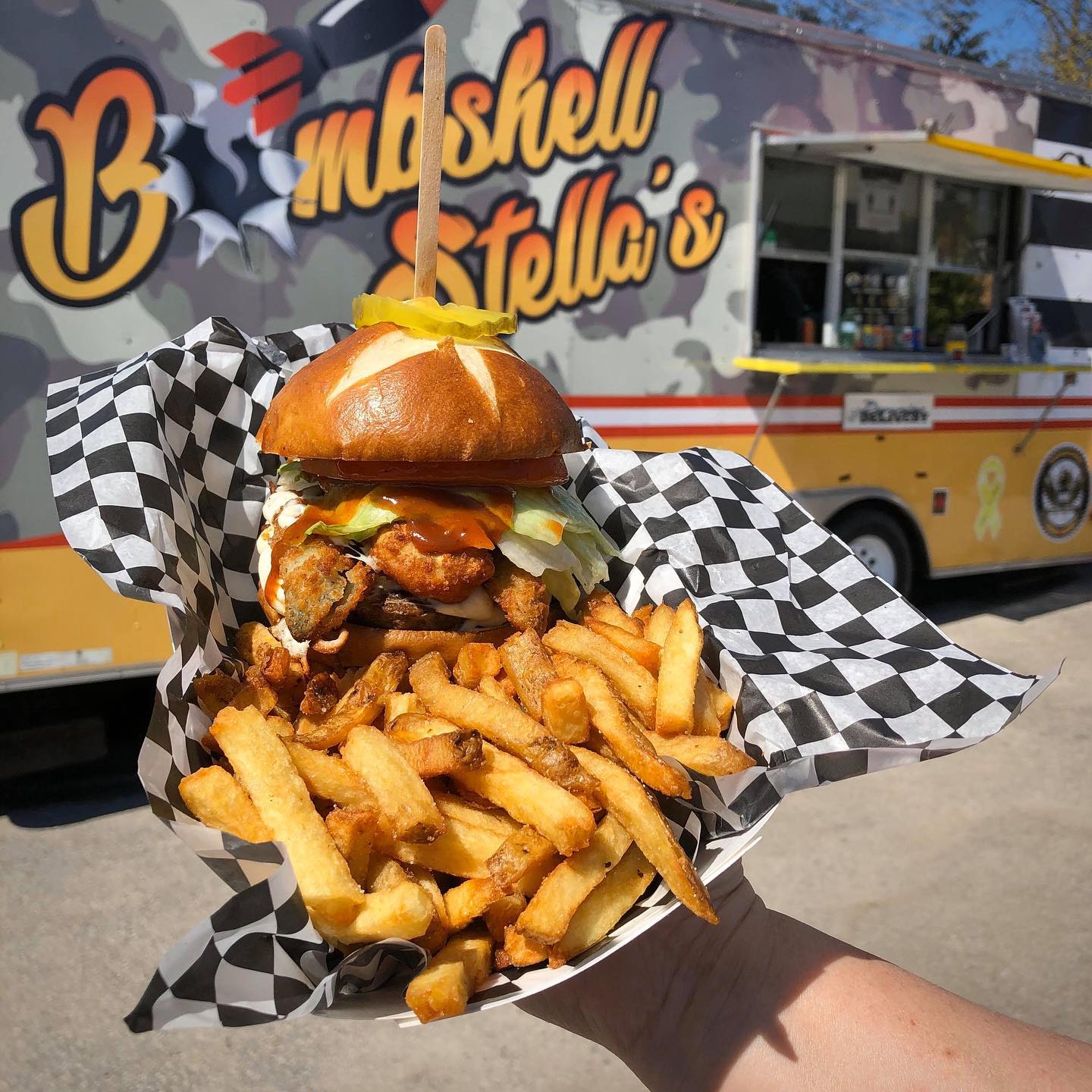 Heading west, across highway 11 to the other side of highway 518, there's the hidden gem of Sprucedale, where you'll find Maple Ridge Retreat where you can book the bed and breakfast at this eco-friendly accommodation to experience living off-grid and still have all the amenities of home while enjoying the surrounding natural beauty of the Almaguin Highlands. The view of the sunset while sitting around the campfire is stunning! They offer a comfortable, custom-built 3-bedroom unit containing a kitchen, living room, 2 full bathrooms and a private patio with a BBQ. It can accommodate up to 8 people and is ideal for a small group/family getaway.  A continental breakfast includes their own eggs! A hot breakfast can be arranged with maple syrup highlights, made right on the property. It also includes locally raised meat and in-season produce. The owners at Maple Ridge are able to accommodate a catered meal delivered from Nourish so you can enjoy a freshly prepared lunch or dinner during your stay in Sprucedale. If Maple Ridge Retreat is booked for your getaway, check out Fern Glen Inn Bed & Breakfast, just down the road.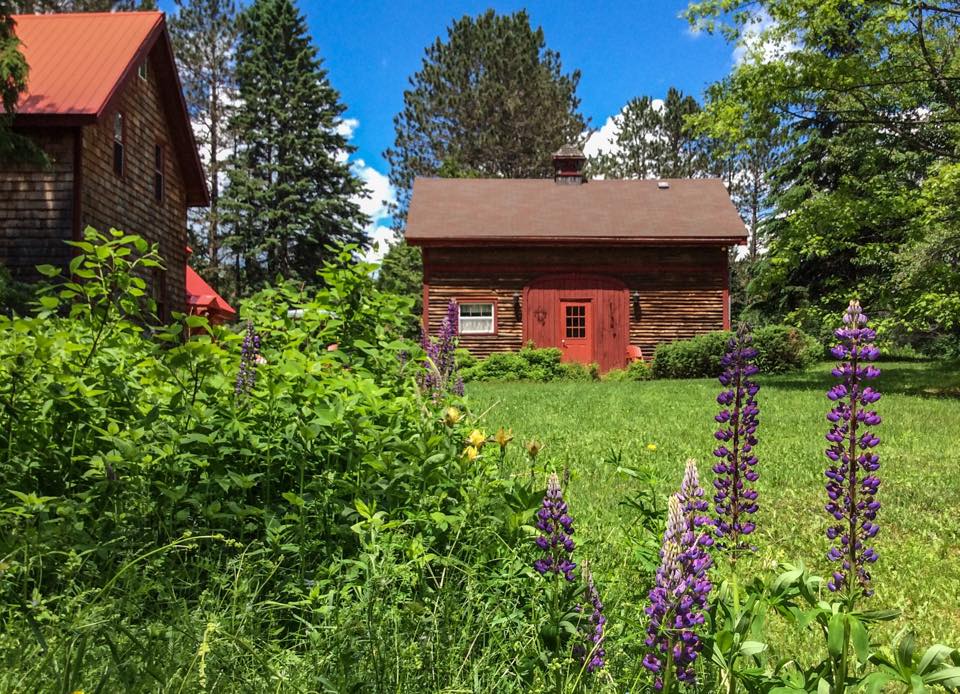 With camping season upon us, gather some gear at Algonquin Basecamp then treat yourself to delicious dining in Kearney at the Red Canoe Restaurant where this fully licensed restaurant offers stunning views of Sand Lake all year round, only to be matched by their chefs fresh and seasonal cuisine! Edgewater Park Lodge is just around the corner, for those less interested in basking under the stars, call ahead to book a cabin. If you prefer to cook your own meal, Sunrise Heirloom Vegetables is located just outside of Kearney offering green gardening produce at it's best. Located in Kearney, Ontario on #518 just east of town, you can visit from 9am to 4pm every Friday and Saturday.
---