Indulge your sweet-tooth and discover breathtaking rural landscapes on this two day tour that'll take you to some of the best maple syrup farms, apiaries and bakeries in Lennox and Addington.
---
DAY 1
---
Eagle Rock Kerr Family Farm
322 Dowdle Road, Newburgh
Stop by this family run farm for some prize winning maple syrup that can be drizzled over just about anything, maple butter and delicious maple candy.
---
The Hive & Hearthstone
225 South Shore Road, Napanee
This local apiary (and soon-to-be bakery) loves bees so much they call them their Sugar Fairies. And they produce amazing, unpasteurized honey that you can buy from their sugar shed when in season.

---
Hogan's Honey & Maple Products
6605 Loyalist Parkway, Bath
Locally owned and operated, Hogan's Honey has been producing honey since 1934. They manage 25 bee yards and 850 hives (– that's roughly 50 million bees!) and produce their own maple syrup. Visit their retail store and stock up on buckwheat, wildflower and white honey, honey butter, bee pollen, comb honey, creamed honey, beeswax candles, maple syrups, maple candy and maple butter.
---
Shane's Apiaries
418 Shane Street, Odessa
You can never have too much honey! Shane's Apiaries is another great spot to stop for some excellent Ontario honey.
---
Salmon River Sugarbush
180 Gilmore Road, Tamworth
Visit this family owned maple syrup farm for 100% pure maple syrup that's boiled over a traditional, wood-fired evaporator. You can also get their maple syrup in beautiful, decorative bottles that's perfect for a holiday gift!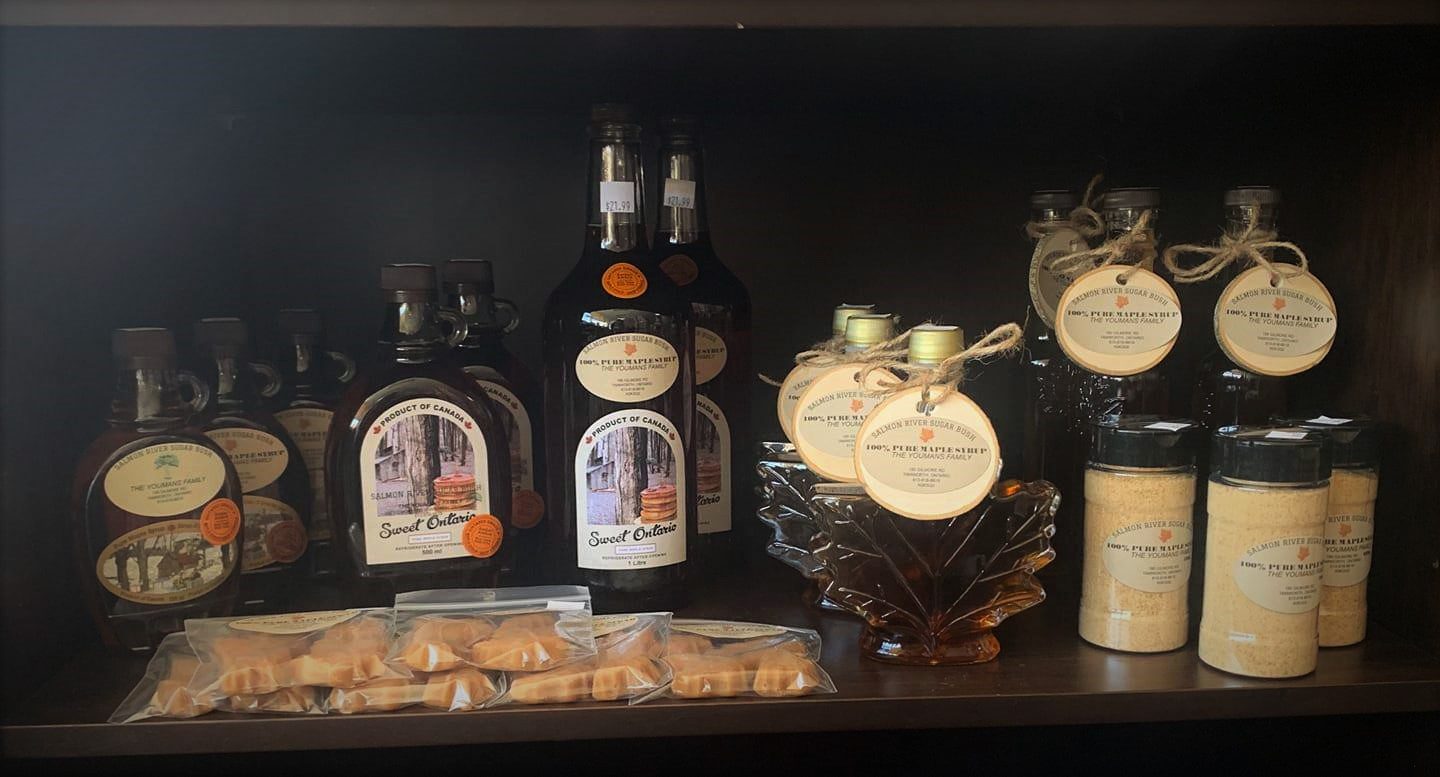 ---
The Bee Spot
695A Addington Street, Tamworth
How would you like to suit up in beekeeping gear and walk through twenty five acres of wildflowers to get an up close look at a beehive? The Bee Spot offers bee tours in their family-run farm where you get to dive into the world of honeybees. You can also pick pure, unpasteurized honey and beautiful beeswax candles from their on-site store.

---
DAY 2
---
Dundas Street Bakery
37 Dundas Street East, Napanee
The perfect place to stop for tea or coffee and toast, the Dundas Street Bakery carries on from a history of bakers in Napanee, and there's been a bakery at the exact same spot it stands today since 1947! Everything is baked from scratch using fine, local ingredients and they also have vegan and gluten/lactose friendly options.

---
Coffee Cravings
86 John Street, Napanee
Get your java fix at this cozy café. Sit by the window, sip on a cappuccino and indulge in a delicious pumpkin scone while taking in the sights of beautiful Downtown Napanee.
---
Keto Bakery
17 Market Square, Napanee
Known locally as the best little sub shop in town, this bakery is now famous for their gluten free mini doughnuts. They also sell a range of other keto friendly baked goodies.
---
Ellena's Café
16 Dundas Street East, Napanee
Stop at Elena's Café for lunch, they serve sandwiches, salads, soups and small batch baked treats. You can also pick Ontario cheeses and cured meats from their kitchen shop.
---
Seasons Fine Foods
6 Dundas Street West, Napanee
From gourmet specialty foods to meals to go, you're sure to find something delicious and convenient at Seasons Fine Foods. They also stock amazing local products and crafts from local vendors during the holiday season.
For more things to do and places to stay, check out lennox-addington.on.ca
---