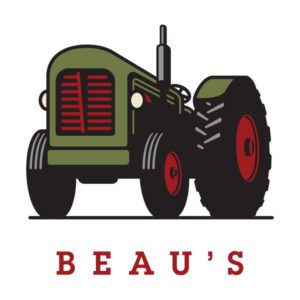 ---
FEAST ON PURVEYOR SINCE
2017
Since 2006 Beau's Brewing Co. has been brewing interesting, tasty beers like our Lug Tread Lagered Ale using the best ingredients & local spring water. Our family takes pride in creating unique, wonderful and certified organic craft beer, conceived with honest consideration for the environment and our local communities, and delivered with a true sense of friendly relationship.
Everything at Beau's starts with a real love for craft beer.
Our brew team is unrelentingly passionate about quality. We do our best to create inspired recipes that pay respect to the longstanding traditions of beer-making, and at the same time bring you a truly delicious experience. We are super proud of our beer and the awards it has won.
Since 2006, we've won more than 100 awards for brewing, package design and business practices. Our track record is proof that we strive for excellence, and care about quality and innovation. It also shows our passion and competitive spirit.
Every Beau's beer is certified organic and made with organic malts and hops, and local spring water.
At Beau's, we have embraced sustainability and strive to be environmental stewards. Our purchasing policy favours local suppliers, those with good environmental track records, and those who treat their employees fairly and with respect.
In 2013, Beau's became the first brewery in Canada to achieve Benefit Corporation (B-Corp) status, a third-party certification of businesses that prioritize social responsibility. From our 100% post-consumer posters, brochures, and coasters to our innovative enviro-friendly packaging, we approach each decision with mindfulness of its environmental impact.
10 Terry Fox Dr. Vankleek Hill, ON
Phone: 1 866-585-BEER (2337)
@BeausAllNatural