When thinking of gin, most of us think of a very aromatic, supremely English spirit meant for G&T's (gin and tonics) or shaken into a Bond-era martini. The history of gin though, is a humble one. It's thought to have originated in Holland but by the 18th Century, gin was made and drank in back alleys across London by the very poor. Like most spirits, it was originally consumed as a medicine.
Gin is a distilled spirit that derives its predominant flavour from juniper berries. In fact, the only thing that all gins must have in common is the juniper berry.
Other common gin botanicals include coriander, orange, lemon and grapefruit peels, angelica root and seed, licorice, orris root, bitter almonds, nutmeg, cinnamon and anise, but the list is seemingly endless. It's a complex spirit with floral, citrus, woodland and fruit layers.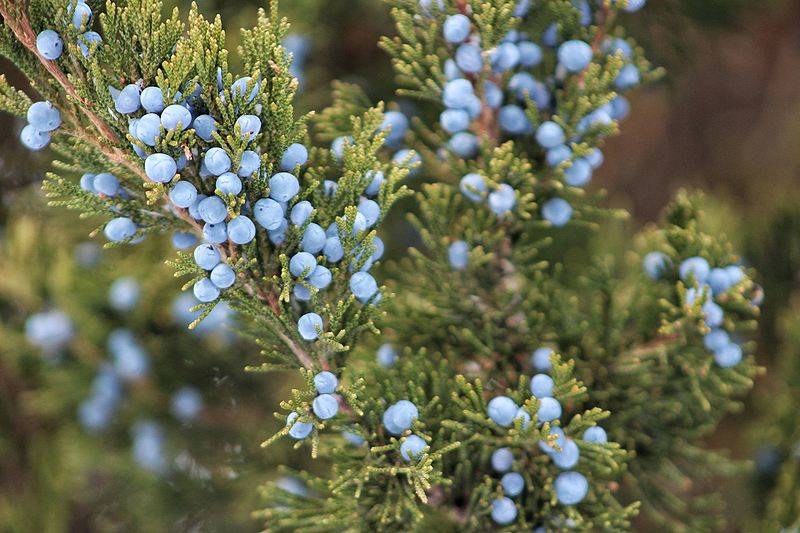 These are juniper berries. A juniper berry is the female cone produced by juniper bushes.
---
In Ontario, we make really good gin. Our gins are winning accolades on an international stage and the most creative cocktail creators on the globe are using them as inspiration for their creations. Don't take our word for it though, try them yourself.
Here are eight world class gins we can't stop sipping – just in time for the holiday season.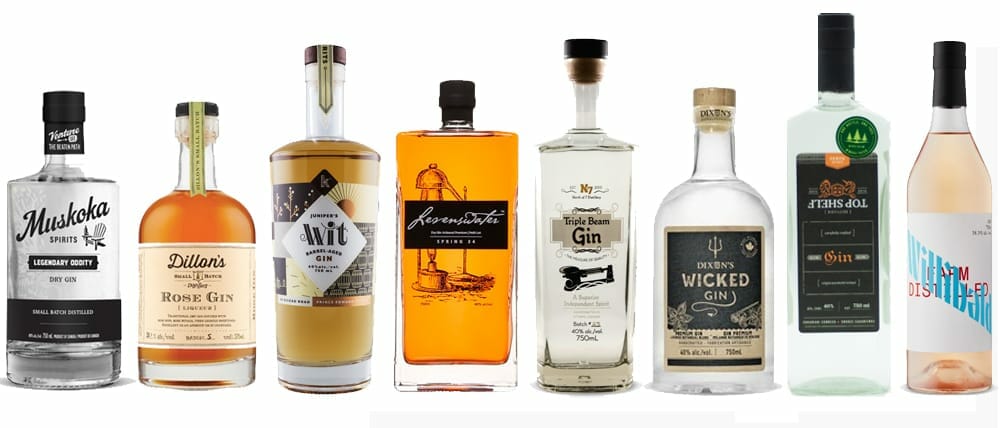 ---
Legendary Oddity Gin
Muskoka Brewery, Bracebridge          muskokabrewery.com
Many people are big fans of the seasonal 'Legendary Oddity' brew that Muskoka Brewery has been making for over a decade. This traditional Dry Gin is distilled with botanicals used in that award winning beer: wild juniper berries, orris root, orange peel and fresh heather tips. In a nod to their brewing roots, they also add Sorachi Ace hops. It's a unique and delicious creation with more pine and spruce on the palate – a true Muskoka taste!
---
Rose Gin
Dillon's Small Batch Distillers, Beamsville          dillons.ca
This is a traditional London-style gin with a twist. It's infused with rose hips, rose petals, then sweetened ever so slightly. It really is one of the loveliest spirits available in Ontario – and we're not the only who think so! They've taken home a dozen awards for this beauty since the first batch.
---
Juniper's Wit Barrel Aged Gin
Kinsip House of Fine Spirits, Prince Edward County          kinsip.ca
Their barrel aged gin highlights two classic County botanicals: lavender and hops. Unlike like other locally produced gins, Juniper's Wit Barrel Aged Gin is completely produced grain-to-glass at the Distillery. It gets it's distinct golden colour because it is rested in former whisky barrels before being bottled.
---
Spring 34
Levenswater Gin, North York          levenswater.com
Created in Niagara Falls from… wait for it, potatoes. The base potato spirit is then infused with no less than 34 botanicals. The creators bill it as "inspired by the sights, sounds and diversity of Toronto's Kensington Market" and we can taste why. It's a complex but subtle gin with notes of chamomile & rosemary.
---
Triple Beam Gin
North of 7 Distillery, Ottawa      northof7distillery.ca
This unique gin is made in Ottawa with 11 botanicals – including locally foraged juniper and caraway seeds. They're currently on batch #26, but bottles are disappearing quickly. It's available only from the distillery at 1733 St Laurent Blvd. in Ottawa.
---
Wicked Licorice Gin
Dixon's Distilled Spirits, Guelph          dixonsdistilledspirits.com
With a nod to Old Tom-style gin, Wicked Licorice and has a slightly sweeter, richer flavour than typical London Dry-style gins largely due to a hefty infusion of licorice. It's a great mixer and adds layers of unexpected flavour to classic gin based cocktails.
---
Top Shelf Gin
Top Shelf Distillers, Perth         topshelfdistillers.com
This is the most classic gin on our list. It hits all the notes a good should: juniper berries, fresh & dried grapefruit peel, faint notes of cardamom, angelica and licorice root. Not only is it delicious, it's a gin you can feel good about drinking. Every bottle of Top Shelf gin sold plants a tree near you. Just look for the #moretrees badge above the label.
---
Pink Gin
Willibald Distillery, Ayr          drinkwillibald.com
Made with 100% Ontario-grown corn, rye and malted barley, this pink gin is aged in Niagara wine casks that naturally infuse the gin with its hue and fruity bouquet. It has aromas of spring flowers, watermelon, strawberry and citrus, which are complemented nicely by an infusion of wildflower honey from their farm.
---
Many of these bottles are listed at the LCBO, but for those that aren't, give into your curiosity. Visit the distillery to learn more about their products.