It's that time of year again, so we've compiled a list of go-to gifts for local-loving friends and families alike. Whether you're looking for stocking stuffers, a token of appreciation, or something for that extra special someone, these amazing artisans have you covered!
---
For All The Food & Bev. Fiends
Chocosol Traders
have been crafting exceptional chocolate since 2004, and we are seriously obsessed. They have a tonne of flavour combinations and each bar is vegan and nut-free. Get your fix at a
large number of retailers
both in and outside of the GTA, and scratch (practically everyone) off of your stocking stuffer list!
---
For those who appreciate life's stinkier things, there's such thing as a monthly cheese subscription. I repeat,
Cheesy Place
has a monthly cheese subscription. Get a selection of local and international cheeses delivered to your door every month. Oh yes.
Pump up the jam this season with chutneys, jams, and preserves galore from Ottawa-based
Top Shelf Preserves
, the
Provisions Food Company
in Niagara and Toronto's
Stasis Preserves.
Or for the DIYer in your life… give Joel MacCharles and Dana Harrison's book
Batch: 200 Recipes, Tips, and Techniques for a Well Preserved Kitchen
. Be sure to host a #PicklingParty so that you and your friends can savour Ontario produce year-round. (Also, please invite us.)
Know someone who appreciates life's harder liquids? Keep the cocktails flowin' and crush your favourite herbs with the
Rekindle muddler
— it's simple, beautiful, and believe us, it'll get the job done… Speaking of cocktails, liven things up a bit with Rum & Rhubarb bitters from T-bay's
Frape & Sons!
They use products from Northern Ontario farms to create beautiful, small bitters worthy of any celebration.
Beer flights are another great go-to gift; head to your nearest beer store, brewery, or LCBO to mix and match a variety of
Ontario brews
(there are over 60 craft brewers to choose from, so choose wisely, young grasshopper). Next, buy a pair of beer snifter glasses and enjoy the refreshing tastes of Ontario together!
---
For An Extra Special Bath Time
Pamper your friends and family with the soothing scents of soy-based and handmade candles from
Smells Like Canada
. There are plenty of different scents to choose from, and we really dig their National Parks line.
---
Give the hairy and/or clean-shaven dudes in your life the gift of happy skin with a kit of shaving cream, beard balm, and after shave tonic from the
Crown Shaving Co.
Their products are made and packaged right here in the T-dot.
---
Ever heard of beer soap? These
Serenity Soaps
look good enough to eat and are made from Wellington Brewery beer, barley, and hops. Beer soaps are known for their particularly rich lathers and great skin-softening properties, too. See? One can never have too much Ontario craft beer!
---
The bees at
Dickey Bee Honey Inc
. make great tasting, 100% Ontario honey, and this same honey plays an essential role in their line of bath, beauty, and wellness products. Stuff stockings with a simple Honey Peppermint lip balm, or honey and aloe hand cream. If scents aren't your thing, help friends and family relax and add some ambience with their huge selection of beeswax candles.
---
For Their Home (And Yours!)
It's 2016: Britney's back and so is macrame! Whether you're buying a wall hanging, plant hanger, or are looking for a fun workshop session with friends, Niagara's
Simply Macrame
is your one stop shop.
---
Deck the halls, display it in the foyer, and keep your porch or walkway clear this winter with the
Firn Snow Shovel
— this sleek marriage of beauty and functionality is locally made and sourced, and is available online or at the
Spruce
store, 455 Parliament St. in Toronto. The shovel blade comes in bare stainless steel, or a festive powder-coated red.
Our fellow Evergreen Brickworks tenant-mate, Bernard of
BeReclaimed
, restores and repurposes reclaimed wood into beautiful custom furniture. Virtually every piece has its own story, and BeReclaimed helps keep those stories alive. Visit the shop at 550 Bayview Ave. suite 200 in Toronto to commission your own piece of history.
---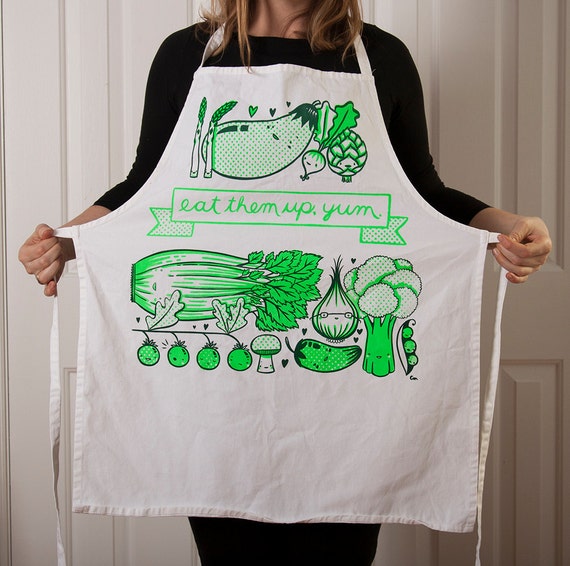 Claire Manning's
screen printed tea towels and aprons are a useful and playful addition to any kitchen. From cats, to pizza, and this green veggie apron, there are plenty of illustrations and colour palettes to chose from. Get a hold of Claire's work on her etsy shop, or stop by
Nelle Stelle
in Hamilton, for this and loads of other local handmade gifts!
For those who believe that beautiful, Ontario food is meant to be served on beautiful, local wood, check out
Otter Creek Woodworks
for artisanal and sustainably-sourced products made in Oxford County. In fact, Otter Creek's cheese and charcuterie boards are the boards of choice along the
Oxford County Cheese Trail!
---
For The Office (They'll Thank You)
Mellow out or perk up at work with a loose leaf tea from Feast On™ preferred purveyor
Pluck Teas
. Earl Grey Cream? Flowering Jasmine? Southbrook Berry Blend? Encourage a little me-time/tea-time, or better yet, get to know your colleagues with
tea-building exercises
like "Guess that herb" or compete to see who can create the tastiest blend! (– btw, can we trademark all of this? Because it's genius.)
---
If your workplace needs a higher-octane kick, why not get a
Detour Café
coffee subscription? They'll deliver the beans straight to your door every 4 weeks for three months. Your colleagues will thank you.
---
For the Foodie (Who Can't Cook)
Don't ever let someone tell you that gift cards are thoughtless – especially when great local food is involved! Gift certificates are available for purchase all of these Feast On™ certified businesses below, so give the gift of good food this year because good friends don't let friends get hangry:
---
Still stuck? Check out our Holiday Headquarters for even more ideas and suggestions!
---